Nature never fails to charm with her beauty. Step outside, embrace the nature all around you. In today's session, I have discussed how to write a letter describing your visit to a waterfall. Read the letters carefully. Try writing a letter on the same topic, you can use your own ideas too.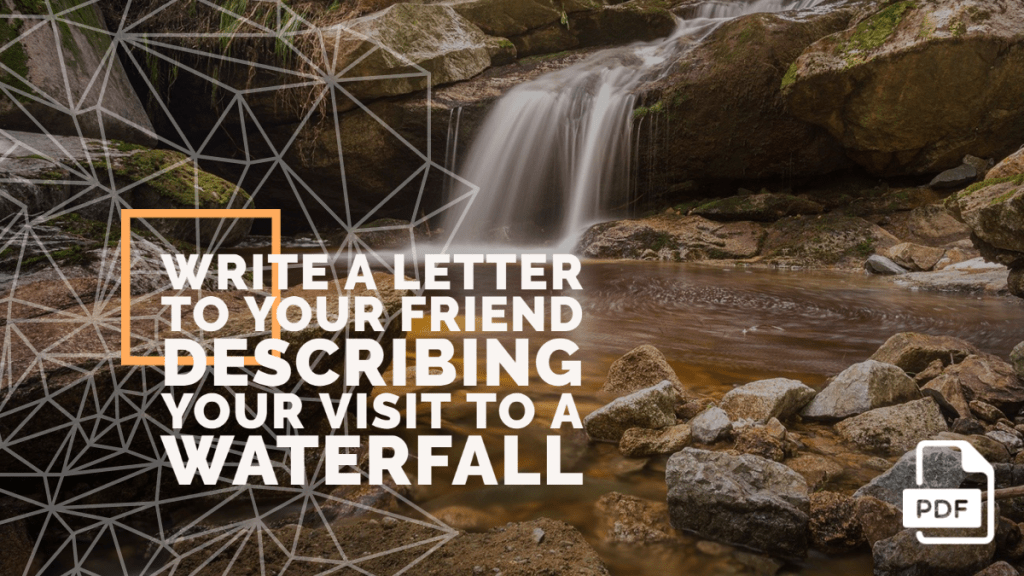 Example 1
Question-1: You have visited a waterfall for the first time. Write a letter to your friend in 150 words sharing your experience.
Hints: Name of the place- Location- Describe the place of visit- Experience
29 Bilaspur,
Pondicherry 200123,
June 19, 2021.
Dear Raima,
I hope the letter finds you in pink of your health. I am writing this letter to share my experience of visiting a waterfall for the first time in my life.
On our trip to Arunachal Pradesh, we had the opportunity to visit the sensational Jung Falls. It is one of the main attractions for the tourists of Arunachal Pradesh. The fall is accessible by roadways. It is fed by the snow of alpine lakes. Lush green forests enhance the beauty of the mighty waterfall.
The waterfalls during the monsoon which is a spectacular sight. I was enchanted by the serenity of the waterfalls and the surroundings. There is a local hydel powerplant on the Jung Falls that supplies electricity to the local neighbouring. We had taken a lot of pictures while soaking in the beauty of the waterfalls.
If you are planning to visit Arunachal Pradesh in near future, don't forget to spend a few hours in Jung Falls. My warmest love to the young one. Convey my regard to your parents.
Yours sincerely,
Shilpa
---
Example 2
Question-2: Your cousin had taken you to a waterfall. Write a letter to your friend sharing your visit to the waterfall.
Hints: Your place of visit- Write about your companion- Highlight the place- Share your experience
19 Moor Avenue,
Jharkhand- 111999,
September 23, 2021.
Dear Parna,
How are you? I am doing well here at my Aunt's place in Ranchi. Read the letter to cherish a glimpse of our own country which you haven't explored yet.
Ranchi was always a city of industries to me. Here, I discovered it is known as "City of Waterfalls". My cousin drove me to Hundru Falls which till now we have read-only in our Geography books. It is formed by the Subarnarekha River and it is the highest and the most popular waterfalls in Jharkhand. My cousin who is an ardent traveller had arranged the trip splendidly. It was quite a memorable experience to spend an entire day amidst nature.
The tumbling waterfalls and chirping of the birds filled the air with a vibrant spirit. My cousin prepared Maggi in the portable cooking kits which she was carrying while I took a few breathtaking pictures of picturesque nature. I had attached the photographs with the letter. We have planned to visit a few other waterfalls of the Ranchi.
No more today more when we shall meet. Take care of your health. Convey my regards to the elders of the family.
Yours lovingly,
Naina
---
Example 3
Question-3: Write a letter to your friend in 150 words describing your visit to a waterfall.
Hints: Apology for your late reply- Name the waterfall- Describe the place- Your activities- Suggest him/her for a visit
13, Park Street,
Kolkata 700047,
September 23, 2021.
Dear Anandi,
I am sorry I couldn't write to you earlier as I was on a trip to Sikkim. I am glad to know that you doing well with your studies. Today, I want to share about my recent visit to a waterfall.
Seven Sister is a popular waterfall located on Gangtok – Lanchung Highways. As the name suggests the seven different waterfalls arranged on a wide rugged cliff. Away from the hustling of the city, the picturesque waterfalls allow us to rejuvenate and relax. It is the hotspot for nature photographers like me.
I have captured innumerable pictures of the captivating waterfall. We also had little snacks and coffee in the cafeteria made by the tourism authority while enjoying the prismatic view of the setting sun. Our guide told us the seven fledges are in full swing during the monsoon.
If your family is planning for a trip you can surely visit Sikkim. The charm of Sikkim is mesmerising. Convey my regards to Uncle and aunt.
Yours sincerely,
Sneha
---
Example 4
Question-4: You visited a waterfall recently/ The scenic visit has impacted you. Write a letter to your friend sharing your experience in 150 words.
Hints: Write about the place- Describe the beauty- activities- Share your experience- Suggest him/her for a visit.
19 Green park,
Pune 800032,
July 21, 2021.
Dear Sameer,
Your letter reached me on time. I am glad to know you are having an amazing time with your elder sister in Chennai. I would also love to share my experience of a visit to a waterfall with my family.
During our visit to Goa, we decided to trek to Dudhsagar falls to get ourselves introduced to the raw beauty of nature. Dudhsagar Falls translates to "sea of milk" owing to its hue. Amidst the Mollem National Park, the Mandovi river spouting down through the steep side of the mountains is a spectacle to watch.
While some of us hop into the clear water of streams, others were busy exploring nature. Nature has its own spark to captivate you thoroughly. Words will fail to express my experience. I suggest you plan a trip to Dudhsagar Falls. The best to visit is during the monsoon.
I eagerly wait to meet you so I can share more about y journey. Take care of yourself and my regards to your parents.
Yours lovingly,
Nikhil
---
I hope you enjoyed reading the letters and found them helpful. Keep an eye on our website. We regularly come up with ideas that are academically profitable for you. If you have one such idea, leave a message in the comment section. We love to write for you.