Receiving a scholarship has given wings to thousands of dreams wings to soar higher. Sooner or later you and your friend all may win a scholarship. Thus, I thought to show, how you can congratulate your friend on winning a scholarship. Read the letters to find out more.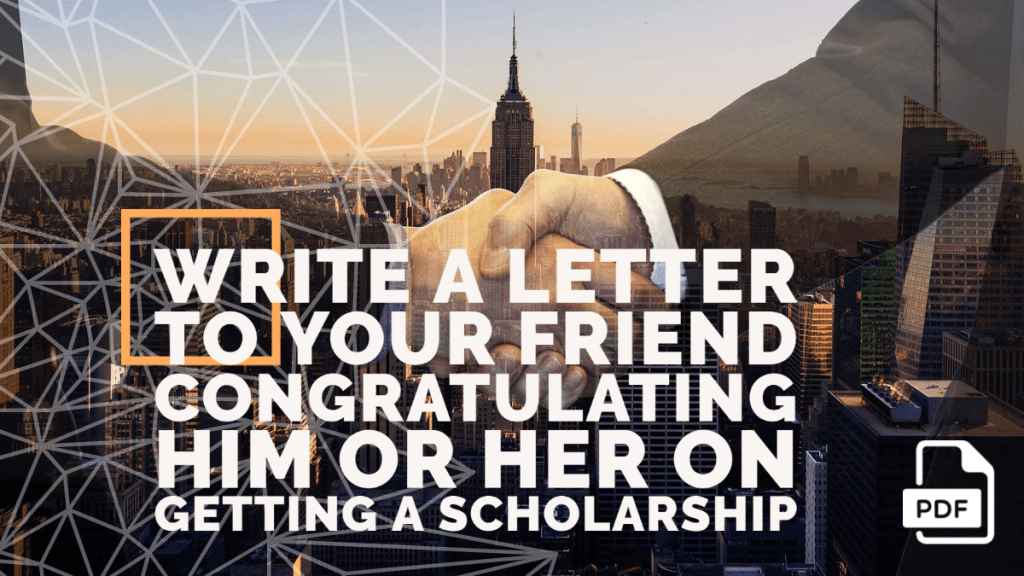 Set 1
Question-1: Your friend has won a scholarship for outstanding achievement in cricket. Write a letter in about 150 words congratulating him on winning a scholarship.
Hints: Congratulate him on his success- How you felt receiving the letter- How it inspired you- Ask for a celebration party
19 Brabourne Road,
New Delhi- 110001,
August 17, 2021.
Dear Himansh,
The letter containing the happiest news of you having won a scholarship in your school is in my hand. My heart skipped with joy reading the letter. I am glad to see your labour being sweetened.
Your parents must be very proud of you for winning a scholarship for outstanding performance in cricket. You have encouraged me to work harder towards my dream. I feel fortunate to have a friend like you who inspire me to aspire. The joy of your success was shared by all members of our family. I congratulate you most heartily on your success and all of my joined me in conveying you their most heartfelt congratulations. I am confident very soon you will be playing for our country.
I am eagerly waiting for the celebration party. Give my warm regards to your parents and love to your little sister.
Yours lovingly,
Parvesh
---
Set 2
Question-2: Your friend has received a scholarship for a distinctive performance in dancing. Write a letter congratulating her on winning a scholarship
Hints: Congratulate her- Share your emotion after receiving the news- Mention how she inspires you- Your desire to meet her
12, D.P.Road,
Orissa 7611112,
June 13, 2021.
Dear Diya,
My joy knew no bound after receiving the news of you winning a scholarship in dancing. Please accept my heartiest congratulation on your brilliant success.
I can never forget the days when you were struggling to strike a balance between academics and dancing. It is a treat to watch you always find a solution for everything. You have never compromised on your studies for your passion and vice versa. I learnt from you that if there is a will there is a way. I am also happy to hear you will be taken to Europe from your Dance Institution for month-long dance workshops with international dancers.
You deserve every bit of happiness. My mother is one of the biggest admirers of your dancing and she has joined me in sending you her sincere well wishings. As a token of love, she is sending you a saree and would be glad if you adorn the fabric in one of your programme.
My best wishes are always with you. I hope to meet you soon. Pay my regards to uncle and aunty.
Yours lovingly,
Brishti
---
Set 3
Question-3: Your friend has won a scholarship from the Education Department for his brilliant performance in the Secondary Examination. Write a letter congratulating her on winning a scholarship.
Hints: Congratulate- Mention the reason for achieving a scholarship- Your feeling- Recall the old days- A pinch of advice.
29 Whitefield,
Bangalore-560066,
May 15, 2021.
Dear Sreeja,
How pleased I am to receive the news of you receiving a scholarship. It is all due to your hard work and I offer my hearty congratulations on your progress.
Being a meritorious student an excellent result was always expected from you. Transcending our expectations you have grabbed the first position in the Secondary Board Examination. Your parents must be very proud of you. We all have seen how your father has worked tirelessly to support your education. Your notable result has brought pride to the family. It brings pleasure and relief to know our Education Department has granted you the scholarship. I am confident you will utilise the prize money wisely.
Don't let success get in your head. This is the first step towards your main goal. We all are proud of you. Convey my regards to the elders of the family
Yours Sincerely,
Sreya
---
Set 4
Question-4: You are Meenakshi staying at Westwind Apartment, Kolkata 700019. Write a letter to your friend Deepti congratulating her on winning a scholarship.
Hints: Share your emotion on receiving the news- Congratulate her- Ask her to revert
Westwind Apartment,
14/A S.C. Road,
Kolkata- 700019,
June 19, 2021.
Dear Deepti,
I am on cloud nine to receive the happiest news about you winning a scholarship. You deserve this victory.
I have shared the news of your accomplishment with my hostel mates as this achievement is rare and impossible. While I find Physics extremely arduous you have won a scholarship for notable performance in Physics among students across the world. You are an inspiration to me. Besides bringing pride to the family you have taken our school to a new height.
Our school has decided to felicitate you on Foundation Day. I take pride in being called your friend. Nothing is more exciting than the news of you will be taken to NASA for training. Needless to say, a bright future awaits you. I am sure you will continue to inspire thousands of young minds.
I end by wishing you all the best. Looking forward to hear from you. My sincere respect for your parents.
Yours lovingly,
Meenakshi
---
Now congratulating a friend or a family member is no more a daunting task. I am sure you have studied the letters well and when the time comes you can easily compose a letter taking hints from the samples shown. Don't shy away from voicing your opinion. We love to hear from you.