We all differ in many ways. Being able to express your likes and dislikes will mould your character. In today's session, we'll learn how to write friendly letters about the things you like and dislike using simple, clear English. Next time when you'll be asked to compose such letters, these examples will come in handy. So let's get started.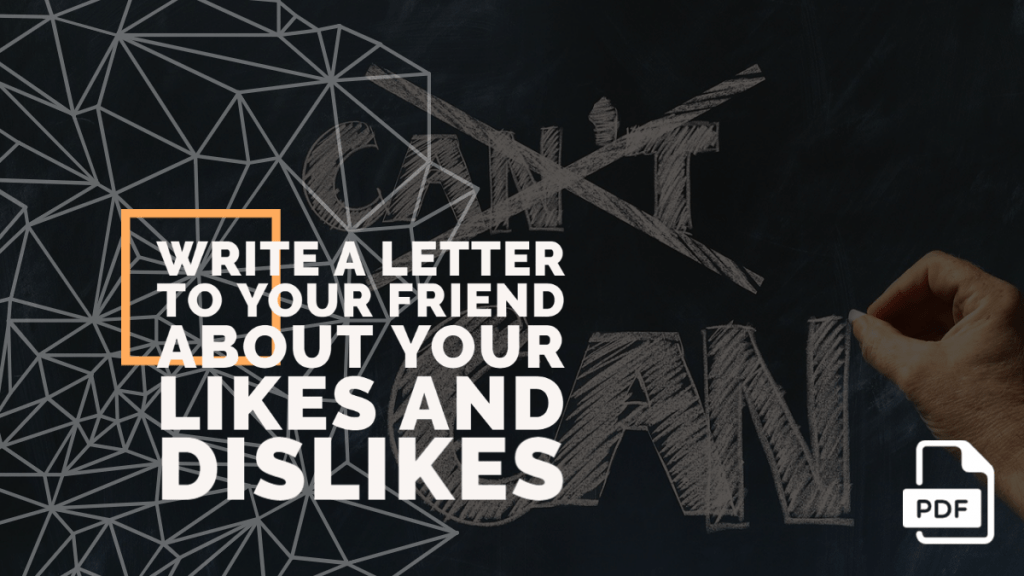 Example Letter Writing 1
Question-1: You haven taken new admission to a new school. Write a letter to your friend expressing your likes and dislikes regarding the new school.
Hints: Description of school – Likes and dislikes – feeling toward old school – eagerness to meet old friends.
820, South City,
Gurgaon – 127003,
April 2, 2021.
Dear Tania,
I am sorry I couldn't write to you earlier about my new school. I am quite happy and well, though, of course, this school is quite different from the one I last attended.
Though my classmates are very generous, the sadness of being away from you all is still there. Besides academics, I am learning dancing and painting. This is the best thing I like about my new school. They give importance to co-curricular activities.
The teachers are very helpful and takes interest in teaching. Only, I find the History period very dull. The hostel food doesn't taste like the dishes my mother used to prepare and I'm still trying to cope up with this fact. We have a large playground, where, in the evening we play all sorts of games. There is a good atmosphere in the school.
How are you getting with your studies? I often miss my old school and friends. Remember me to Tara, Anuja and Sakshi with love and remembrance. I am looking forward to the Christmas holidays when I shall see you again. Please pay my regards to your parents.
Yours sincerely,
ranajit
---
Example Letter Writing 2
Question-2: You have recently received a book. Write a letter to your friend telling him/her about likes and dislikes regarding that particular book.
Hint: From whom you have received the book-describe the book- likes and dislikes-ask about a book your friend has recently read.
13D, Fern Road,
Kolkata 700019,
February 26, 2021.
Dear Saby,
I am so sorry I have not written to you for so long. My exam was going on and I had no time for myself. Today I have picked up the pen to write to you about a book I have recently read.
My love for books is not unknown to anyone so last month my uncle gave me a book called 'Matilda' by Roald Dahl.
The book immediately transported me back to childhood. I developed an instant connection with the little girl Matilda because she also loves reading book. I liked Matilda for her wise and curious nature too. Her talent is ignored by her insensitive and uncaring parents and thus disliked by the readers also.
She was lucky enough to have a person like Miss Honey in her life. Miss honey is liked for her sweet and helpful nature. Miss Honey was able to get her mansion back from evil Miss Trunchbull with the help of Matilda. The use of the phrase 'that's not right' is so frequently used by Matilda that after some time I started disliking it. On the other hand, I felt Quentin Blake's illustration couldn't equal Matilda's strong-spirited character. Otherwise, the book is amazing giving a new perspective to life.
Write to me about the book you last read. Eagerly waiting to hear from you. Convey my regards to Uncle and Auntie. Give Pat to Snowy on my behalf.
Yours sincerely,
Roshan
---
Example Letter Writing 3
Question-3: Your father got you admitted to a football coaching centre. Write a letter to your friend telling him what are you liking and not liking about it.
Hints: When you got admitted- likes and dislikes-ask about your friend's opinion
19B, Worli,
Mumbai 120083,
June 19, 2021.
Dear Rahul,
I hope this letter finds you in your pink of health. I have a piece of amazing news to share with that I picked up a pen and start writing.
Last month, my father got me admitted to a football coaching centre in our locality. I am thrilled to learn a new sport. Our coaches make the learning session fun. Thus we are allowed to have fun and hooked to learning also. I liked the fact it helped me to become physically active. I have made a few friends there.
The fun fact is that I have learnt how to work hard and compete for everything. Honestly, everything is not shiny. I have suffered several injuries and felt liking giving up. Sometimes I find it very hard to balance between school and playing football. There are many days when I almost hate to go to practise after school. In the end, the game has taught me to chase the goal and that is what I am doing.
As you are playing football for a long time I would love to know how you balance football and academics. Convey my regards to your parents.
Yours lovingly,
Saswata
---
Example Letter Writing 4
Question-4: Write a letter to your friend about any subject from your curriculum. Mention what you like and dislike about the subject.
Hint: Mention the subject – when you were introduced to the subject – your likes and dislikes –
18D, Gurgaon,
Delhi 1278003,
June 13, 2021.
Dear Anil,
How are you? I am fine here? As in the last letter you have asked about my opinion regarding the subject, History, so in the letter, I'm sharing my thoughts.
More than Science I always enjoyed studying Humanities. I was first introduced to this subject in class V.I started enjoying History solely because of our then history teacher. She used to make the class so fun and interactive that you cannot ignore it. I enjoy reading about past events from kings to common man.
It fascinates me to witness the transformation of our world through history books. The part I struggle with the most is remembering dates and names. Honestly, I do not enjoy reading European History, which is why I scored poorly in the last exam. Even if history is not my favourite subject I enjoy reading it. Let me know if you need any help with the subject.
Eagerly waiting to meet with you. Take care of yourself. Convey my regards to your parents.
Yours lovingly,
Sana
---
I have just shown you how you can express your view regarding various topics in lucid language. Pay special attention to the placing, punctuation and paragraph intending. Hope you found these articles useful. Feel free to express your thoughts in the comment section below. Come up with ideas you want us to write for you. Keep an eye on this page, we come up with various topics that are helpful for your academics.