In this article, I will show you a couple of examples of letter writing to your friend describing a historical place you have visited. So let's dive into the article.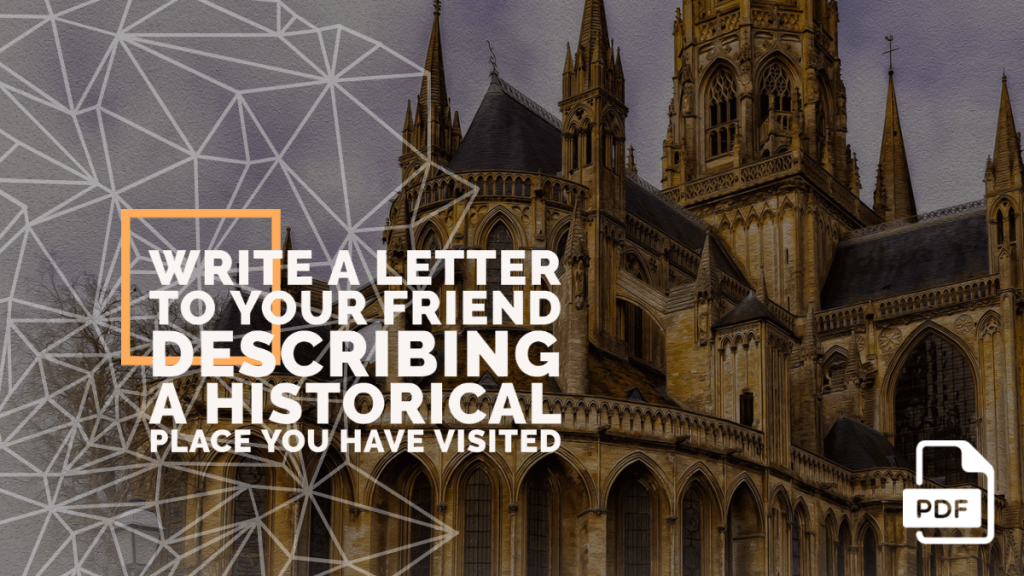 Example 1
Write a letter to your friend Rohan describing to him your visit to a famous historical place.
14B-block,
Kolkata, 700011
11/11/2020
Dear Rohan,
I hope you are well by the grace of the Almighty. I am well too. Please convey my respect and love to your family. It has been a very long since we exchanged letters. So, I have thought of writing to you.
I am very excited to write about my recent Delhi visit. Last week, we went to Delhi for an educational excursion. Delhi has a very rich heritage and historical background. Traditionally, it was called "Indraprastha".
The Muslim Emperors also considered it their capital. Humayun's tomb, Qutub Minar, Safdarjung and Nizamuddin tombs, Rashtrapati Bhavan, Parliament House, etc. are some important historical places. Many Government offices, embassy offices, Trading firms, high commissions, and more organizations are present in Delhi. Delhi is the heart of India and a place rich with historical heritage.
Yours truly,
Punam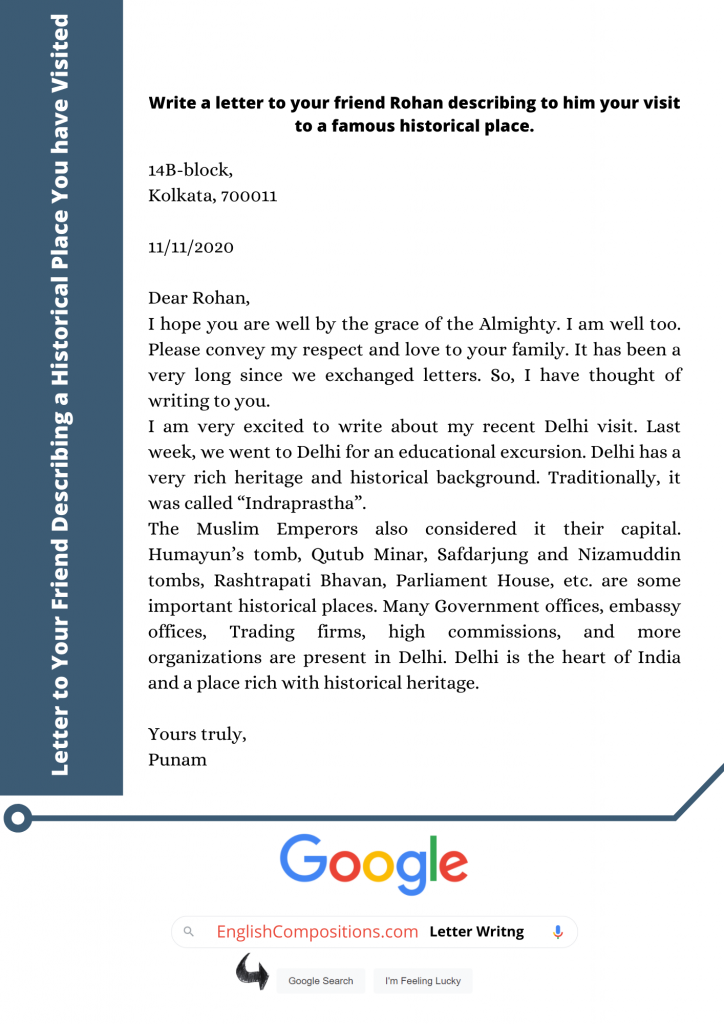 ---
Example 2
Write a letter to your friend telling him about your visit to Agra.
14B-block,
Bankura, 735041
11/10/2021
Dear Subhadeep,
Thank you for your birthday wishes and card. I am sorry for this late reply. I was visiting Agra. It was a wonderful trip.
Watching the Taj mahal before was really mesmerizing. It is erected on a white marble base. This base has a minaret on every corner. The monument looks grand and royal with these minarets. The dome is white and has a beautiful pinnacle and arches.
The Taj Mahal is surrounded by natural greenery. There are many trees and a clear water body. There were a lot of tourists from India and foreign countries when I visited. I hope you get a chance to visit the beauty of this monument. Please convey my respect to your family and all the best wishes for your forthcoming exams.
Yours Sincerely,
Ishan
---
Example 3
Write a letter to your friend telling him about your visit to a historical place.
14B-block,
Padampur, 335041,
26/04/2021
Dear Ishaan,
I received your letter a week back. Sorry for the delay. I was in Goa due to which I could not reply to your letter.
The Portuguese arrived in Goa as traders. They settled in Goa as they were attracted by the beauty of the place. This Portuguese lifestyle is visible in Goa even today.
But we must remember that Goa is put on the world map for its ancient churches like the Basilica of Bom Jesus in Old Goa where the remains of St. Francis Xavier are preserved, the church of Our Lady of Immaculate Conception at Panjim and the Mangeshi temple at Ponda.
I love the multilingual and multicultural lifestyle in Goa. Please do visit Goa at least once. The place is worthy of every penny you spend on your trip.
Yours affectionately,
Anshu
---
Example 4
Write a letter to your friend about visiting a historical place.
14B-block,
Jhargram, 721507,
15/01/2021
My dear Suprity,
How are you, my friend? I haven't received your letter for ages. I hope that you are fine by God's grace. By the way, I visited Jaipur, Rajasthan during this vacation. And now I am giving a pinch of what I saw there.
Jaipur is the pink city of India. We visited Amber Fort and Palace, Hawa Mahal, City Palace, Nahargarh Fort, Jaigarh Fort, Monkey temple and many other alluring places on the next day. Apart from the historical monuments, it has the offices of the embassies, high commissions, trading firms and many other organizations. Jaipur indeed is a treasure chest of antiquity and the heart of India.
I hope you would also spare time to pay a visit to Jaipur. Do convey my love to your parents and brother. With best wishes
Your friend,
Saswata
---
I hope you found these letter-writing examples describing a historical place you have visited helpful.
If you have any other topics that you want me to cover do let me know in the comment section, I will try to add those as well.