The drainage problem is one of the most common problems people have to face especially in cities. Maintaining drainage and solving problems related to it is the sole responsibility of the municipality and more specifically of the local municipal commissioner.
So, for daily life sustainability in cities, learning how to write official letters to the municipal commissioner for drainage problems is very important. Due to this extreme importance, many institutes prefer this topic for various English comprehension tests.
In today's session, you'll learn to form an appropriate official letter on any topic related to this. So, let's get started.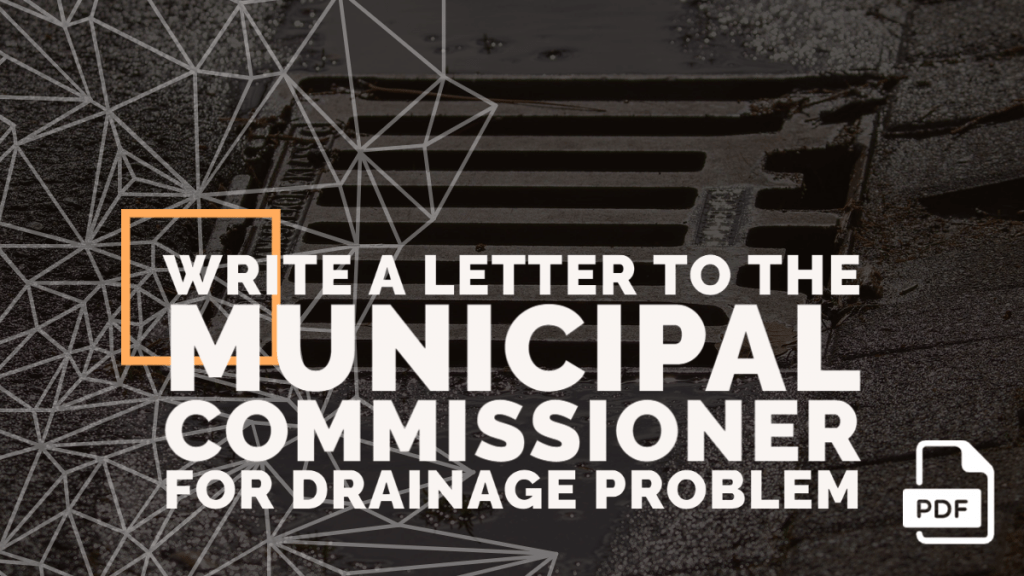 Example 1
Question: In your school, you are facing severe problems due to drain blockage. Write a letter to the municipal commissioner local to your school area complaining about this issue and ask for some immediate solution. 
Hints: Dedicated drain- High sewage pressure- Construction work going on outside- Connecting line got damaged and blocked- School full of dirty water- School got closed- Need immediate solution
Radhabinod Pal Sarani, Rashmoni Nagar
Kolkata: 700114
September 22, 2021
The Commissioner
Kolkata Municipal Corporation
7/11 Burimara Road
Kolkata: 700002
Subject: Drain blockage is leading to unsanitary conditions in school
Sir,
I am a student of class 9 from Bebirani Mouriya Valika Vidyalaya, writing this letter to you to bring under your kind concern that from last few weeks we are facing severe problems in the school due to constant blockage in the drain.
We have a dedicated drainage system that connects our school with the main high-drain on the main road. As our school has around 1500 students and 150 teachers and non-teaching staff, the sewage pressure is quite high. But as some construction work is going on outside our school, the connecting line got severely damaged and blocked. Now our internal dedicated drain is overflowing and our entire school is full of sewage water. Recently, a day before yesterday, our school authority decided to keep our school closed for an indefinite period due to this unsanitary condition.
But as our exams are approaching, we need to attend our school and complete the remaining syllabus. So, through this letter, I want to request you earnestly to take some immediate measures to resolve this problem
Yours Sincerely,
Geeta Pakhwal
---
Example 2
Question: Suppose, during every rainy season the people of your locality have to deal with drainage overflow and water stagnation. Write a letter to the municipal commissioner of your area explaining the problems you are facing and look for some viable solution. 
Hints: Densely populated locality- Drains are inadequately deep- Lack of regular cleaning and mass awareness- Overflow and flooded area during monsoon- Prolong water stagnation- Need immediate steps
2/61 Padmapukur
South 24 Parganas, West Bengal
June 23, 2021
The Commissioner
Baruipur Municipality
2/62, Baruipur Sadar Road
West Bengal 743235
Subject: Drainage overflow and water stagnation is creating major issues
Sir,
I am a resident of 2/61 Padmapukur, ward number 17, of Baruipur Municipality. This is my 3rd letter to draw your kind attention to the issue of drainage overflow and water stagnation in our area during every monsoon season.
Our locality is among the densely populated areas in the entire Baruipur. As the locality is densely populated, the number of drains is also quite high. But these drains along with the main high drain are not as deep as required to take the sewage pressure of such a vast population. Moreover, as we've previously informed you, there's still a serious lack of regular cleaning and mass awareness about the maintenance and usage of those drains. As a result, every year during the monsoon, these drains tend to overflow, and our locality gets flooded. Moreover, those dirty water stays in stagnation in our area for a long time as no initiative to improve this situation is taken from the municipality.
Through my word in this letter, I want to earnestly request you to take the necessary steps immediately and solve this problem, so that we don't have to suffer from this menace in the coming monsoon.
Yours Sincerely,
Rahul Chandra Dhar
---
Example 3
Question: Suppose, your house does not have a proper drain connecting your home with the main high-drain. Write a letter to the local municipal commissioner explaining your problem and apply for a dedicated drain for your house. 
Hints: New house- Inside narrow lane- No drains- Temporary drainage to connect the main drain- Inadequate- Yard gets flooded- Request for an immediate solution
51D, Bheem Maira Road, Chadipara
Hooghly
February 18, 2021
The Counsellor
Hooghly Chinsurah Municipality
Mahendra Mitra Road, Pipulpati
West Bengal 712103
Subject: Need a proper drain to connect the house with the main road
Sir,
I am a new resident of 51D, Bheem Maira Road, Chadipara, Ward number 22. This letter to you is intended to apply for a proper drainage system to connect my house with the main high-drain on the road.
As I have already mentioned, I am new in this locality and recently built my house. But as my house is located a bit inside of a narrow lane, there is no proper drain that could connect my house with the main high-drain of the road. That's why the construction workers have created a temporary line as the drainage system. But that temporary line is quite sustainable and not adequate for the sewage output pressure of our house. This is creating severe problems and most of the time our house yard is being flooded.
So, through this letter, I want to request you to build a dedicated municipal drainage system that could connect my house with the main high-drain and resolve this issue I'm facing.
Yours Sincerely,
Md Safiur Rahman
---
Example 4
Question: Every year after the monsoon season, prolonged drain blockage in your locality leads to various diseases. Write a letter to the local municipal commissioner of your area expressing your concern regarding this issue and suggest some possible measures to resolve it. 
Hints: Disease outbreak after monsoon- Mosquito and water-borne diseases- Poor maintenance- Lack of mass awareness- Awareness campaign can help- Regular cleaning and maintenance required
6/305/1, South Station Road,
Sodepur
Kolkata: 700110
December 11, 2020
The Commissioner
Panihati Municipality
Kolkata: 700110
Subject: Drainage problems are leading to diseases outbreak
Sir,
I live in Sodepur South Station Road, Ward number 9, Panihati Municipality. I am writing you this letter to express my concern over the issue of disease outbreaks due to drain blockage after every monsoon.
After every monsoon, many kinds of diseases break out in our locality. Most of them are mosquito and water-borne diseases. These diseases are a direct result of the drain blockage and prolong water stagnation during the monsoon season. This blockage in every monsoon takes place due to the poor maintenance of the high drains. Besides, there's a serious lack of awareness among people about drain usage.
So, proper actions are needed to be taken in this regard. The municipality can launch a mass awareness campaign to make people aware of the proper usage of drains. Besides, regular cleaning and proper maintenance are highly required to control this situation. I hope the municipality will take adequate steps and before the next monsoon arrives, it will ensure proper hygiene for the people of this locality.
Yours Sincerely,
Nikhilesh Ghosh
---
That was all about our presentation on writing official letters to the municipal officer for drainage problems. In this session, I have tried to discuss the topic from four different aspects.
Hopefully, after going through this session, all your doubts regarding this topic have been resolved and now you'll be able to write such letters on your own. If you still have any doubts, post them in the comment section below. Apart from this, if you want us to cover any specific topic, let us know that through some quick comments. To read more such English comprehensions, kindly take a tour of our website. 
Thank you for being with us. See you again, soon.