Nowadays women's safety is one of the primary concerns around the world. This extreme importance makes it one of the most discussed topics around the globe.
So, it can surely be a potential topic for your next English comprehension test. In this following session, you are going to learn how to write editorial letters on the topic of women's safety. So, without further introduction, let's get started.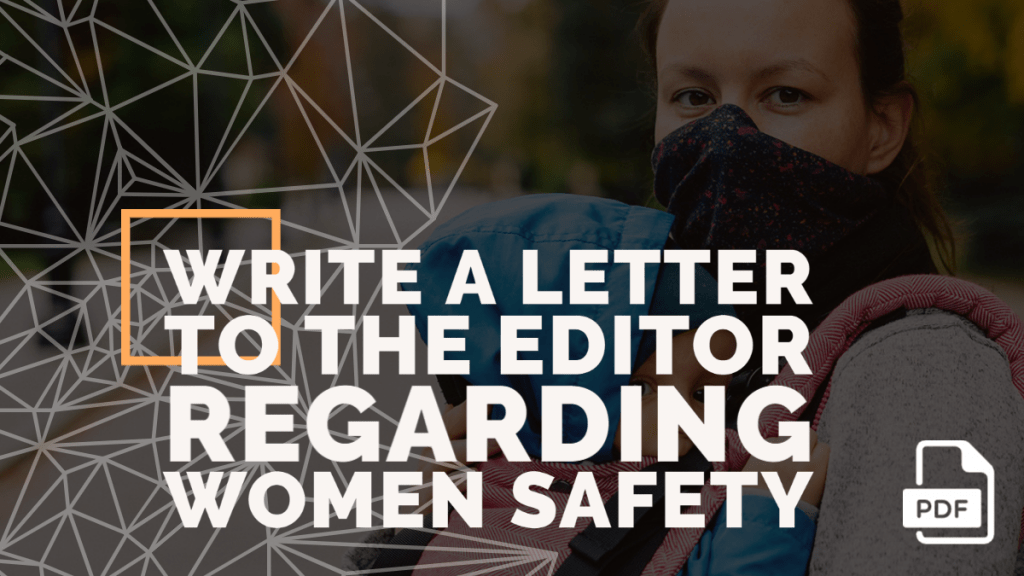 Example 1
Question: Recently you have participated in a campaign from your school promoting awareness about women's safety. Write a letter to the editor of any daily newspaper explaining your experience and the significance of such campaigns.
Hints: Campaign organised from school- Actively participated- Special guest- Several programs: Cultural, Self-Defence camp, Rallies- Can help to spread awareness- Concluding note
S N Banerjee Road, Taltala
Kolkata: 700114
September 2, 2020
The Editor
The Statesman
3/1 Nalinipukur Road
Kolkata: 700002
Subject: Women safety awareness campaign
Sir,
Through this letter in the column of your esteemed daily, I want to bring some light of attention to a campaign on women safety awareness, I have recently participated in organised by my school.
Recently the Calcutta boys' high school organised a women safety awareness campaign. As a student of class 12 from the school, I participated in several programs under that campaign. Programs like rallies, a women self-defence training camp, cultural programs, etc were organised. The first woman IPS Dr Kiran Bedi attended the program as the chief guest. The headmaster Dr Prafulla Banerjee explained the role of women in sustaining our society.
During such a time when women are being oppressed and dishonoured all around the world, and fighting for equal rights as same as men, campaigns like this can help to spread significant awareness at least among the youth. So, this letter to your newspaper is intended to request all the readers to encourage and actively participate in such campaigns to create a discrimination-free world with equality and prosperity.
Yours Sincerely,
Rajesh Dutta
---
Example 2
Question: Suppose a fitness club in your locality is going to organise a campaign promoting women safety on the occasion of International Women's day. As you're the secretary of that club, write a letter to the editor of a popular newspaper expressing your opinion about the safety situation of women and explain the need for such campaigns.
Hints: Women safety: Matter of Concern- Women oppression increasing- Hightime to raise voice- Campaign to be launched- Sexual harassment lesson for primary students- Sel-defence camp- Awareness rally- Conclusion
2/61 Bablapur
North 24 Parganas
March 2, 2021
The Editor
The Telegraph
Kolkata: 700001
Subject: Campaign on Women safety and security
Sir,
Today, I am writing this letter to your esteemed daily in order to attract your kind attention to a program on women safety awareness that we are going to organise in Bablapur on the occasion of the upcoming International Women's Day.
The subject of women security is being a serious concern in our country nowadays. Every day when we open newspapers, we can see that incidents like women harassment, Eve-teasing, rape etc have become very common. That is why we think that women should now raise their voices out loud and demand proper safety and security in the society that they deserve.
So, we decided to launch a full-fledged campaign along with a rally to spread awareness about the extremely important subject on the occasion of the upcoming international women's day. There will be a session on basic education about sexual harassment for primary students, a women self-defence camp as well as an awareness rally on women safety completely led by women. Through the column of your esteemed daily, I want to appeal to the readers, to support and participate in our campaign to encourage such initiatives.
Yours Sincerely,
Rumi Bannerjee
---
Example 3
Question: Recently, the number of rapes and murders have been significantly increased in the country. In this context, write a letter to the editor of a reputed newspaper expressing your concern about the safety situation of women in the country and suggest some possible measures to improve it.
Hints: Women safety situation deteriorated during lockdown- Rapes, murders, Domestic violence increased- Psychogist indicating towards job losses and frustration- Have to solve from the root- Your set of solutions.
72A Bottola Road, Uttarpara
Hooghly
February 18, 2021
The Editor
The Times of India
8, Camac Street
Kolkata: 700017
Subject: Women safety situation deteriorating 
Sir,
This letter to your esteemed daily is intended to highlight the issue of the current women safety situation in our country.
During the nationwide pandemic and lockdown, the safety situation of women is being noticed to have deteriorated in the last few months. The incidents of rapes, domestic violence, murders have been significantly increased throughout the country. Women are being afraid of going out of their homes in late-night even if any emergency approaches. Even in homes, sometimes they have to face domestic violence. Psychologists and sociologists are indicating the rising number of job losses due to lockdown and frustration caused by it behind the increasing trend of such anti-social phenomenon.
Though for India, maybe the numbers have recently increased, these phenomenons are nothing new in the country. So the government should step forward to improve the situation by resolving the issue from the very root. Otherwise only strengthening the laws will be of no help. The lessons of gender equality should be prioritised from the school level and sex education must be introduced immediately to break the sex taboo culture of our society.
Yours Sincerely,
Aditya Bansal
---
Example 4
Question: The government has recently announced an action plan to improve the women safety situation in the country. Write a letter to the editor of any national newspaper expressing your view on this decision along with critical evaluation. Make use of the hints mentioned below. 
Hints: Action plan announced- Laws to be strengthened- Emergency help centres to be established- Sex education will be introduced- Was long-pending demand- Criticisms- Ensuring non-arbitrary implementation 
21, Kathgola Road, Ghola
Kolkata: 700110
December 11, 2020
The Editor
The Indian Express
164/A, BK Paul Ave
Kolkata: 700005
Subject: New action plan for improving women safety
Sir,
Through the column of your esteemed daily, I want to express my view about the central government's newly announced action plan to improve women safety situation.
On December 9th in a press conference, the spokesperson of the ministry of Women and Child Development has announced to introduce various provisions under this action plan. Before announcing the plan she referred to the deteriorating women safety situation throughout the country. Under this plan, numerous laws related to women safety will be amended to provide more strength. Emergency physical and mental healthcare centres will be established to help the oppressed women. Most importantly, in collaboration with the education ministry, the government has decided to introduce sex education in the school syllabus from the 6th standard.
These provisions are part of the long-pending demands of social welfare activists. During the current crisis, such a plan must be welcomed. But the government should also have focused on prioritising the lessons of gender equality from the school level. This action plan launched by the government truly has enormous potential if properly implemented. Now the government must ensure a non-arbitrary implementation process for this plan to get the desired result.
Yours Sincerely,
Barun Goswami
---
That was all about our presentation on writing editorial letters on the topic of women safety. In the session above, I have tried to present four unique aspects regarding the topic. Hopefully, this session has been able to give you a holistic idea about the topic and all your doubts regarding it has been cleared after going through this session.
So, if you liked our initiative or you have still any doubts, let us know through the comment section below. Moreover, if you have any suggestions or topic ideas you want me to cover, don't forget to mention those too. If you want to go through more such sessions, you may take a tour of our website. 
Thank you for being with us. Have a great day.