Editorial letter writing is one of the most popular topics relevant as a comprehensive test for various kinds of examinations. Besides, editorial letter writing is quite necessary for any kind of career option as well. Every day, hundreds of letters get tabled in front of the editor.
But among them, only a few letters become able to attract the attention of the editor. So It is very important to learn the proper methodology of editorial letter writing. Besides, Current issues are very useful to learn how to write an editorial letter. That's why today we have chosen the Swacch Bharat Abhiyaan to write a few editorial letters from different aspects.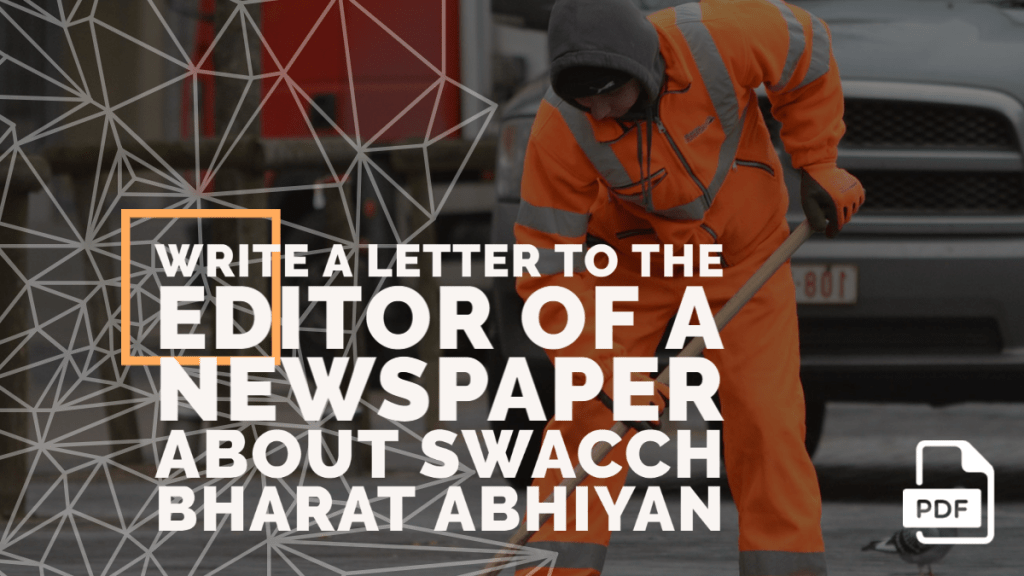 Example 1
Question: Suppose, you have recently participated in a community welfare program from your school under the nationwide mission of the Swacch Bharat Abhiyan. Write a letter to the editor of a newspaper by signifying the need to extend this mission everywhere with special emphasis on your agendas.
Hints: Cleanliness: the need of the hour- School launched outreach program under Swachh Bharat Abhiyaan- Basic minimum agenda- Maintain safety measures- Conclude with a note.
26/3 Bhawanipur
Kolkata: 700023
June 4, 2021
The Editor
Xyz newspaper
9/2 Suresh Chandra Sarani
Kolkata
Subject: A day for Swacch Bharat Abhiyaan
Sir,
I am a student of class 11 from The Bhawanipur Education Society and a regular follower of your esteemed daily. Today in the era of worldwide pandemics, the need for promoting cleanliness programs is being felt almost everywhere. Very recently we from our school have participated in such an outreach community welfare program under the nationwide Swachh Bharat Abhiyaan mission. Today I'm writing this letter to you to highlight the need for such programs and why every institution should get themselves indulged in such agendas.
Last Sunday an initiative of launching a community welfare cleanliness program was taken from the BGES School under the Swachh Bharat Mission. Under this initiative, we have taken agendas like cleaning the streets, collecting plastics from Maidan, and promoting hygiene awareness among people. We got ourselves divided into three groups, each focusing on a specific agenda following the social distancing and other safety norms.
But only our campaign can't serve the purpose of this program. That's why I think the ambitious Swacch Bharat Abhiyaan should be taken as the basic minimum agenda by every school and they should also focus on such outreach community programs besides academics.
Yours sincerely,
Ratnadeep Ahuja
---
Example 2
Question: Write a letter to the editor of a popular daily newspaper explaining the need to extend the nationwide Swachh Bharat Abhiyaan in the micro localities of the country.
Hints: Call for decentralization- identify structural flaws- Spread public awareness- Break hierarchy and decentralize- serve the purpose.
Jagannath Nagar
Village: Kirtanpur
South 24 Parganas
July 13, 2021
The editor
The Indian express
Sector 10, Noida
Uttar Pradesh
Subject: Swachh Bharat in the micro localities
Sir,
I am a resident of a remote village from the state of West Bengal writing this letter to your esteemed daily to make a call for the decentralization of Swachh Bharat Abhiyan in order to expand this 'Jan Aandolan' to the micro localities of the country.
The central government launched the ambitious Swachh Bharat Abhiyan mission in the year of 2014 in order to promote cleanliness and build healthy hygienic habits for the entire population of the country. Undoubtedly, this mission has a greater purpose to serve. But it seems that there is a major structural flaw in this Swachh Bharat Abhiyan mission. There is a clear hierarchy in initiating and executing programs under this mission. In my opinion, that's why this ambitious project has failed to reach the remote localities of the country. Cleanliness and developing hygienic habits is entirely a domestic concern for people that serves a holistic National interest. If the central government focuses on increasing public awareness about the basic issues, instead of promoting Swachh Bharat Abhiyan, The 'Jan Andolan' can serve the purpose from the very bottom of the society.
So, instead of centralizing the entire project, the Central government should break the chain of hierarchy and focus on decentralizing and expanding the 'Abhiyan' till the Panchayat level.
Yours sincerely,
Amol Kumar Sanyal
---
Example 3
Question: Write a letter to the editor of a national weekly magazine presenting a narrative of how the Swacch Bharat Abhiyaan can be effective in countering the issues like environmental degradation and global warming.
Hints: Open with your concerns- Scientists are worried about the environment- Developmental activities causing Environmental disruption- Expanding Swachh Bharat Abhiyan- Need of the hour.
32/7, Master Da Surya Sen Street
Kolkata: 700073
April 3, 2021
The editor
The Frontline magazine
4, Chowringhee square
Kolkata: 700001
Subject: Swachh Bharat Abhiyan and the environmental concern
Sir,
I, a regular follower of your esteemed magazine writing this letter is to discuss and bring some light on the issue of various environmental concerns and how the central government's ambitious Swachh Bharat Abhiyan mission can be used in countering these environmental issues.
Nowadays, scientists are concerned about the post-modern developmental activities that are causing constant environmental degradation. This environmental degradation includes massive deforestation, Ocean exploitation, mineral exploitation, polluting the air, earth, and the water, and many others in the name of developmental activities. These all activities are eventually leading to nonstop global warming and climate change. In India, traditionally and globally according to the 2015 Paris convention on climate change, we focus on sustainable development. The Swachh Bharat Abhiyan was basically launched on the grounds of promoting cleanliness, eradicating open defecation, and creating awareness about hygiene. But if this mission can be broadened into a full-fledged 'Jan Andolan' then it could help in addressing the issues like deforestation, environment polluting activities, etc.
Through this article in your esteemed magazine, I want to make a call to expand the Swachh Bharat Abhiyan in order to serve the need of the hour.
Yours sincerely,
Ajit Kumar Bardhan
---
Example 4
Question: Suppose the government has included a few community welfare programs under the Swacch Bharat Abhiyaan as the common minimum agenda for all educational institutions around the country. Write a letter to the editor giving your personal opinion about this move and suggest some further way forward if possible.
Hints: Swachh Bharat Abhiyan as common minimum agenda- Can build up good habits- Voluntary participation in community welfare is needed- Binding may have a negative impact- Create awareness to serve the purpose
51/6/A
Nabinpally, Khardah
Kolkata: 700112
June 6, 2021
The Editor
The Indian Express
NH6, Prasastha and Ankurhati
Howrah: 711 409
Subject: Swachh Bharat as common minimum agenda
Sir,
Very recently the central government has initiated a move to include a few programs under the Swachh Bharat Abhiyan mission as the common minimum agenda for every educational institution of the country. Today I am writing this letter to your esteemed daily to bring some light on the pros and cons of this particular move of the Centre.
Swachh Bharat Abhiyan is no doubt an ambitious mission that has a greater purpose to serve the nation. In a democracy, people are expected to participate voluntarily in every community welfare program such as this. Including the programs like regular cleanliness practice, hygiene maintenance, public survey, etc under this Swachh Bharat Abhiyan as the common minimum agenda for educational institutions, can undoubtedly build good habits among the youth. But we know that including welfare programs as binding on the youth may also have a detrimental and negative impact because these youth have a general tendency of disobedience.
So instead of binding this mission on the youth, if the central government would have focused on creating awareness among them, then eventually it could serve a greater social purpose.
Yours sincerely,
Ranajit Dasgupta
---
That was all about our presentation on writing editorial letters on Swacch Bharat Abhiyaan. In this session, I have tried to cover the topic from all aspects possible and tried to create a broader picture of the issue. Hopefully, you have got all your queries answered by this session and found it helpful to your needs. Let me know your valuable opinion through the comment section below. Your opinions are very important to us. I will further try to improve my presentation as per your suggestions.
Thank you; See you again, very soon.