Write a Letter to the Editor Complaining about the Shortage of Water in Your Area [4 Examples]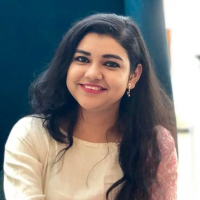 In today's article, I am going to show you how to write a letter to the editor about the shortage of water in your area. Read the letters carefully and refer to the following examples whenever you come across a similar topic. So without any further ado, let's begin.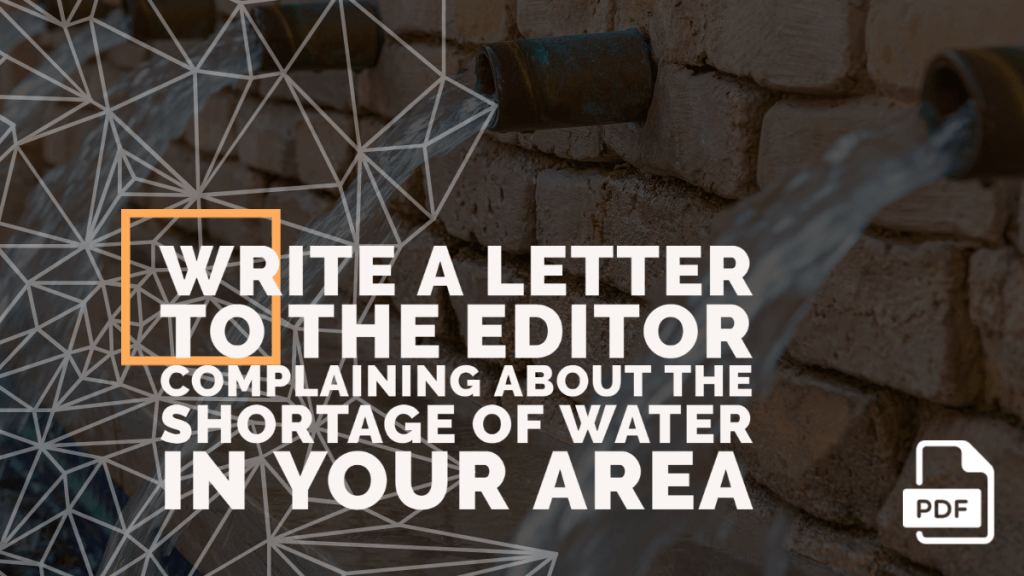 Example 1
Question: The residents of your locality are facing problems due to water shortages. Write a letter to the editor expressing your grievances in about 120-150 words.
Hints: How much water you are getting- Problem duration- Large families have lack of water to sustain- Authority's action against it
40, Gariahat Road
Kolkata 700048
May 23, 2021
To
The Editor
The Telegraph
Subject: Shortage of water for the last week
Respected Sir
I wish to bring the attention of the municipality through this letter of mine. I hope you would allow me space to express my grievances.
For the last week, our locality is suffering from a shortage of water. We are only getting water for an hour in the morning and there is no water for the rest of the day. It is becoming difficult for us to manage with such little water.
There are families with four members and some families have patients with them as well. The water requirement is high for such families. We have complained about our current status to the local authority, but no action has been taken yet. Our life has become troublesome. Water is the basic necessity for any person to survive. All the residents of our locality have signed a petition to resolve the issue at the earliest.
I urge the authority to pay attention to this burning issue and relieve us of our plight immediately. 
Yours sincerely
Promita Dey
---
Example 2
Question: An underground pipeline work has resulted in water shortages in your area. Write a letter to the editor of an English daily expressing the problems you have facing. 
Hints: Underground work duration- Work stopped suddenly- Not getting through pipes- Complained but no response
28, Hailey Road
Delhi 500038
May 22, 2021
To
The Editor
The Hindu
Subject: Water shortage due to pipeline work
Respected Sir
I am a resident of the above-mentioned place and currently, our whole locality is going through a water shortage. I urge you to allow me space in your esteemed daily to highlight this issue.
Since the last month, an underground water pipeline work has been going on in our area. Initially, we did not face any major water problems. However, for the last two weeks, we have been getting hardly any water. The pipeline work got stalled suddenly and it has been resumed till now. We can only manage one bucket of water per day. Water is not coming to us through the pipes, we have to physically go and fetch water from outside taps. Despite telling the authorities to resume their work or to solve the pipeline issues as soon as possible, we have not heard any positive response from them. It will be difficult for us to survive if the condition continues for a longer period of time.
I hope my genuine concern will be heard and responded to positively by the authority. I shall be highly obliged for providing the space in your distinguished newspaper. 
Yours sincerely
Kritika Chadda
---
Example 3
Question: You are having a drinking water shortage issue in your residential area. Write a letter to the editor about the suffering you are going through. 
Hints: No supply of drinking water- Suppliers not responding to the problems- Drinking unhealthy tap-water- The risk of health for children and elders- The expense of mineral water
48, Commercial Street
Bangalore 400078
May 22, 2021
To
The Editor
The Sunday Guardian
Sub: Drinking water shortage
Respected Sir
I am a resident of the afore-mentioned place and I would like to have space in your esteemed daily to convey my concern about the drinking water shortage in our locality. 
In our area, we get drinking water through the services of the municipality. The water suppliers come and provide us with water on a daily basis. However, recently the suppliers are not coming and they have not notified the duration as well. It has become very difficult for us to get drinking water for ourselves. We are forced to use tap water for our drinking purposes which are quite unhealthy. We have requested the authority to supply water to us at the earliest. But they have not given us any answer yet. The residents are anxious about the health of their children and aged parents. Also, everyone cannot afford to buy mineral water for daily usage.
I sincerely hope my concern will be highlighted in your column and it would help bring the attention of the authority. 
Yours sincerely
Tarun Shah
---
Example 4
Question: Your locality is going through a clean water supply shortage. Write a letter to the editor conveying your problems in about 120-150 words. 
Hints: No clean water- Water has smell and color- Unhygienic drinking water can cause health issues- The role of the authority 
19, M.G.Road
Chennai 500029
May 23, 2021
To
The Editor
The Times of India 
Subject: Shortage of clean water 
Respected Madam
With this letter of mine, I would like to state the problems of shortage of clean water that our locality is going through. I hope my concern will be allowed space in your renowned daily.
The residents of our area have found in the past few weeks that the water is unclean. Even the drinking water has a different colour and smell to it. We have assumed the ongoing construction work may be a cause for the water change. We all have become quite anxious to consume this unclean and unhygienic water. We have asked the authority to provide us with clean water but they are turning a blind eye to us. If this goes on for a while, we might all fall in sick. We are only demanding clean water which is a basic right for us. 
I shall be extremely grateful if you highlight the grave issue through a column in your respected daily. I hope the authority resolves the issue at the earliest. 
Yours sincerely
Rahul Kalani
---
This article will give you a detailed insight into editorial letters- their structure, format, and language used. 
I hope you found this session helpful We have a plethora of topics covered on our website, please check out them. And stay tuned to our website for more detailed academic content.