Editorial letter writing is one of the most popular comprehension tests relevant for any kind of examination. Besides, the knowledge of editorial letter writing can help a person in many ways in his/her life. There are many methods of editorial letter writing in English comprehension. But only some significant methods are able to catch the attention of editors. In today's session, we will learn to write a few such editorial letters on the burning issue of noise pollution.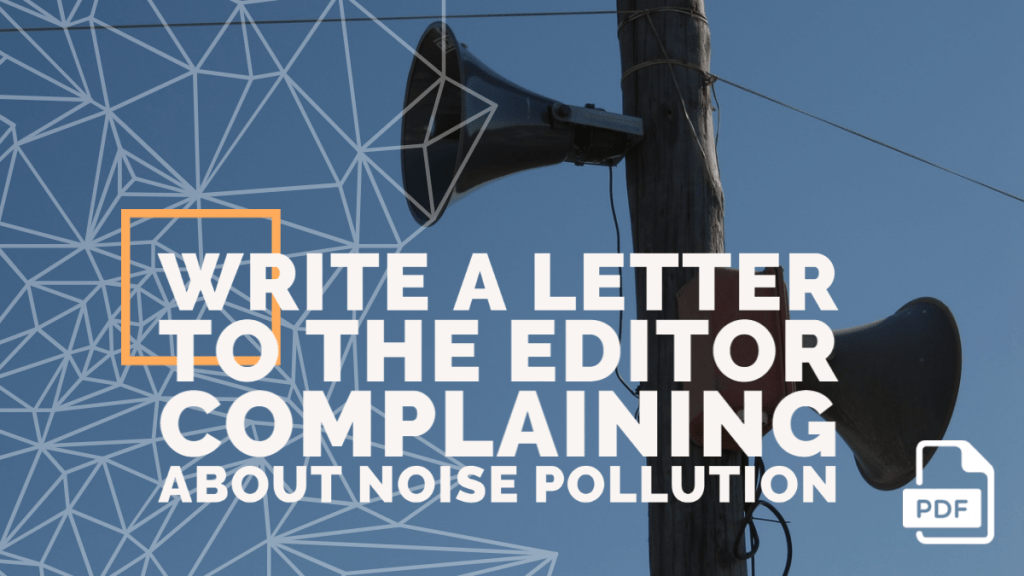 Example 1
Question: Suppose you live in such an area of a city where the level of noise pollution is very high. Write a letter to the editor of a newspaper complaining about this issue and ask for its permanent solution.
Hints: Congested area- High noise pollution- Affecting students- Senior citizens and patients are suffering- No resolution from the authority- Get issue highlighted
23A/7 Chandni Chawk
Kolkata: 700072
June 6, 2021
The Editor
The Statesman
1, Chworinghee Square
Kolkata: 700001
Subject: Noise pollution creates huge trouble
Sir,
I am a fellow citizen of the city of Kolkata and a regular follower of your esteemed daily. Hopefully, through my address label, you are quite aware of the area where I live.
This is Chandni Chawk, one of the busiest localities of Kolkata situated at the very center of the city. Naturally, with a higher level of congestion, we the residents are quite familiar with all kinds of high pollution in this area. But recently, noise pollution went so higher that it's severely affecting our day-to-day life. Students are being seriously disturbed and not being able to concentrate on their studies. Besides, many fellow senior citizens are being severely troubled with the issue too. Moreover, we have a few heart patients in our locality for whom such a degree of noise pollution is nothing but a messenger of death. We don't really understand why the level of noise pollution got such rise recently. We have tried to resolve the issue by letting the corporation aware of it, but unfortunately, nothing worked.
That's why we are writing this letter to you to get our issue highlighted through your esteemed daily in order to get it resolved.
Yours Sincerely,
Ranjan Goswami
---
Example 2
Question: Suppose your school is situated near the main road where you face serious problems during classes due to high noise pollution. Write a letter to the editor of any popular news daily complaining about the issue you faced.
Hints: School on Roadside- Heavy honking and Shouting- Class interrupted- Norms aren't followed- Further action needs to be taken
29B/9 Acharya Jagadish Chandra Bose Sarani,
Kolkata: 700001
June 6, 2021
The Editor
The Times of India
Times House
Kolkata: 700091
Subject: Noise Pollution is interrupting studies
Sir,
I am a student of class 10 from the Sealdah city school. I am writing this letter to you about the issue of high noise pollution around our school area that causes serious trouble to our day-to-day school life.
For being situated in the middle of such a busy street like AJC Bose Sarani, we the students and teachers are quite familiar with a bit noisy environment from the very first day we entered the school. But recently the level of noise pollution is being intolerable day by day. The loud noise of honking and shouting creates serious problems every now and then during our classes. Especially, during our exams the issue we have to face due to this noise pollution is unimaginable. The school authority, as well as the corporation, have put a notice of 'no horn' near the road. But unfortunately, nobody follows the norm.
That's why I hope, this letter will be able to bring some light of concern to this issue and help to build awareness among people so that we can again live our school life in a proper manner.
Yours sincerely,
Ranadeb Guha
---
Example 3
Question: Recently the ill effects of noise pollution have been discussed all around the world. Write a letter to the editor of a newspaper discussing this very issue and suggest some solution to the problem.
Hints: People are frustrated due to pandemic- Noise pollution has risen- Pollution causes diseases- Steps should be taken
51/6/A Nabinpally
Khardah
Kolkata: 700112
June 6, 2021
The Editor
The Indian Express
NH6, Prasastha and Ankurhati 
Howrah: 711 409
Subject: Rising noise pollution and the need of the hour
Sir,
I am a regular follower of your esteemed daily. Recently, the issue of rising noise pollution is being discussed worldwide by experts, environmental activists, and all kinds of media. Your daily was no exception to it. Today, I am writing this letter to you in order to discuss this very issue of high noise pollution all around the world.
Very recently, for unknown reasons the level of noise pollution has risen to a great extent all over the globe. Scientists and psychologists are referring to the frustration and disgust of the world community as the reason behind this rising noise pollution. According to them, this situation is the soul aftereffect of the pandemic that the world witnessed in recent times. But such noise pollution is a serious matter of concern. According to doctors and medical researchers, high noise pollution causes severe diseases like nausea, migraines, heart diseases, etc.
So, in order to control the problems of noise pollution, our govt should take immediate steps following the other countries all around the world.
Yours Sincerely,
Rohit Barman
---
Example 4
Question: Suppose the government has recently passed a new law in order to control the rising level of noise pollution in the country. Write a letter to the editor of some esteemed daily in this context briefing the main issue and the legislation in short.
Hints: Government passed a new law- Will penalize both individuals and institutions causing noise pollution- Help eradicating the problem- Public Awareness programs also needed.
13/3.J Jadunathbadi
Kanchrapara
PIN: 743145
June 6, 2021
The Editor
The Hindu
Kolkata-​700001
Subject: Noise pollution vs. the new law, and the way forward
Sir,
This letter to you will be addressing the issue of noise pollution in our country and the new legislation passed by the government in order to control this challenge.
Finally, our government has passed a new law in order to put a check on the rising level of noise pollution all over the country. According to the experts, this legislation was a need of the hour during this time. Under this law, a hefty fine can be imposed on an individual or an institution causing noise pollution. Moreover, they can also be penalized by a minimum of 3 days to a maximum of 3-year jail term or the same along with a fine. Fortunately, while framing the law, the government has also considered the fact that noise pollution can even cause death to a person.
Hopefully, this legislation will be able to control the noise pollution in our country. But imposing a penalty can not be the only solution to this problem. I think, besides that, the government should also focus on public awareness programs that people can act voluntarily to eradicate this issue. That'll also be a step forward to a thriving and successful democracy.
Yours Sincerely, 
Videsh Raha
---
That was all about the editorial letter writing on complaining about noise pollution. In today's session, not only I have covered the complaining portion but we have also tried to suggest some measures along with other aspects. Hopefully, after this session, you won't have any kind of confusion remaining regarding this topic. So, if you have found these letters helpful to your requirements, let me know your valuable opinion through the comment section below. Your opinion is very important to me. We always try to ensure the best quality of such comprehensive tests for you.
Thank you; See you again, very soon.