Today, we're going to learn to write a letter to the editor about cybercrime. Editorial letters are formal in tone and language. One must maintain the format of editorial letters. So read the following examples to understand how to compose a letter on this topic. So, Let's begin.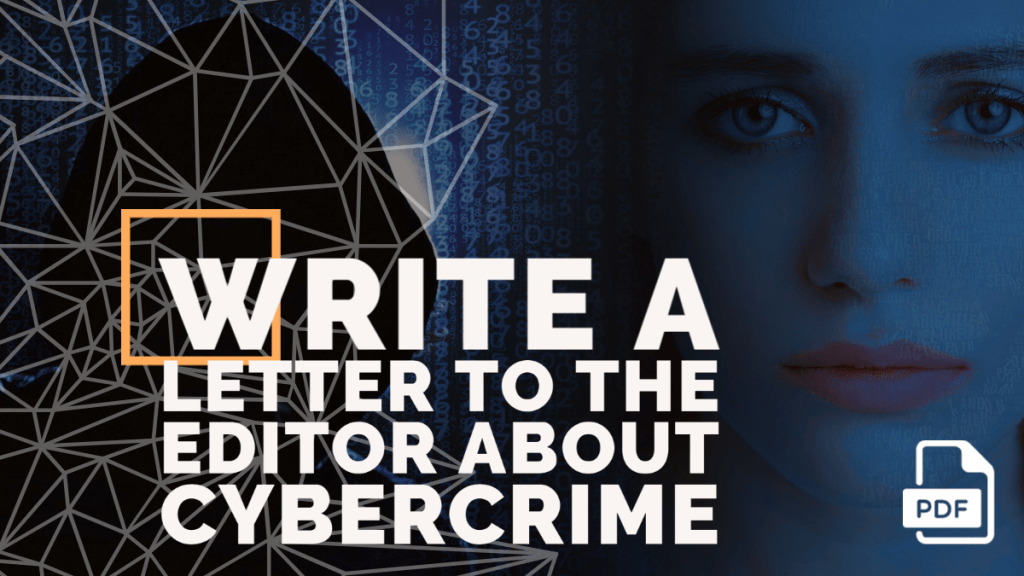 Example 1
Question: Phishing is responsible for stealing money from people's bank accounts. It is a huge part of cybercrime. Write a letter to the editor about the increase in cybercrime with special emphasis on Phishing.
Hints: Easy access to the internet- People losing money online- Hackers hacking accounts illegally- Demand for a safe web world- Stricter punishment for criminals
19, Behala Road
Kolkata 700034
June 20, 2021
The Editor
The Telegraph
Kolkata
Subject: Online phishing is a major part of cybercrime
Sir,
Through this letter in the column of your esteemed daily, I wish to draw attention to the growing rate of cybercrime and its harmful effects on society.
Cybercrime is one of the greatest threats to today's society. Today the world is exposed to the internet and everything is just a few clicks away. And most importantly all the data is accessible to everyone. But there are a lot of disadvantages to it as well. People are constantly buying online things and storing their personal bank account details on the internet.
Potential hackers look for such information to use it to their advantage, There have been many cases where people have lost a hefty amount of money due to phishing or other online frauds. Many people have experienced their bank accounts are getting hacked. In this online world, we all need a safe and secure space to conduct everything without being worried. That's why in order to achieve this online safety, our need of the hour is a strict cyber law and its proper enforcement. 
I sincerely hope my concern will help to make our government more aware of these types of cybercrimes and they will take necessary actions to prevent them and punish the criminals. I will be highly obliged if my concern gets highlighted.
Yours sincerely,
Uttam Dasgupta

---
Example 2
Question: The young generation is facing cyberbullying due to the increasing trend of cybercrime. Write a letter to the editor about cybercrime and how cyberbullying affects mental health.
Hints: Dependency of the young generation on the web- Effects of cyberbullying- Mental trauma- Young students facing this- Punishment for the criminals
20, Tumkur Road
Delhi 70089
June 24, 2021
The Editor
The Hindu
New Delhi
Subject: Young generation facing cyberbullying
Sir,
With this letter, I wish to bring focus to the burning issue of cyberbullying which is a major part of cybercrime. I shall be obliged if my voice gets a little space in your esteemed daily.
Recently, especially during the pandemic, the whole online world has seen a huge rise in the number of internet users. The young generation is being completely reliant on the internet for almost anything and everything under the sun. Besides, the norms of physical distancing are leading them to use various social media platforms extensively.
However, there are a lot of insensitive people out there who are using this opportunity to abuse these platforms. These people are using various methods for cyberbullying their fellow users on the internet. Cyberbullying can have very harmful effects on someone's mental health. Sometimes, it can take a long time to get recovered from the trauma due of cyberbullying.
This cyberbullying involves using abusive words, offensive photos, or body shaming against an individual. There are many instances where students have become victims of cyberbullying. In some cases, they had to go through counselling to recover from that pain. We need cyber protection immediately to prevent such unwanted situations in the future.
I hope my concern will unnerve the conscience of the people who commit such heinous crimes and at least some action should be taken for their wrongdoings in the online world.
Yours sincerely,
Dolly Patel
---
Example 3
Question: Identity theft is a type of cybercrime that is committed by stealing someone's personal information from the internet. Write a letter to the editor explaining this type of cybercrime and the increasing trend of identity theft.
Hints: Define identity theft- Different ways of stealing personal information on the internet- More cyber protection for internet users- Awareness of the commoners
34, Vikashpuri Road
Chennai 600078
June 19, 2021
The Editor
The Deccan Herald
Chennai
Subject: Identity theft a major problem of cybercrime
Sir,
I would like to voice my opinions through this letter in your distinguished daily regarding identity theft which is a major problem the cyber world faces nowadays.
Identity theft refers to stealing someone's identity without their permission. In today's digital world, people are facing this problem more than ever. There are lots of scammers online who steal a person's name and other personal information from the web by different fraudulent methods. These scammers use this kind of personal information to send numerous fraudulent emails and their intention is generally to acquire money from innocent people.
Usually, they threaten and blackmail people in order to achieve their goals. These kinds of illegal activities need to be stopped at the earliest. Our information should be protected from such criminals and there should be strict rules and regulations about the access and usage of someone's personal information on the internet. Many innocent people have suffered a lot from this problem and we all deserve a safe digital life in a threat-free cyber world. 
I hope my concern will make the internet users more aware of such crimes and they will think twice before putting out there every minute detail on the internet. 
Yours sincerely,
Dipak Taneja
---
Example 4
Question: There are many different types of cybercrime and most internet users are not aware of these. Write a letter in around 120-150 words to the editor of a daily newspaper about cybercrime and how to create awareness around it.
Hints: Digital mode of work and education- Hacking and scamming- Abusing and leaking personal information- Awareness among people- Steps to keep information safe
10, Lakeview Road
Noida 600089
June 20, 2021
The Editor
The Hindu
Noida
Subject: Awareness of cybercrime
Sir,
Through the columns of your esteemed daily, I would like to bring focus to cybercrime which is a major concerning part of our digital world. I hope my issue will be able to get some space in your newspaper.
Nowadays, cybercrime has been becoming a growing threat to digital society and the victims are none but us. Today's world runs solely depending on the internet. From the work-from-home culture to attending schools and seminars online, everything is digital today. However, this online mode has opened a new window for scammers and hackers as well. They are everywhere waiting to grab on someone's personal email account or bank account or get their credit card credentials. Some criminals hack many users' PC and even threaten to leak offensive pictures on the internet.
Basically, they try to use these sensitive files for blackmailing in order to fulfil their demands. Cybercrime is now going beyond control. We genuinely need strict cyber laws and awareness among the people about the various types of cybercrime.
There are many ways to keep our personal information safe on the internet and customized privacy settings along with encryption are also available. If people are aware of such steps, then the risks of getting hacked would be less. Also, strict cyber law and its enforcement are needed to ensure punishment for such criminals and to deliver justice to the victims.
I sincerely hope my concerns will make people think about the potential threats of cybercrime and they will take extra precautions on the internet from now on.
Yours sincerely,
Kelly Kapoor
---
I tried to teach you through this session how to write a letter to the editor about cybercrime. Read the letters and always try to include your own points. Let us know your feedback in the comment section below. And did you check out other content? We have tons of topics so be sure to have a look. We have stored many such interesting contents. So stay tuned to our website.