In today's article, I am going to show you how to write a letter to the editor about the cruelty towards animals. The following examples will help you to compose letters on a similar topic if you come across a question like this. Now let's not wait anymore and start right away.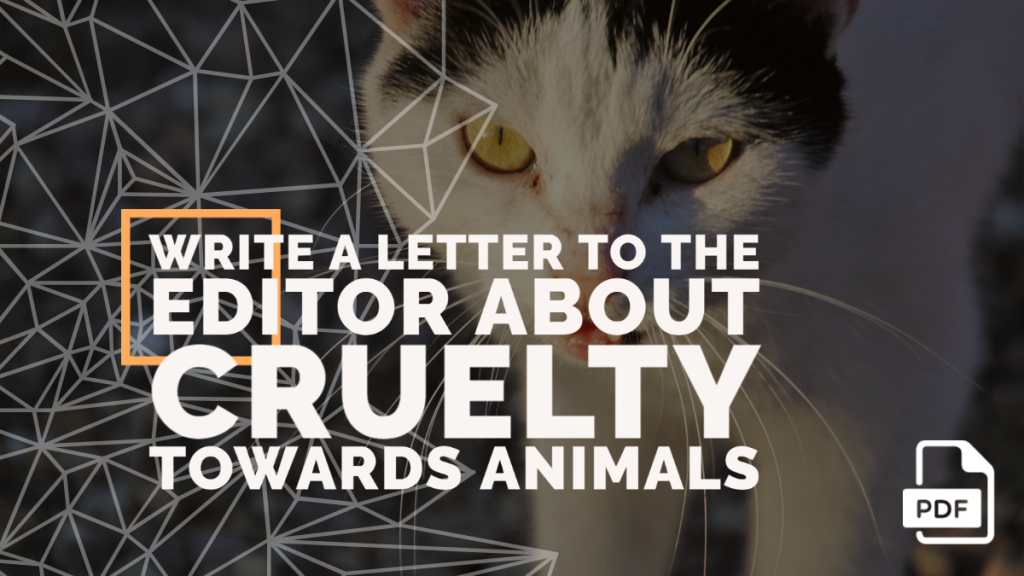 Example 1
Question: Write a letter to the editor of an English daily about the increasing cruelty towards animals in 120-150 words.
Hints: Brutality towards animals- Recent incidents of animal killing- Lack of awareness and sympathy of people- Necessary actions to be taken
21, Garia Place
Kolkata, 700048
May 19, 2021
To
The Editor
The Hindu
Sub: Increasing cruelty towards animals
Respected Sir
I wish to bring attention to the people on the continuous cruelty towards animals through the columns of your esteemed daily.
We are waking up to the news of animals dying all over the world every single day. Most animals are being preyed on human hands. The recent incident of five dogs being poisoned near the Gariahat area was a shock to all of us. The puppies who were only three months old were brutally poisoned by some local boys. They were taking shelter under the garage in one of the houses. However, the innocent puppies were found dead the next morning. It is a matter of great concern, that we are killing innocent lives for our own sake. We are meant to live together with the animals who are a part of nature too. This is happening because of a lack of compassion and kindness in us in today's world. It is time for us to unite together and give our animals the love they deserve.
I sincerely hope that people will be more aware of this kind of brutal behavior and take necessary actions to stop such hate and inhumanity. The animals have the right to live just like us.
Yours sincerely
Anwesha Sur
---
Example 2
Question: animals are often treated badly during festivals like Holi. Write a letter to the editor expressing your concern about the cruelty towards animals.
Hints: Kids throwing colors on animals' bodies- Chemical reaction of those colors on their bodies- Recent incidents of animals sufferings- People's responsibility
18, Nagar Palika
Mumbai 700069
May 21, 2021
To
The Editor
The Telegraph
Sub: Animals suffering during festivals
Respected Sir
I wish to express my sincere concern about the suffering of animals during festivals. I would be highly obliged if you allow me space on your esteemed daily.
Animals go through a lot of pain and torture by people during the festivals. Recently, on Holi, the kids in our locality threw extremely poor quality colors on the body of the animals. One of the cats started shedding a huge amount of fur from its body. The other cats and dogs were also running frantically to escape the situation. Later on, we found that all those innocent animals have developed severe skin rashes on their body. I feel quite upset about such behavior of the children, It is our duty to teach them empathy and to treat the animals kindly. Animals should never become an object for our entertainment.
I earnestly urge everyone to pay heed to this grave issue and teach their children the right kind of behavior.
Yours sincerely
Srijita Saha
---
Example 3
Question: Animals are used in entertainment parks for commercial purposes. Write a letter to the editor about the cruelty towards animals inside these parks in 120-150 words.
Hints: Dolphins, seals used in parks- Their health is compromised- Injections used in their bodies- No freedom and no natural habitat
20, Worli Road
Mumbai 400078
May 22, 2021
To
The Editor
The Times of India
Sub: Inhuman treatment of animals in entertainment parks
Respected Madam
I wish to bring attention to the ongoing ill-treatment of animals in entertainment parks through space in your esteemed daily.
Animals have always fascinated human beings over the years. Although the use of animals in the circus has been banned by the authorities there are still some entertainment parks that still use animals. Dolphins, seals are shown for entertainment purposes in many parks all over the world. The animals are injected with various kinds of drugs and are exploited for commercial usage. They are deprived of their natural habitat and forced to live in an artificial environment. Many dolphins have died in this process in the last few years. We must stop such inhuman treatments of animals immediately to save the lives of these innocent creatures.
I sincerely hope my concern will unnerve people's conscience and collectively we will be able to put an end to this brutality.
Yours sincerely
Bidisha Bag
---
Example 4
Question: Write a letter to the editor expressing your concern about the inhuman treatment of animals inside the zoos.
Hints: How are they treated in the zoos- Improper food and hygiene- The visitors' bad behavior towards them- Manhandling of the animals 
39, Vikashpuri Road
Delhi 500078
May 23, 2021
To
The Editor
The Guardian
Sub: Cruelty towards animals inside the zoo
Respected Sir
Through this letter published in your esteemed daily, I want to draw attention to the maltreatment of animals inside the zoos.
Animals even inside the zoo are not safe nowadays. They are anyway deprived of their freedom and have to survive within the four walls of a cage. In spite of that, the zoo authorities do not take utmost care of the animals. They are not properly fed and mostly kept in unhygienic places. Visitors also are extremely cruel towards these pure creatures. They throw packets, stones, etc at the animals which often hurt the animals. Also, people unnecessarily irritate the animals to take photos of them. Some animals while being transferred from forests to zoos are hurt due to the manhandling. Many young animals get injured in this process. It is our responsibility to ensure the safety of the animals.
We must be more accountable for our actions and the authorities should pay proper attention to the well-being of the animals. We have to prevent this kind of cruelty towards animals.
Yours sincerely
Arun Noel
---
Here in this article, I taught you how to write an editorial letter about the cruelty towards animals. Keep the tone of editorial letters formal. I hope you enjoyed today's session and learned something new. Let us know your feedback in the comment section below. Also, keep an eye on our website for more interesting content like this.