Editors of newspapers and magazines receive thousands of letters, only a few of which get published according to general interest and readability. Thus, one must remember that editorial letters should be short and to the point on certain burning issues of national or international importance or even to get rid of their grievances.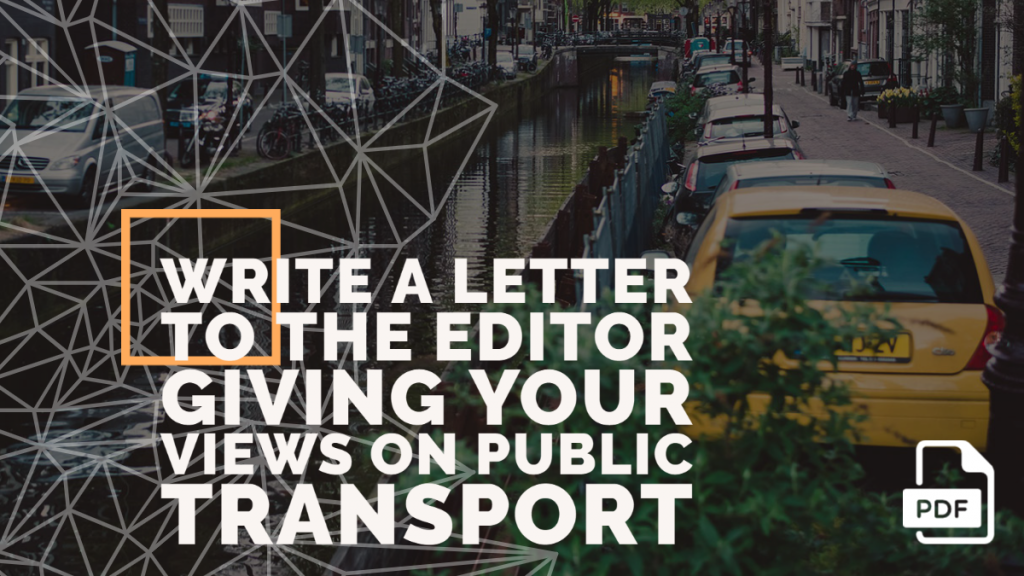 Example 1
Question: As an office commuter, you rely on public transportation. Write a letter to the editor of daily highlighting issues regarding public transports and offer suggestions to develop the service.
Hints: Issues regarding public transport- How it affects the passengers- Possible solutions- Seek help from the government.
12/A Malad
Mumbai- 556541
June 5, 2021
The Editor
The Chronicle
Mumbai- 556530
Subject: Improvement of the city's public transportation.
Sir,
I rely on public transportation to get around the town. Through this letter in your esteemed daily, today I would like to highlight some serious issues related to the recent incidents on public transport that are severely affecting the regular commuters like me.
We are meant to have a proper facility of trains, trams, and busses for the comfort and ease of our citizens. However, as it stands now we're struggling to get by in the system. As with most things in life, it's fundamental that the basics be attended to. For instance, effort needs to be put into keeping public transport clean and tidy. Another issue that is lacking attention is keeping our ticket inspectors on their toes by ensuring they're properly kept up-to-speed.
Transportation is essential for the holistic development of our cities. Proper public transportation helps everyone in day-to-day life. I wish the government would find a permanent solution to this problem based on the public opinions and grievances. Voluntary participation of the citizens with innovative ideas on the improvement can make it process more easy and faster.
Yours Sincerely,
Manoj Tripathi
---
Example 2
Question: You travel by public transport regularly and have closely observed how the poor condition of the public transport is affecting the lives of hundreds of passengers who travel to their workplaces regularly using public transport. Write a letter to the editor of the newspaper giving your view on this issue.
Hints: Public transport is the backbone of the city's transportation- Poor condition affects the passengers- Issues of public transportation- fatal incidents- Suggestions to improve the condition.
1/C D.L.F Park
Kolkata- 700001
July 5, 2021
The Editor
The Telegraph
6, Prafulla Sarkar Street
Kolkata- 700001
Subject: Better public transport service to assist daily commuting for all.
Madam,
Public transport in India is a very important aspect to be considered with city planning and urban development. Today, through the column of your esteemed daily, I would like to state my views on the public transport in my place.
There are many of us working people who have to travel daily from one place to another majorly using the public transport. That's why the lack of minimum convenience in this sector can prove to be a nightmare for us. This also affects the mobility of people in that particular area. I have seen persons dragging themselves out of the train into the station. Things like that happen very often nowadays and no one in authority seems to give any efforts or initiatives to resolve this situation. This issue should be dealt with utmost importance and attention.
To provide a better service, we need to have more buses on the road and more train carriages. That way more people can be served at the same time. Making public transport more convenient and faster will allow us to reduce car dependency. This reduction will eventually lead to a reduction in net carbon emission in our country. So, we need a good and efficient public transport system that can provide necessary convenience to all the citizens as per their daily requirements.
Yours Sincerely,
Alapan Chatterjee
---
Example 3
Question: Poor public transport leads to missed connections and wastage of time. Write a letter to the editor of a newspaper about these serious issues related to public transport.
Hints: You shifted to use of public transport- Faces severe issue-Affected your work and personal life- Request the concerned authorities to take immediate actions.
2C, C.R.Colony
Noida- 110011
August 5, 2021
The Editor
The Chronicle
Noida
Subject: Poor transportation affecting personal and work-life.
Sir,
I am writing this letter today to express my concern on the unsatisfactory state of public transport in our city.
As a person who has stopped driving and relies entirely on public transportation to get around the town, I find it increasingly challenging nowadays. The number of available public buses has shrunk to a large extent. Moreover, the reliability of scheduled arrivals has fallen off drastically in recent months. In this worse condition, drivers often ignore the timetables. This tendency is leading to missed connections and wastage of time.
I think it is high time for the authorities to wake up to the needs of people and take some firm action to improvise the transport system in the city. The government must come to the aid of the public who are regularly paying their taxes.
Yours Sincerely,
Meghna Sidddika
---
Example 4
Question: You are a student. Recently, poor public transport and the high fare is disrupting your daily life. Write a letter to the editor of the newspaper giving your view regarding this public transport.
Hints: Focus on the issue- how it affects your life as a student-Overcrowding and less transport- high price- How developed public transport is beneficial for the environment-Ask government to ensure better transport.
2E Jodhpur Park
Kolkata -700019
October 5, 2021
The Editor
The Statesman
Kolkata- 700001
Subject: Affected student's life due to poor condition of the public transport
Sir,
The local public transport system is a lifeline for the people of any city. It helps people get to work and school efficiently, reducing traffic congestion and air pollution.
As a student, I have certain assignments to complete. These tasks involve a lot of research work that requires considerable travelling to different libraries. But as a student, nowadays it has become quite difficult to reach even my college on time. In the morning, there is a heavy rush in both the suburban railway and buses. Many students miss their train and bus due to heavy overcrowding. Several times I also have missed my college bus and had to take either a train or a cab. Cab charges even up to ten times more than a bus fare at these hours.
The authorities, who are in a position to take substantial action regarding the transport system, need to initiate immediate measures to ensure easy access to public transportation for every citizen of the city.
Yours Sincerely,
Sresth Sinha
---
I have tried my best to show you how you can write a letter to the editor when faced with any issue with public transport. Following the given pattern, you can practice writing more editorial letters. For several other topics, you can also take a tour of our website. And, don't forget to let us know in the comment section below, what more you want to learn from us. Your opinion is important to us.
Thank you. See you again, very soon.