Knowing how to write editorial letters can deliver a real boost in a person's career. This is one such part of English comprehension that is proven relevant for all kinds of sectors. Moreover, students from every corner of the country can find editorial letter writing as one of the most relevant comprehension tests for their exams.
Be it any kind of exam, editorial letter writing is one of most common as well as essential for it. But there are many types of confusions noticed among people about writing editorial letters. Here, I would mention that editorial letter writing commonly focuses on writing about different kinds of current issues and social affairs. So today we will be writing editorial letters on the topic of banning poly bags that are quite a burning issue nowadays. So, let's start.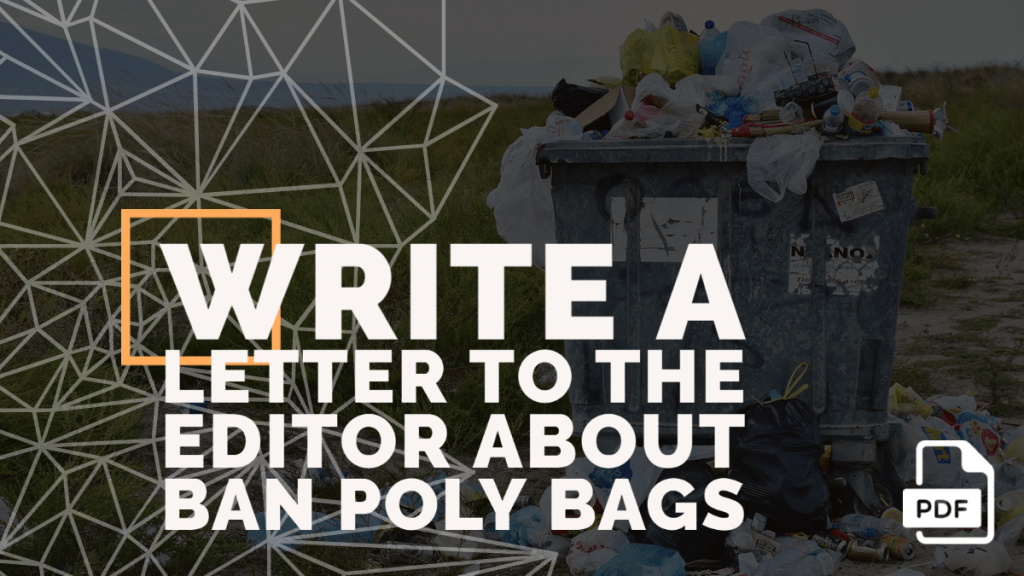 Example 1
Question: Suppose your house is located just beside a riverside road. Write a letter to the editor of a popular daily newspaper expressing your concern about dumping plastic regularly in the river and suggest some measures.
Hints: Regular reader expressing concern- People dump poly bags in rivers- Severely affects the ecosystem- Government should step in – Public awareness programs can help
29B/9 B.B.D. Bagh
Kolkata: 700014
June 6, 2021
To
The Editor
The Times of India
Sector V, Salt Lake
Kolkata: 700091
Subject: River dumping of plastic can be dangerous
Sir,
I am a regular subscriber of your newspaper writing this letter to you today in order to express my concern about out of plastics in the river that are quite relevant nowadays in Kolkata.
At the very beginning, I would like to let you know that the Hooghly river is quite close to my house. It's my misfortune that every day I have to silently watch people dumping their garbage wrapped in poly bags into the river. Though scientists are trying to spread awareness about the dangerous effects of dumping polybags on the river, nobody seems to have actually become aware of it. Oceanographers are warning us every day that poly bags can severely harm and even destroy the river ecosystem. So in my opinion, it is time for the government to step forward into this matter. The central government can extend their ambitious 'Namami Gange' project that is the new version of the former Ganga action plan of which the Hooghly river was previously a part.
Besides, extensive awareness programs among people can increase voluntary participation in keeping the river clean and saving the ecosystem.
Yours Sincerely,
Abesh Das
---
Example 2
Question: Write a letter to the editor of a daily newspaper explaining the effects of poly bags on the environment with special emphasis on how poly bags cause severe damage to the oceans and seas.
Hints: Raise your concern- Poly bags are useful but harmful- Affect the environment and Marine ecology- Killing thousands of animals- A complete ban can help.
26/3 Bhawanipur
Kolkata: 700023
June 4, 2021
The Editor
Xyz newspaper
9/2 Suresh Chandra Sarani
Kolkata
Subject: Poly Bags: a serious threat to the ecosystem
Sir,
I am a resident of the Kolkata city and a regular follower of your esteemed daily, writing this letter to you today in order to bring some light on the issue of plastic bags and their effects on our environment.
There is no doubt that plastic bags have become one of the most affordable and useful items we use on a regular basis. But besides that, it is also true that these poly bags harm our environment and ecology like nothing else. Every day scientists are expressing their concern about the environmental degradation due to poly bags. Marine ecology is especially being destroyed by the extensive use and irregulated dumpling of these poly bags in the river and the sea. The pollution has reached such an extent that poly bags have been found even in the deepest point of Earth: the Mariana trench. Besides polluting the entire environment, these poly bags are killing thousands of marine animals who have swallowed them as food. Most importantly, they are destroying the coral reefs that help to maintain the balance of the oceans' atmosphere.
Many developed western countries have already banned the production and usage of polybags. So it is high time for India to follow their example by putting a complete ban on non-biodegradable plastics to save our environment and oceans.
Yours Sincerely,
Rohit Kumar Dutta
---
Example 3
Question: Suppose you have recently participated in a campaign from your school with the demand of banning poly bags. Write a letter to the editor of a popular newspaper in your city explaining the campaign and the need for such programs.
Hints: Begin with the campaign- Explain the campaign- Express your concern and explain the ill effects of polybags- Demand to the government- Conclude with a note
A/92 Regent State
Gurgaon- 122001
September 6, 2021
The Editor
The Times of India
Gurgaon- 122001
Subject: Campaign to ban poly bags
Sir,
I am a student of Delhi public school Gurgaon writing this letter to you today in order to bring under your kind concern that our school has recently launched a campaign for banning and eradicating poly bags from our society.
It is an ambitious campaign launched by your school last year to address the concern of the ill effects of polybags on the environment. This year it is a follow-up program for us to strengthen our voice against the production and usage of poly bags. Scientists and environmental activists are warning us every day about the harmful effects of polybags on our environment. These polybags are polluting the air, water, soil, and even space. Every year thousands of animals are getting killed for shallow poly bags, Marine ecology is being destroyed, polymers are floating in the air, and the fertility of the soil is under serious threat for this product.
So through our campaign, we demand the government to put a complete ban on non-biodegradable poly bags and regulate every kind of poly bag production. We have to always remember the soul rule of nature: we are the mere beneficiary of the environment, but the environment is not our servant.
Yours Sincerely,
Atul Chandra Sarbadhikari
---
Example 4
Question: The central government has recently banned a specific category of poly bags across the nation. Write a letter to the editor of a weekly magazine expressing your personal opinion on this step taken by the government. Try to add your constructive criticism to the topic if possible.
Hints: Non-biodegradable poly bags banned by central government- Penalty will be imposed on the violation- Plan for public awareness program- Concern for involved industrial workers- Their resettlement in alternative industries
32/7, Master Da Surya Sen Street
Kolkata: 700073
April 3, 2021
The Editor
The Frontline Magazine
4, Chowringhee square
Kolkata: 700001
Subject: Evaluating the ban on polybags
Sir,
I am an environmentally concerned citizen of India, writing this letter to your esteemed weekly magazine in order to evaluate the recent ban on non-biodegradable plastic bags imposed by our central government.
This is a long-expected move finally taken by the government as was proposed by the committee for sustainable development back in the year 2013. As per the experts' opinion, this legislation was a need of the hour during this time. The production of non-biodegradable poly bags have been completely banned and license can be canceled and individuals can be arrested under this law for violating the regulation. Besides, users of nonbiodegradable plastics will be penalized with a hefty fine. The government has also planned to conduct extensive public awareness programs regarding this issue under Swachh Bharat Abhiyan.
This move by the central government is undoubtedly a step forward to the sustainable development goal of India and thus always welcome. But millions of people are involved with the industry of poly bags' production and this ban is a real-time threat to their life and livelihood. So the government should also focus on resetting them in some alternative industries; maybe alternative storage bags' industries like jute and paper bag industries can be a potential option.
Yours Sincerely,
Ramesh Barman
---
That was all about the editorial letter writing on banning poly bags. In this session, we have covered the core topic from four different innovative aspects and tried to present a holistic perspective for you. Hopefully, all your confusion about the very topic has been answered through this session. If this has helped you someway, let us know your valuable opinion in the comment section below. Your opinion is very important to us. I will further try to improve my presentation as per your suggestions. With this note, I want to conclude this session.
Thanks for being with us; see you again, soon.