Diary writing is a skill to pen down one's thoughts in a diary and this question is often asked during examinations. You should know the correct format so that no marks are deducted in the examinations. There are four examples below on the topic- winning a quiz competition. Refer to them to understand a proper format for a diary entry.
Whenever asked to write a diary entry, these examples can come in very helpful. So, let's start.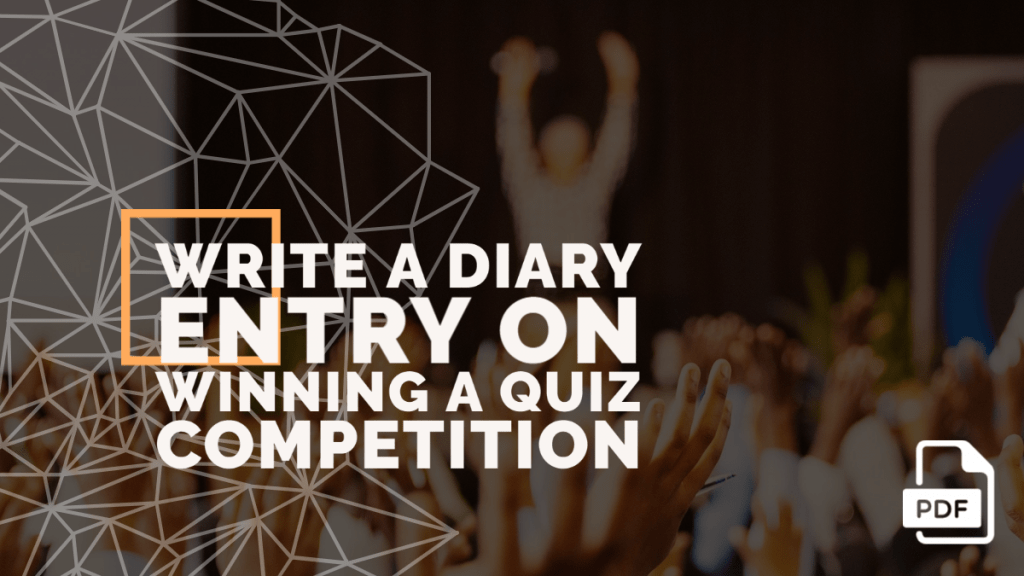 Set 1
Question-1: Write a diary entry, About winning an inter school quiz competition.
Hints: Where was the competition? – Tell your experience or preparation for the quiz competition- Describe the competition- What did you learn?
1st March 2021,
Monday,
6:00 pm,
Dear Diary,
Today I want to share my immense joy with you.
I have been preparing for an inter school quiz competition which was going to be hosted by my school this year. The preparation was extra tough as we definitely wanted to win in our own home grounds. Our team had four members and all of us had some experience in quizzing competitions. Today the competition started by 9 am, the rounds were tough but the finale was very competitive as both teams were aggressive on the buzzer.
The questions went by and we won the competition with a lead of 2 points. Today I learnt how important preparation is as it helped us score against the opponents and this victory has boosted my confidence to perform next time. Dear diary, I am really glad today for the team and pray we do better each time.
Akash.
---
Set 2
Question-2: Write a diary entry, About winning a quiz competition held at your housing complex.
Hints: On what occasion was the competition held? – How was your preparation for the quiz competition- Describe the competition.
26th January 2021,
Tuesday,
5:00 pm.
Dear Diary,
Today I wanted to tell you about this great day I had.
My housing society organizes a quiz competition amongst us youngsters during the Republic day celebrations. It was my first time participating in the competition and I was nervous about it. Each block in the society made up one team. The competition started at 10 am with the host introducing each team, then the rounds began where the team that lost was eliminated.
I was lucky to have experienced teammates as I was nervous for sure. We went to the finals and faced great opposition, each team timed their buzzer well giving prompt answers. Just with a single point in the lead we finally won the competition. This day will always be cherished by me as a day I experienced the joy of making my parents proud by winning the competition.
Binay.
---
Set 3
Question-3: Write a diary entry, About winning a quiz competition at the mall.
Hints: what was the competition held for? – Tell your encounter in the mall- Describe the competition- How you felt after winning.
25th December 2020,
Friday,
7:00 pm.
Dear Diary,
Today I cannot wait to pen down the exciting day I had.
Today I went to Orion Mall with my friends to celebrate Christmas, and all of us were stunned to see the place decorated with holiday props and a huge Christmas tree placed at the center of the mall. While touring we were attracted by a quiz competition going on.
The theme was Christmas and we all decided to take part in it. The rounds went by answering various questions while we really enjoyed ourselves. The finale was intense but we finally won. With a round of applause, the competition came to an end. The anchor congratulated our team and we were really happy to win. This Christmas was special and I will always cherish this day and pray to have such fun again next year.
Vinay.
---
Set 4
Question-4: Write a diary entry, About winning a quiz competition telecasted in the television.
Hints: What was the television quiz show you participated in- How was your preparation
16th March 2021,
Tuesday,
9:00 pm.
Dear Diary,
Today was probably the best day of my life.
Today was the day the quiz competition I participated in was broadcasted in Television. There is a popular quiz show that hosts competition amongst youngsters and then the episode is broadcasted in television. The show started at 7 pm and my entire family was there huddled together in front of the television.
The show started by introducing all the participants and then the rounds began. After answering multiple questions we finally began an intense finale. The rules stated the team hitting the buzzer gets to answer and neither team gave up any chances. To our delight, we were able to win by a few points. My family was very happy and proud of me and I have decided to work even harder for the quizzing competition next year.
Ram.
---
The scenarios covered here will help you understand the format of a diary entry. The topic- winning a quiz competition, shows you four different scenarios which you can refer to better understand diary writing entry. Hope you found this session to be helpful. Let us know your valuable opinion as well as suggest anything you want to bring to our notice in the comment section below. Thank you, hope to see you again soon.