In this lesson today, I will discuss how exactly you can write short essays on the important topic 'Water.' There will be three sets of essays in this following session, each within different word limits.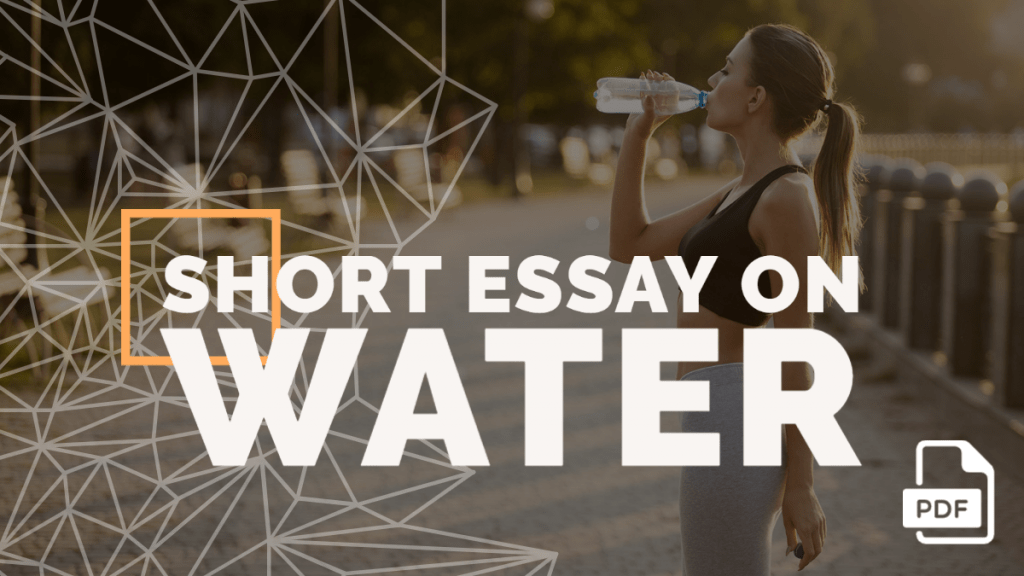 Short Essay on Water in 100 Words
Every living being on the earth needs some basic things for its survival. It includes food, water, shelter, and money as well for humans. Water is by far the principal need of living beings. About two-third part of the earth is covered with water.
Water is available in several forms on earth. Some amount is frozen in glaciers, while the larger amount of water is salty. Fresh water on earth is very little. We need water for every purpose. Drinking, cooking, bathing, washing are the basic needs, while water is also used by bigger industries to run their machines. Water is an important source of electricity. So, being the most valuable resource water must never be wasted.
---
Short Essay on Water in 200 Words
Water is the most significant resource among everything that humans and animals can receive. Water helps a living being to live for longer days, even when food is scarce. It is one of the most beautiful gifts of nature. Water has enormous benefits and is the life of the earth. Its medicinal properties cure several ailments in our bodies. Without it, we cannot imagine living a second on earth. The world will be a huge desert if the water on earth is destroyed.
Our earth is unique in its creation. About two-third part of it is covered with water, while the rest of it is land. If we take a deeper study, then a major part of the water is either frozen as glaciers or is present in the oceans as saltwater. The reserve of fresh water on earth is a limited amount. It can exhaust at any moment. Hence we must spend water wisely. We need water for drinking, bathing, washing clothes and utensils, cooking, cultivating, etc.
Big industries require lots of water to run their machines. Today due to the scarcity of coal, hydroelectricity is the new way of generating electrical power. This process requires huge amounts of water. In several ways, water is our saviour. It is the beauty of nature as a wonderful waterfall or a stream, and also the help to a thirsty person.
---
Short Essay on Water in 400 Words
Water is the basic strength behind all life forces on earth. It is the necessity of every life and is the biggest shelter for us to survive. If there is no water suddenly on earth, then it will only be a lifeless planet filled with dust and stone.
The green earth will become a long stretch of a desert without this component. Water forms about two-thirds of the earth, while only one-third is given for the land. Yet how much greater the amount of water on earth be, the availability of fresh water on earth is the minimum.
A large amount of water is left unused. It is either frozen as glaciers or is present as salty ocean water. This water cannot be applied for regular usage. So we must understand the wise utilization of water. It is a scanty but most important resource. So only its proper utilization can make it sufficient.
Water is the source of all activities in our lives. From the olden days, human beings have always tried to live near water bodies. Because those places are fertile for cultivation. A vast desert-like Egypt also survives because of the river Nile. The Ganges in India is not only a water body but one of the most sacred rivers in the world. The most important use of water is in agriculture.
Every plant needs it to grow. If crops do not receive adequate water, then they will be stunted. We use water for drinking, cooking, bathing, washing. A living body needs lots of water intake. Insufficient water intake can result in lots of ailments. Water is beneficial for this medical property. Besides these, all industries need water for producing electricity and running the turbines. Water is the potential of civilization. A civilization operates because of the availability of water
But at present, we are observing the pollution of water bodies. It is dangerous for all living beings to survive if all water sources are contaminated. Polluted water is a threat to the earth. Households, industries, insufficient cleanliness, lack of awareness, all are enough to increase pollution in several degrees. With increased consumption of water, it is being equally polluted. Thus many aquatic plants and animals, humans, other land animals are regularly dying after intaking the dirty water.
This is harming our ecosystem. So we must preserve freshwater. It is important and is available in little amount. Clean water can exhaust at any moment. It is our duty even to preserve the rainwater and use it. Every drop of water means life. A correct utility of it is the best way.
---
So, that was all about writing short essays on Water. In this session above, I have adopted a simplistic approach to writing all these essays for a better understanding of all kinds of students. You can let me know your queries by commenting down below. If you want to read more such lessons on various important topics regarding English composition, keep browsing our website. Thank you.