In this session, you will learn how you can write short essays on the Indian Festivals. Here I will write three sets of essays on the Indian Festival within different word limits.
Table of Contents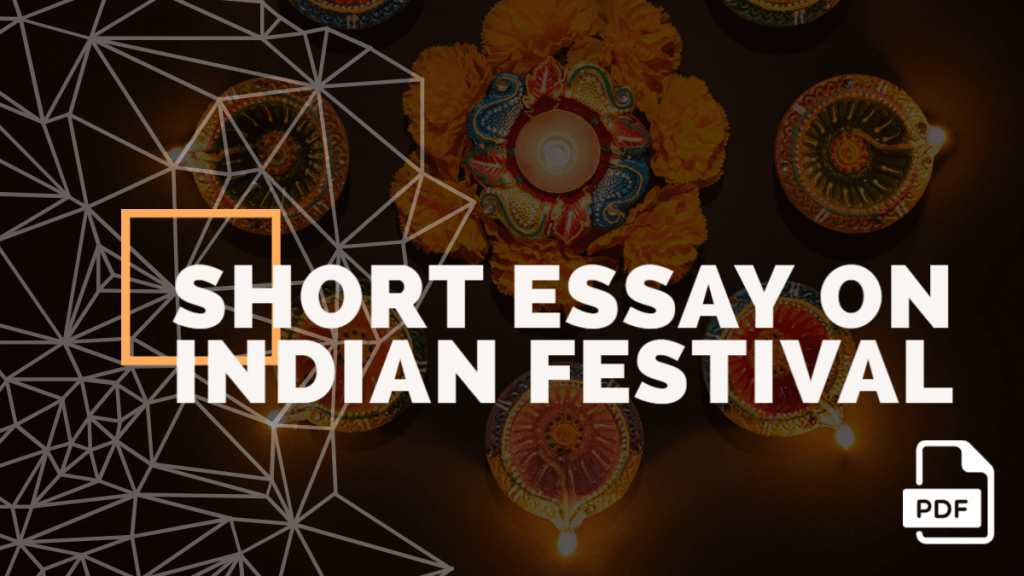 Short Essay on Indian festival in 100 Words
In the daily mundane life of human beings, we all need some refreshments to enjoy it. Any break from our daily struggles, pains, and problems can be like a breath of fresh air. In India, however, festivals are the markers of such happiness. Throughout the year we celebrate different festivals from January to December.
All are not entirely Indian but Christmas and Easter are European festivals that are observed here too. The greatest Indian festivals are Durga Puja, Eid, and Diwali. These festivals come for a short span of time and relieve us from our daily life. We feel happy as we enjoy this time forgetting all barriers.
---
Short Essay on Indian festival in 200 Words
Festivals are an important part of our culture and heritage. Without festivals, we cannot think of even having a moment of happiness in our lives. Because of the festivals we can heartily enjoy those moments and concentrate on our work for the rest of the year. The festivals arrive for a little period of time in the year, but we expect them around the year. These expectations help us to live through our daily struggles.
India is the land of festivals. During the twelve months of the year, we celebrate several festivals and enjoy them thoroughly. Every month there is a festival and we are often well engaged in those. The festivals are part of the cultural heritage of India.
We are extremely proud of the diverse festivals that India has. During the greatest ones, people from other parts of the world too visit and praise us for the wonderful arrangements. The diversity of festivals in India shows us the different cultures that we have here. The biggest festivals in India are Durga Puja, Diwali, Eid, and Christmas. Besides these several others, sectors and tribes of India celebrate their own festivals with great fun. Indian festivals are the assimilation of a different class, creed, faith, and religion.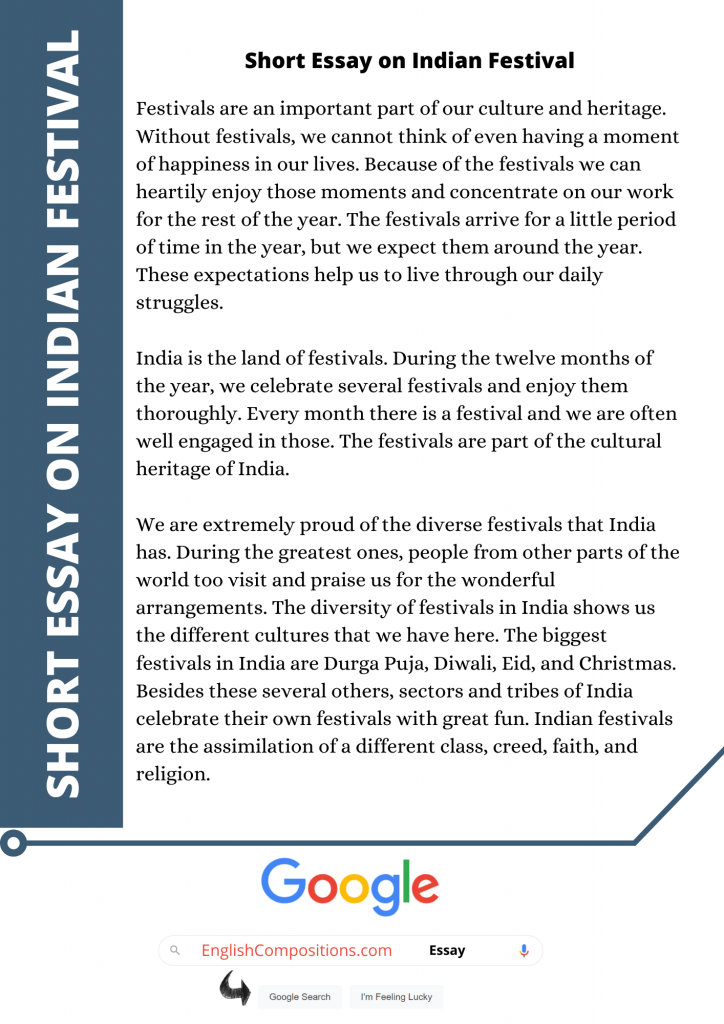 ---
Short Essay on Indian festival in 400 Words
Festivity is intrinsic to our culture and cosmopolitan life. Any part of our happiness is defined by the small spanned festivals. All festivals are part of our culture and traditional heritage to which we belong as Indians. Indian festivals are important more because of their diversity and also the essence it holds in themselves.
In India, the year itself is a celebration. Starting with the New Year, the entire span of 365 days is spent celebrating, by and large, different festivals. Without these ceremonies, life will be easily filled with boredom and depression. Throughout the year we wait for the festivals to arrive so that we can only enjoy during those times forgetting everything else. 
No other country in the world is as enriched in festivals as India is. It is our pride when we celebrate so many festivals with equal dignity and grandeur. Even Indian festivals are internationally quite famous and many visitors visit India during the time of Diwali, Durga Puja, Eid, and also Christmas.
Kolkata among several places in the country is a state that celebrates all festivals with extreme joy and show. Durga Puja is the most prominent here. However, all other festivities receive here great respect. Indian festivals are a great source of economy for the country. International donations make it possible and famous to spread information about the festivals worldwide. 
A festival holds greater strength to unite people under one umbrella. Something that is impossible often through law can be accomplished through religion. Due to the festivals, many people gather together and stay with their family and friends. Also, people of different creeds join the specific festivals and enjoy the grand feast.
Any festival must be a source of pleasure and fun and must avoid any racial discrimination. Nowadays India is becoming a seat of racial and cultural discrimination. Even Bangladesh too has seen such an event where in Durga Puja a specific group of people has destroyed the mood and purity of the celebration by killing and molesting women and men.
This is never the intended goal of any celebration. Whatever religion it is, people should always make room for others to observe their communal pride in complete satisfaction and peace. Unnecessary riots and hatred are never the purposes of any cultural ceremony. 
India is a land of diversities. Here Hindus, Muslims, Sikhs, Christians, Jains, Buddhists, and all others have equal rights to happiness and peace. Festivals are the way to enjoy that happiness. It is a freedom from the boredom of life. If boredom is felt by all, then happiness too should be equal for all.
---
In this lesson, I have tried to write these essays in a very simple language so that all kinds of students can easily understand the context. Hopefully, after going through these essays, all your doubts regarding this topic have been resolved. If you still have any doubts, put them in the comment section below for further resolution from my side. Keep browsing our website for more such sessions. 
And also join us on Telegram to get the latest updates on our upcoming sessions. Thank you.