Our today's session is going to be focused on writing short essays on the topic of the Value of Time. Here I will write three individual sets of essays on the same topic of different world limits.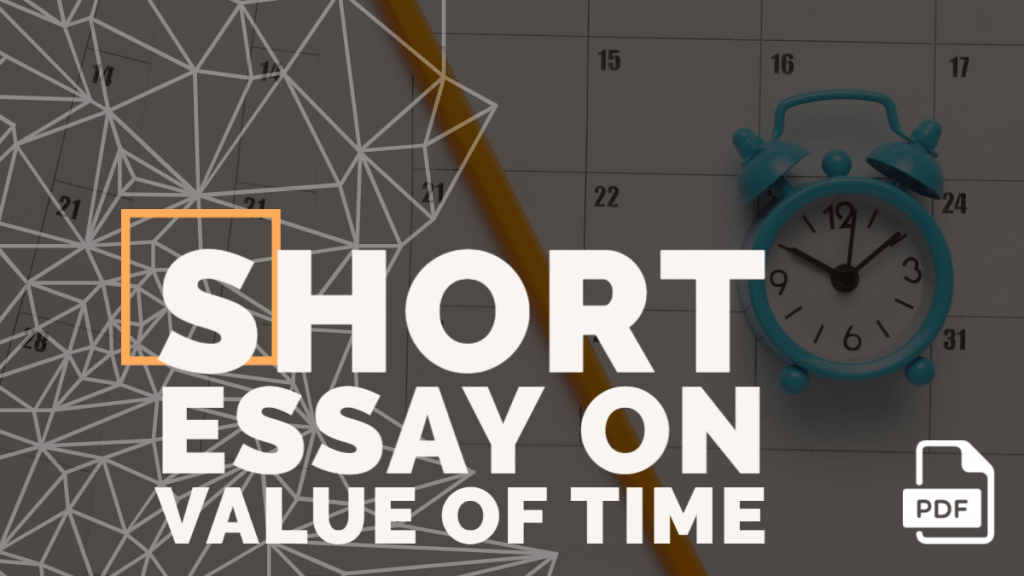 Short Essay on Value of Time in 100 Words
Our earth is always repleting with valuable materials. It is incomprehensible as to how significant these materials are to human existence. Among them, time is the most valuable of all objects. It is impossible to describe how even the minute second is necessary to us. Time is worth utilizing in every possible way. If time is wasted without any productivity, it will end up as a destructive force.
The value of time lies in its proper and in more calculated usage. Time is one of the principal intangible resources that controls all. The famous moral, time and tide wait for none are appropriate because time cannot be withheld by anyone. We must abide by it and be its greatest disciple.
---
Short Essay on Value of Time in 200 Words
No resource is easily available for free on the earth and neither is it easy to accomplish. Hence, it is always hard-earned. Time is one of the most potent resources of all that cannot be comprehended as any substance. It is intangible, an abstract concept, and as vast as the universe. To know time is to realize the greatest strength available on earth. One who has worshipped time and been able to control it is the master of all.
To give time its required value, a human has to abide by it. One cannot achieve anything by being unruly and indifferent to time. From rising up in the morning to sleeping early at night, our entire system is time-bound. We can easily figure that out. By measuring our actions according to the hours available, we can work and enjoy any freedom simultaneously.
Utilizing time is more important for people who are hardworking. In fact, idle people without any time sense are worse than filth. Eating, drinking, sleeping, working, enjoying leisure, all can be experienced within the given 24 hours. Just a meticulous treatment of time is all we need to control it and arrange our life accordingly. But time's misuse will lead us to a dangerous consequence.
---
Short Essay on Value of Time in 400 Words
Every resource available on the earth is a gift of God. When such products are used and utilized properly, then they bear more fruitful results. But when misused and ill-treated, the consequences can be dangerous. It can even lead to the destruction of the self and community.
While some resources are available as tangible goods, they can be soon exhausted and people can falter. But some resources are there whose abundance depends on its utility. Time is one such unique yet powerful concept on earth. If we are wise enough to handle it properly, then time is the biggest friend of our lives. Time is uncontrollable for those who do not understand its true value.
When every minute is used for a more meticulous reason, then we can enjoy leisure even observing a tight schedule. But simultaneously, If people idle away, then they end up procrastinating about work. They do nothing productive and experience only piles of never-ending work. The value of time rests in knowing it well.
Time is such a unique force of nature that it cannot be controlled by any inhabitant of the earth. No one except the almighty God can change the course of time or extend it according to their will. Hence time management is the key to all success.
The worth of time is so immense that no amount of money can afford it. The time that is lost is gone forever. It becomes a lost opportunity or maybe the loss of a life-saving moment. So making a timetable is the best method. Many morals and quotes have been in vogue that proves the value of time. Time and tide wait for none. A stitch at a time saves nine. Hence it is clear that time is the potent force of nature. If we are wise then time can be categorized into smaller yet fruitful options. Thus it helps in a more diligent manner to align with the time sequence. 
Misuse of time is almost like a sin to oneself. Many people do not receive proper opportunities to flourish in life because of their carelessness. They blatantly misuse time and waste it into only leisures. So after some moment, they realize how work is chasing them without an end. Time is best managed when one can balance it between work and play. All work and no play make Jack a dull boy; as wise people, we must know the division of stress and leisure and utilize time in reading books and meditating well.
---
In this lesson, I have written these essays in an easy language for a better understanding of all kinds of students. If you still have any doubts regarding this session, kindly let me know through the comment section below. And to read more such short essays, keep browsing our website. 
If you want to get the latest updates on our upcoming sessions, kindly join us on Telegram. Thank you for being with us. All the best for your exam.