In this session, you are going to learn how you can write short essays on the topic of 'Value of Life.' There will be three different sets of essays in this session covering different word limits.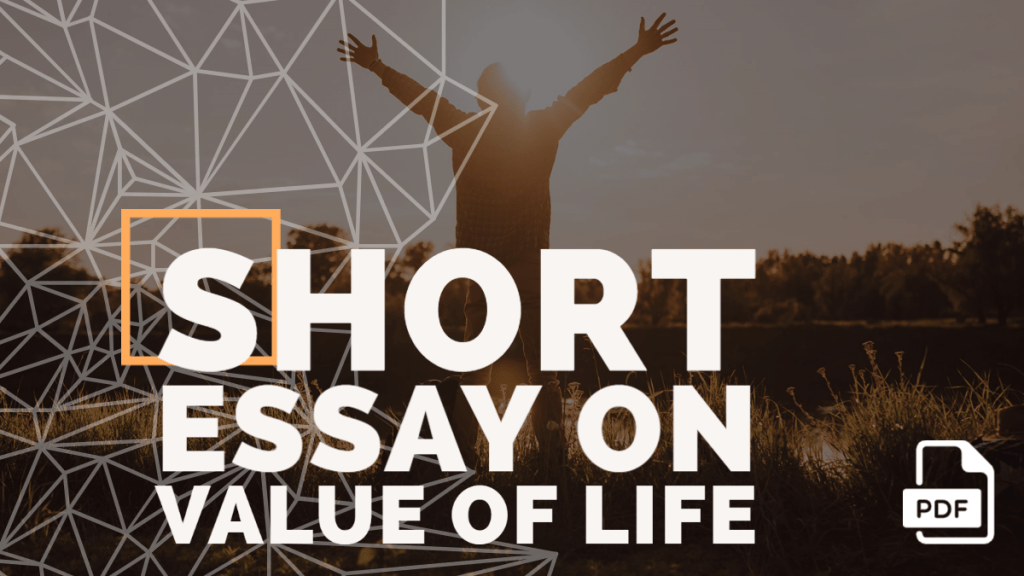 Short Essay on Value of Life in 100 Words
If anything that God has given us in this world is important, then nothing is as precious as the life on earth. Without life, one would turn as insignificant as any neuter being—all living beings on earth manifest life in several ways. From the microscopic algae to the gigantic beasts and humans, life's pulse carries us forward. Life helps to enjoy the earth and all its resources.
Through it, we experience both pain and pleasure and become stronger. Human life is the most diverse of all life forms on earth since it has knowledge of birth and death. Hence it meticulously streamlines life into a better form to give it a fruitful conclusion. Life on earth exists to deliver love, care, compassion, help, assistance, and bonding.
---
Short Essay on Value of Life in 200 Words
Having a life is one of the most precious instruments on earth. It is a proverb often said that life is what we make out of it. Indeed life is not just breathing air and eating, drinking, excreting, and sleeping. It is much more than that which makes life's mysteries often unfathomable. Without the essence of life, a body is as insignificant as any dead being. In fact, life itself manifests in several forms on earth.
Life has a very special meaning that all of us must affirm to ourselves. Life is not just only about getting a good education, acquiring a good job, having a great position in society. Life also encompasses several other aspects like enjoying even the little gift which God gives us.
Life constitutes lots of people like our family, friends, teachers, neighbours, and also our pets. Loving them and sharing a company with all of them is also an intrinsic part of our life. Everything has its own value that adds meaning to life. Self-help, self-love, and self-faith also form the values of life. It is based on different customs and value systems over which life is built. Also, the connection between nature and life forms and its realization is also valuable for all of us. Thus the value of life depends on several counts of experience.
---
Short Essay on Value of Life in 400 Words
The value of life cannot be judged through some trifling incidents and occasions. Life is never-ending and huge enough to encompass many beautiful thoughts, companies, and also memories. Life manifests itself not just in human form, but also in plants and animals. All of them constitute and contribute to the ecosystem, of which humans are also a part.
This value of life is assigned to the qualities that we gift to ourselves. It is not just about studying, performing extra-curricular activities, becoming the topper of a class, getting a well-paid job, earning money, and living luxuriously.
Life is much more than this. It is about loving, sharing, and caring. Helping people, giving food to the needy, teaching little children, respecting everyone, playing with pets, spending quality time with parents, all of these add value to our lives. Without good company, life appears lifeless. Also, life is not just only about money. Leading a tension-free, happy life is the essence of it.
The value of life increases when it is properly executed. A small mistake in the present can bring a huge and disastrous impact on our lives. Hence we must always keep our cool and proceed through the journey of life. Life's value is added through reading books. Books as our companions can save us from many troubling moments.
It gives us knowledge and also a deep insight into ourselves. Reading books is a great achievement of human life and intrinsically valuable to it. The value of life depends on the external as well as internal peace one can experience in his lifetime. Being contended even at the smallest is one of the reasons for being happy in life. All of us make mistakes. But that never outreaches our abilities to make life the most precious resource on earth. The connection between family members, parents and children, friends, neighbours, and also pets, all are part of life.
Even a close bonding with nature and returning to it during any strain makes life a more beautiful place. Hence on several counts life is more precious than simply a tough journey of ups and downs. Its beauty and enjoyability depend on how we gather our values from it and nourish it properly with goodness.
Discarding criticisms, unnecessary opinions, and negative thoughts make life easy and fruitful. Sharing the good moments with close people is a lifetime experience and a fond memory. Only a good job, vast education, social media, money, certificates, and medals may not prove to be the ideal values in life. Life's value depends on a humble undertaking.
---
I have tried to write these essays in a very simple language for a better and easier understanding of all kinds of students. If you still have any kind of confusion regarding this topic, let me know through the comment section below. Keep browsing our website for more such sessions on various important topics.
Thank you.