Travel is one of the most essential parts of our Education. Without travel, all our learnings remain incomplete. So, in this lesson, you will learn how to write an essay on the topic: Travel as part of education.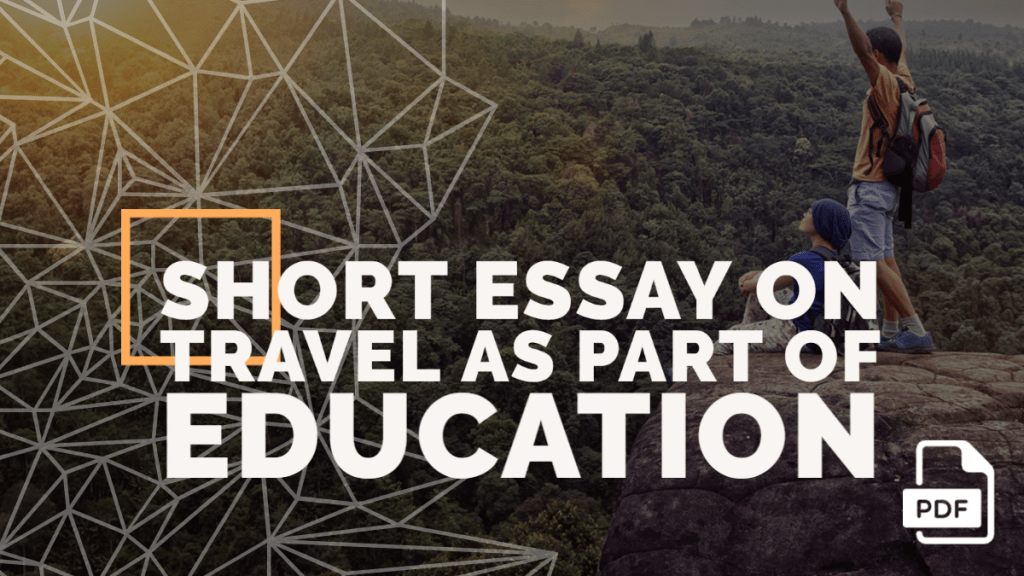 Short Essay on Travel as Part of Education in 100 Words
Travelling is one of the most beautiful hobbies in our lives. There is no one who does not want to travel. Travelling helps us to see a lot, to know a lot, and also to gain a lot of happy moments. As we travel, we get to learn many things. So travelling is necessary for our education as well. Often our educational institutions take us out for trips.
These trips are short and are used for teaching the pupils. The teachers guide the students in this excursion. Such travellings contain both fun and learning. As part of learning, travel becomes necessary and it gives us better knowledge than books.
---
Short Essay on Travel as Part of Education in 200 Words
Travelling plays an important role in education. We read a lot of books to know more and more. But if we go travelling, then the knowledge gets easier. Many people have their hobby as travelling to different places. They spend lots of money and visit different parts of their country.
They often go on foreign trips. But all these are for fun and leisure. There is little to learn from vacations that are only for pleasure. When a trip is made to learn something and also to enjoy the beauty of that place, then travelling becomes important. 
In the olden days, people used to walk long distances, from one country to another. It took lots of days. On their way, they learned about that place, its people, and its culture. These journeys are written down in history books. At present, we have many vehicles to travel. It has made our journeys easy. From that time, travel has become important for education.
Many institutes organize trips to teach their students better. Only reading books is not enough. Taking a journey and understanding that place is far more beautiful. People become smarter as they travel. They are strong, know more than others, and are wiser.
---
Short Essay on Travel as Part of Education in 400 Words
When we think of learning, we always think of books to be the most important. Books give us knowledge. We learn and know a lot from books. But just by reading, we often do not understand everything. For that, we need to travel. Travelling to different places makes us happy. It helps in our education. In fact, it is an important part of our education. For better learning, we cannot separate learning and education. To be well aware of facts and situations, travelling is a must.
Many people travel because they want to have fun. These trips are vacations. They are only meant for fun and do not need anything to learn. It is just going from one place to another and enjoying that beauty. Travelling for leisure gives happiness and good memories. But it does not teach us anything. Travelling for learning becomes very important. We see many things, get to know much more than the books, and also enjoy the beauty of nature, when we travel to learn.
In ancient days, people used to travel long distances. It was done by walking. They were priests and travelled from one country to another. It took a lot of time to move to several places. But it was beautiful. Those people arrived in several lands and connected to many people. They learned their language, culture, and habits.
These travellers became one with one the country and people they met and learned many new things. All these are written in books of history. But at present, we do not need to walk long distances. We have lots of transport facilities and so it's easier to take long journeys. It takes little time as well. So now it is much easier to travel and learn from it. 
Travelling is an important part of education Many institutes take their students out for field trips. It is very helpful for the students because they get practical knowledge. They can understand the things that have been taught in their textbooks. So it becomes very easy for the students to apply that knowledge. Also the idea to do something different increases. From trips, the students learn anew and can create things on their own.
Educational trips help them to create and imagine better. Without travelling, education remains incomplete. They cannot enjoy their studies properly if travelling does not take place. Also travelling to new places helps in removing lack of knowledge. Many schools and colleges arrange travelling to historical places. It makes students happy and they get to learn a lot. So it is important that travel as part of education is applied everywhere.
---
So, that was all about writing essays on 'Travel as part of education.' In this lesson, I have written all the essays from a very easy perspective in a very simple language. Hopefully, you will now be able to write such essays yourself. If you still have any queries regarding this session, kindly let me know through the comment section below. To read more such essays on many more important topics, keep browsing our website.
Kindly join us on Telegram to get the latest updates on our upcoming sessions. Thank you.