Trips are a very essential part of our life. And if those trips have full of adventures, that bring more joy to us. In this lesson today, you will learn how to write short essays on an Adventurous trip.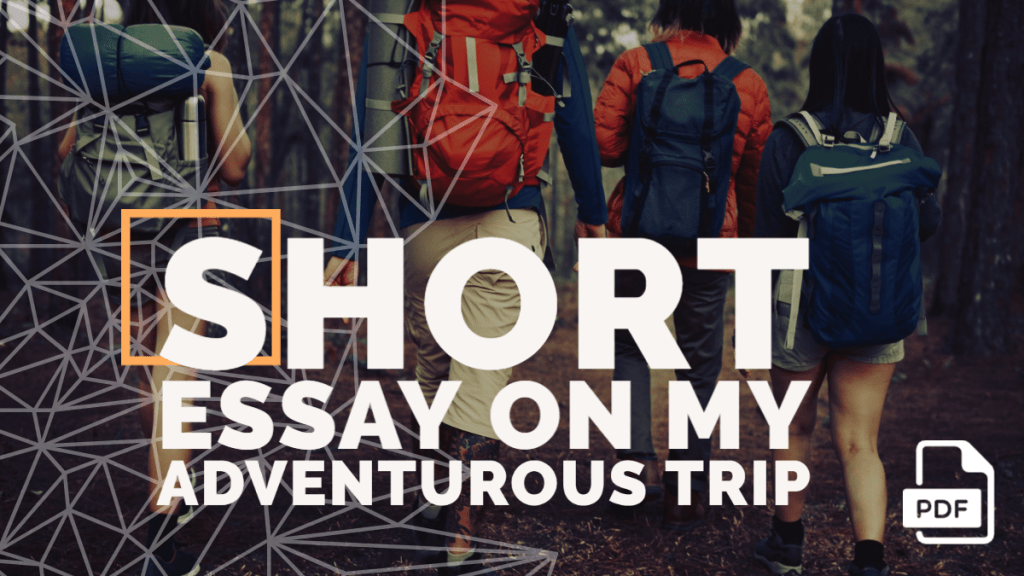 Short Essay on My Adventurous Trip in 100 Words
Every trip is an adventure and gives us joy. Going out on vacation may not mean a trip. A trip with adventures is completely different. Sometimes the vacation trip also becomes adventurous. Lots of things happen that amaze us. Also in adventures, many dangers take place.
I remember such an adventure I had. It was a horseback ride in the mountains. I was very young when we visited Shimla. We went to the Rohtang Pass. It snowed heavily that day. There was snow all around. So we had to take horses. We climbed high up the mountain. It was so lovely to see nature. I loved it. I remember my horseback ride till now.
---
Short Essay on My Adventurous Trip in 200 Words
I still remember one thrilling adventurous trip I had. I got scared when it happened. But I also enjoyed it a lot. I was very young when I visited Shimla. I did not know that the adventure would happen. So I just went on a vacation. We had a wonderful train journey to Shimla. Reaching there, we decided to visit Rohtang Pass.
I was so excited! We took a car and went to the slopes. I looked out of the windows. The car was gradually rising to the top. The road was spiel, like a big snake. Soon we reached the hilltop. I jumped out. That day it snowed. So it was all white. I was so happy to see the scene. Then we took a horse to ride. That was the greatest adventure I ever had. It slowly walked up the mountain.
I looked at the sides and saw how deep it was. I felt scared. Suddenly I could not breathe anymore. I felt sick and almost fell off the horseback. My father immediately held me and we came down the slopes. I fainted due to no air. When I got well, the people served me hot soup. He said I was too little. So I easily caught a cold. I still remember how dangerous it was. But still, this adventure is a great memory.
---
Short Essay on My Adventurous Trip in 400 Words
Adventure and trip are closely connected to each other. It is really hard to avoid adventure from a trip. We often go on vacations. But these are only for fun. So a trip with adventure is different. Adventure makes us a different person. We become strong and brave in an adventure. It is very important to have it in our lives. An adventure is always exciting and amazing.
I was also lucky to have an adventure in my life. I was very little then and did not know about it.  It suddenly happened. We went to Shimla that year. Shimla is always a great place to have fun. And it was the best vacation of my life. My father got us the tickets and we packed our bags. We took the train and went straight from Kolkata to Shimla. I enjoyed the view outside. It was wonderful. When we reached there, I jumped in joy. After two days of reaching Manali, All of us decided to visit it.
We planned to go to Rohtang Pass first. We started our journey. A car was booked. We took it and went to Rohtang. The road was like a snake. It was the first adventure I had there. It went slowly to the hilltop. I felt the cool breeze and looked out. It was so pretty. When we reached the top, I jumped out. It snowed that day. I started playing with it. 
But the biggest adventure came after this. We had to take horses to go to the hilltop. I have seen horses in books. But had never ridden them. I clapped my hands in joy. My father and I got onto one. It slowly started moving. I touched the soft mane of the horse and it neighed. Soon we were at the top of the mountain. I looked down and got scared. It was dark. Long waterfalls were falling from the top. I stared at it. Suddenly I could not breathe. I tried hard but failed.
I soon fainted and was about to fall off horseback. But my father immediately caught me and we came down. The people nearby helped me and I opened my eyes. I had turned blue for no air. The people gave me hot soup to drink and feel warm. Gradually I felt better. After this, we left for our hotels. That day I was scared, but today I feel it as my best adventure. I will never forget this wonderful trip.
---
In this lesson above, I have tried to discuss the topic in a very simple and engaging language to make it easier to understand for all kinds of students. If you still have any doubts regarding this session, you can always post your queries down in the comment section below. To read more such sessions on various important topics, keep browsing our website.
Join us on Telegram to get the latest updates on our upcoming sessions. Thank you for being with us. All the best for your exam.