In today's lesson, you are going to learn how you can write short essays on Soldiers. Here, I will write three sets of sample essays on the same topic but covering different word limits. So, let's get started. 
Table of Contents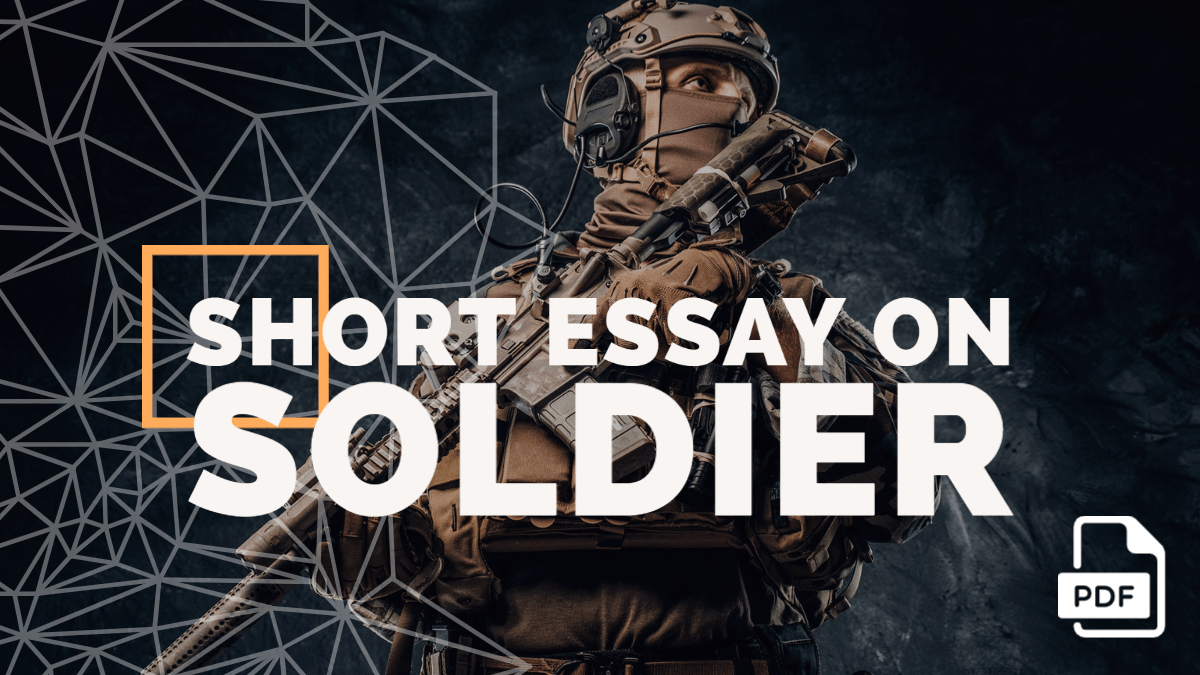 Short Essay on Soldier in 100 Words
An occupation in the world that is quite noble and respectful is the profession of a soldier. A soldier is esteemed to be of greater personality than anyone else because he is responsible for the duty of saving the country. Often we get illustrations of how a soldier takes all pains and weapons at his back to protect the country's borders.
The soldier's life is pathetic and reminds us not to wage wars. He forgets about everything and fights for the country. Either he dies or suffers major injuries which leave him impaired for life. A soldier gets respect and equal pain in this profession.
---
Short Essay on Soldier in 200 Words
All expect professional reputation and status. And the life of a soldier is the most esteemed one. The recruitment for the job, however, is not easy. The aspirant has to go through several stages of scrutiny and only then he is appointed to the army, navy, or the airlines. For a perfect soldier, it is necessary that his body, mind, and eyesight are alright and has no disease.
The life of a soldier is respectable but not easy. It begins at an early stage with many training programs. Once appointed, be it the airline or army, or navy, he is given a uniform and a batch as his identity, and also a huge responsibility of protecting the country. He has no security. At any moment he can lose his life in war, explosions, and fighting. In terrific cases, several parts of his body are injured. A soldier is left impaired for the rest of his life after a major battle.
The coffins of the soldiers remind us of our duties towards them and the nation. They forget their own families and happiness and fight for our well-being. The life of a soldier reminds us that we should stop fighting and save the integrity of our nation. It is our only homage to all soldiers who have fought and are still fighting and will fight in the future.
---
Short Essay on Soldier in 400 Words
Every human being deserves a life of freedom and respect from others. A life of captivity and distress, a life without any respect is equal to death. Even a single profession of a person can justify their social position. A soldier is by far, one of the most respectable social positions in the world.
A soldier is the greatest treasure of a country because he is responsible for the security of a nation. As a country, we can be safe and sound because of the young soldiers who are constantly protecting the borders. He has no personal interest in this profession, but protecting his motherland is his only priority. He forgets his homely identity as a child or a spouse or a parent to someone and considers his sacrifice for the country to be the only mission.
The recruitment of a soldier is quite tough and involves several stages. It involves physical tests and also tests of aptitude. A person who joins the army first has to sit for an examination. Once he passes that test successfully, then he is called for physical examinations. Certain weight and height are necessary to become a soldier. Also, that candidate must have proper eyesight and should not have any disease. All these might create issues in the recruitment procedure. After this elaborate examination, a person is selected as a soldier. He is appointed either in the army or in the navy or in the airlines.
The life of a soldier appears to be of great reputation when he wears that uniform with fitted medals and honorifics. However, this life is filled with insecurities. Both the soldier and his family are unaware of when his life will be at stake. At any given moment he can die from a sudden attack or a major explosion. The uncertainty of this life reminds us not to wage wars against nations uselessly. If one has to maintain peace and give the soldier respect, then not creating wars is the biggest reward for them.
Whenever on Independence day or on Republic day we see the parade, we all feel pride for the country. The National Anthem reminds us of our struggles for the freedom of India. Their measured posture is maintained through regular practice and a controlled lifestyle. They have little enjoyment because they always think of our safety. Hence caring for them is the best act of citizenship for the countrymen.
---
I have adopted a very simplistic approach to writing these essays for a better understanding of all kinds of students. Hopefully, all your confusion regarding this topic has cleared after going through this session. If you still have any doubts, keep me posted in the comment section below. I will try my best to resolve your query.
Keep browsing our website for more such sessions. Join us on Telegram to get all the latest updates on our upcoming sessions. Thank you for being with us. Have a great day.