In this lesson, you will learn to write short essays on the Great Personality- Satyajit Ray. In this lesson, I will write three different sets of essays all covering different word limits on the same topic. 
Table of Contents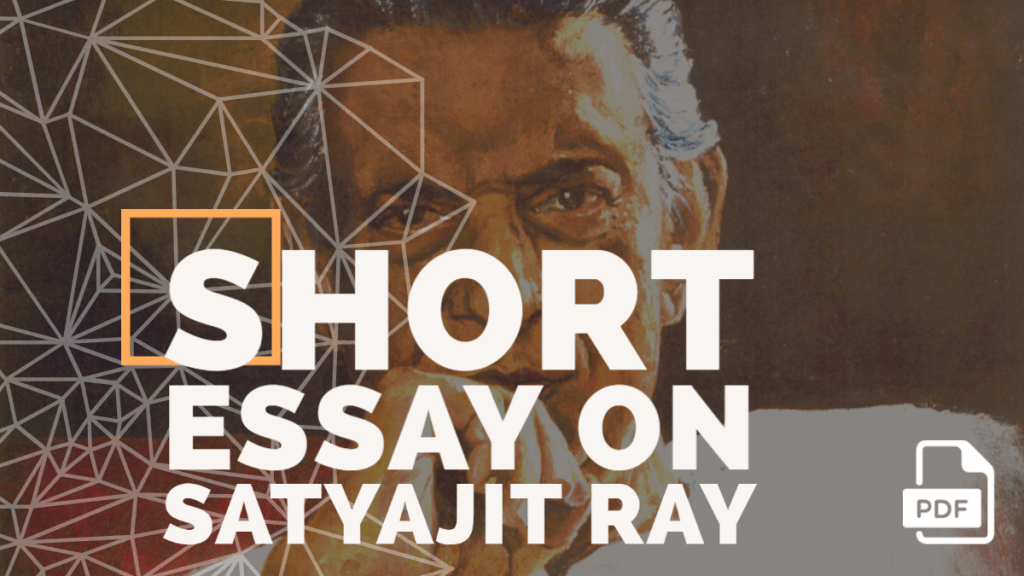 Short Essay on Satyajit Ray in 100 Words
Suppose India has to witness any great artist who is, at several levels, a great filmmaker, artist, painter, music composer, screenplay person, director, and producer. In that case, Satyajit Ray is that one and only personality. In several instances, his filmmaking strategies have displayed the best in world cinema.
Great filmmakers like Renoir Bergman and De Sica were mesmerised by his film direction in Pather Panchali. He was born in 1921 and he passed away in 1992. Yet within this time span, his career as a filmmaker and a director is amazing. His best cinematic victory is the Feluda series and the Gupi-Bagha trilogy. Satyajit has won over the hearts of many people of all age groups. This is his biggest achievement ever so far. 
---
Short Essay on Satyajit Ray in 200 Words
If anyone in this world can be respected as a filmmaker, director, author, painter, music composer, or producer, then it is only Satyajit Ray. He was born in 1921, the son of Sukumar Ray, the legendary Bengali literary personality, and Suprabha Devi. From his early childhood, Satyajit had a deep interest in knowing the city and also towards films.
He loved to watch Hollywood films and used to observe every aspect of the screenplay. All of these childhood experiences later enabled him in his own filmmaking. After the death of his father in his early childhood, Satyajit was raised by his mother. She gave him a deep knowledge of different books and other parts of life. 
Satyajit Ray directed his first film, Pather Panchali based on the novel of Bibhutibhusan Bandopadhay. This film became an extreme success in both India and the world and also brought him the honorary oscar. Ray has directed several films and has also written books on different topics.
He has created characters like Feluda, Professor Shonku, Tarini Khuro, Gupi-Bagha, and others who are memorable to us still now. He has directed several films based on the stories of Rabindranath Tagore. He has published stories for children in Sandesh magazine and also Anandamela. Ray was also a wonderful painter.
---
Short Essay on Satyajit Ray in 400 Words
A humanist Bengali born in Kolkata in 1921, whose filmmaking techniques and direction have given Indian cinema great respect, he is none other than Satyajit Ray. Satyajit Ray was born in Kolkata in 1921, to his father Sukumar Ray, the legendary comic fiction writer and literary personality, and mother Suprabha Devi.
After the death of Sukumar Ray, little Satyajit was raised by his mother. From the age of three years, his mother became his greatest guide, and also his uncles supported him a lot. Suprabha Devi was important in his life as she made him aware of the city and also the literature of that time. 
From his early childhood, Satyajit had a great interest in films and cinemas of different types, especially Hollywood films. He often went to the cinemas which arrived in Kolkata at that time. Satyajit had a deep interest in observing all minute details of the films and he used to note the cinematic styles and forms of the screenplay. All of these childhood activities and interests later helped him in creating his own masterpieces.
Satyajit's first film was Pather Panchali. Based on the novel of the same name written by Bibhutibhusan Bnadopadhay, Satyajit started working all day and night to get this film set alright. He took several pains to have this film released and even faced a severe financial crisis while making this film.
In the end, however, Pather Panchali brought him the honorary Oscars and made the country proud of his pursuits. Satyajit is highly renowned for his memorable characters like Feluda, Topshe, Jatayu, Professor Shonku, Tarini Khuro, Gupi-Bagha, Hirak Raja, Maganlaal Meghraj, and others. The books on Feluda and also the films are still popular between kids and adults. 
Not only as a director but also as an artist and a great music composer, Satyajit is well known in the world. He has filmed and cast several films, including novels by Rabindranath Tagore such as Ghore-Baire and Devi. His Apu's Trilogy and the Gupi-Bagha Trilogy are among the most successful and renowned films of all time. He has won several national awards and also International Awards like the Legion of France. Pather Panchali was even screenplays at Cannes Film Festival in 1956.
Satyajit Ray has forever been the greatest filmmaker of all time and will remain so in the later future. His contribution to the Indian film is still extremely useful and pride to be well preserved.
---
I have adopted a very simple and easy language to write these essays for a better understanding of all the students. Hopefully, now you all have a holistic idea about the context. If you still have any confusion, kindly let me know through some quick comments. Keep browsing our website for more important sessions on English compositions.
Join us on Telegram to get all the latest updates on our upcoming sessions. Thanks for being with us. All the best.