In this lesson, you are going to learn how you can write short essays on your favourite subject science. Here will be three sets of essays written on the same topic, covering different word limits.
Table of Contents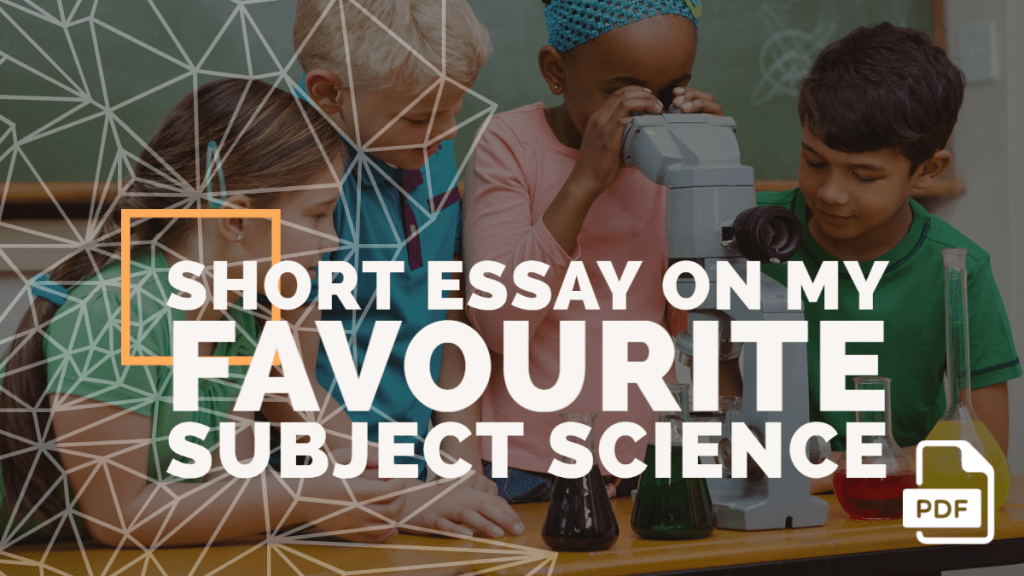 Short Essay on My Favourite Subject Science in 100 Words
In our school days, as a student, we have to study lots of subjects altogether. It feels hectic to control so many at a time. Yet among all of these, some subjects really occupy our hearts. It is our favourite of all and soon it becomes the target of our higher studies.
For me, however, science is my favourite subject. I have forever admired it as my best. I love scientific experiments and how science is helping us daily to better ourselves. If science would not have been there, then it would have been impossible to develop in any way. Science is one of the bases for human development and hence one of my favourite subjects.
---
Short Essay on My Favourite Subject Science in 200 Words
All of us have one subject in our school that we admire a lot. It is our favourite and something that we want to read in the future. For me, that subject is science. In school, some subjects were good, while others felt too tough to study.
I really did not like to read everything. But among all, science was the only one I loved. I still enjoy knowing about it. Science means experiments. The book contains pictures of so many experiments that I enjoy reading. The laboratory contains so many materials for that purpose. I love science as it does not allow superstitions. It depends on reason and facts. I enjoy how regular research for our development is taking place due to the help of science.
Today we have realized the importance of science. Even in a pandemic, we have received vaccines and medicines in little time. Medical treatments are well developed now, and all diseases can be cured easily. Science is one of the reasons for the development of India. Several vehicles for communication are present today.
The Universe is no longer unknown to us. We realize how our nature is constantly helping us. The industries are enabling us a better future. In fact, robots are now used for serving human needs. This enormous success of humans is actually the blessing of scientific studies. So I dream to become a researcher and study this beautiful field.
---
Short Essay on My Favourite Subject Science in 400 Words
Everyone in our school has written an essay on science as a curse or a boon. It is a debate if science actually helps us or destroys us further. But beyond everything, I love to study science as it is my favourite subject. In school, we read several subjects.
We love to study some, while others become quite boring. For me, science was that one subject that I enjoyed a lot. In fact, till today I love to study scientific information and the development that is daily enriching our lives. The best thing about it is that it does not allow any superstition. Science is based upon reason and analysis of facts. So it is impossible to have any ill knowledge where there is the cultivation of science.
I started loving science when our teacher showed us some fun experiments. I soon realized science is not some word in the books, but a fact-based subject. The books were pretty, they had lots of pictures. But I did not feel excited about knowing it till I understood the truth behind this subject. Science is observing and analyzing something properly.
The scientific laws are examples of such deeper studies made by several scientists. Only logic and reason create science. This idea caught my mind. I started taking interest in this subject and soon it became my best subject. The laboratory became my favourite place, where I did all the experiments I read in the textbook. Even today I love to read science fiction, journals, and the interviews of many scientists and increase my knowledge about this topic.
Another reason for making science my favourite subject is that we develop because of science. Science saves us from the severity of the calamities. Human beings are ever curious to know about the world and the Universe. Science has enabled them in this process. Everything is scientific. Medical procedures are rapidly changing for the benefit of mankind.
New medicines, vaccines are being invented to fight the most deadly virus. Industries are ever-growing; several forms of communication are available today; equipment like phones, TV, washing machine, inductions, etc. are our daily need; alternative ways to collect rain, dispose of garbage, create electricity are available. Robots are now human help. All of these are blessings of science. Science has shown us an efficient lifestyle. Even the farthest planet is now known to us. Science has made the impossible come true. So I will forever love to study and research on this subject.
---
In today's lesson, I have written the essays in a very simple language for a better understanding of all kinds of students. If you still have any doubts regarding this lesson, kindly let me know through the comment section below. To read more about such seasons, keep browsing our website.
Thank you.