In this lesson, you are going to learn how you can write short essays on the topic 'Rainy Season. Here, I will write three sets of essays on the same topic covering different word limits.
Table of Contents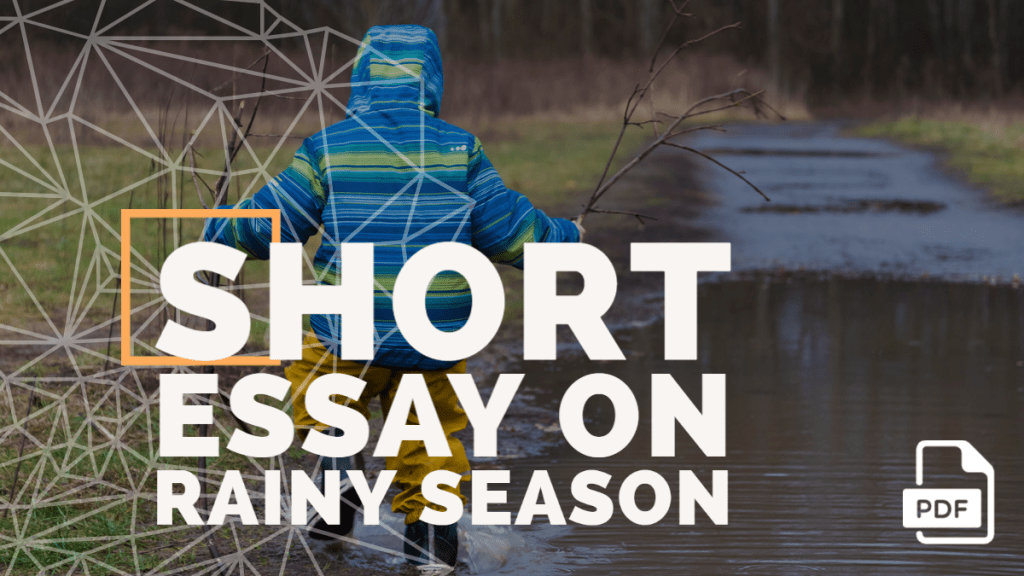 Short Essay on Rainy Season in 100 words
If the world is conducted by a specific pattern of seasonal changes, then India is the exception. To understand the pattern of the rainy season, one must visit India. The climate of India is known famously as the Indian monsoon climate. The Arabic term Mausam means season. India is the only country that experiences a whole season of rainfall.
It is both unique and beautiful since India does not have an equal distribution of rainfall throughout the year. Some places receive extremely heavy rainfall, while others have scanty rain. Coastal India receives it twice a year. Rainfall is the strength behind the agricultural background of India. Disbalance in the rain cycle causes huge trouble in the country as well.
---
Short Essay on Rainy Season in 200 words
The rainy season can be called a weather condition in greater parts of the earth, while in India, it is a complete season. Rainfall is not just a thundershower in India but occupies a significant position for more than three months. India is the only country whose agriculture happens due to rainfall. Any disruption in the arrival and departure of rain can create both floods and drought throughout the country.
The climate of India is specifically known as the Indian monsoon climate. The Arabic term Mausam is used to cite the term monsoon. Thus it is clear that the rainy season is a characteristic feature of this country. On average, the plains receive greater rainfall and the hilly regions experience rain in form of snow drizzle. Several parts of the world also enjoy rain in this manner. It happens in India from June to September till autumn arrives.
It cools down the excessively high temperature of the summer and brings new life to planets, animals, and humans. New green leaves grow during this time. Children love floating paper boats in the water. But simultaneously it is a season of many water-borne diseases, which must be avoided with caution. Else rainy season is a gift of nature and a supporter of the life cycle in the world.
---
Short Essay on Rainy Season in 400 words
Different seasons are responsible for the specific type of cultivation, crops, human habitation, birds and animals, and also the flora. The weather condition also influences the economy of a specific place. Thus rainy season as a particular season character on earth has its own influences. It is both enjoyable and also a disaster when uncontrollable. It can create as well as destroy life. So it is unique in several respects.
Generally, the cycle of seasons is divided into four major divisions. Those are summer, winter, spring, and autumn. The rainy season is not specifically a global phenomenon on earth and hence it is not generally included in the cycle of seasons. If one has to understand the pattern of the rainy season then the ideal country is India.
The Indian climate is named the Indian monsoon climate. The term monsoon has been derived from the word Mausam meaning season. So the characteristic feature of India goes with rainfall. Rain influences the agriculture, vegetation, culture, economy, and distribution of the population in India. If there is any disturbance in the arrival or departure of rainfall, then it can cause severe flooding and drought.
Rainfall in India generally arrives between June and September and it provides enough water for irrigation. Presently rainwater is collected for rainwater harvesting and also to reduce wastage of water and drought in several places of India. India is an agricultural country and a greater part of the economy of India depends on agriculture. So in turn, agriculture is dependent on rainfall.
The distribution of rainfall during the rainy season is diverse in India. Countries like Cherrapunji receive high amounts of rainfall whereas places like Shillong Rajasthan Gujarat and parts of Western India receive extremely low amounts of rainfall. So deserts are abundant there. The rainy season does not necessarily invite any festival; however, Rath Yatra is one of the most prominent festivals in India celebrated during this time. Nature is beautifully decorated during the rainy season and new leaves fill up the trees.
Children enjoy the rainy season by floating paper boats and women cook hot and delicious meals during the rainy afternoon and night. However, this season is also noted for several diseases it carries with it like diarrhoea, dysentery, cholera, malaria, and others. These diseases are fatal and can cause severe damage to human health. Is always advisable to be prepared before the rainy season. And if all these are maintained properly rainfall is definitely a time of enjoyment after the hot and dry summer season.
---
In this session above, I have tried to write all the essays with a very simplistic approach so that all kinds of students can understand and comprehend these writeups very easily. Hopefully, all your doubts regarding this topic have been cleared after going through this session. If you still have any confusion, let me know through some quick comments.
Join us on Telegram to get the latest updates on our upcoming sessions. Thank you for being with us. All the best.