This lesson will focus on writing short essays on the topic 'My Favourite Teacher.' I will write three short essays on this topic covering different word limits.
Table of Contents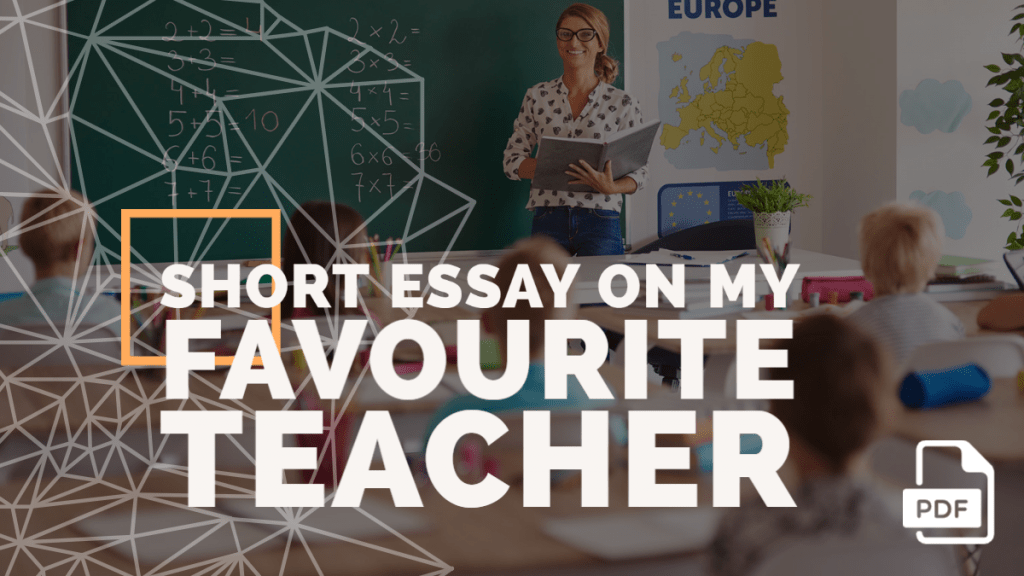 Short Essay on My Favourite Teacher in 100 Words
Teachers are the pillars of humanity. They guide us from the darkness of ignorance and lack of knowledge and bring us the light of goodness, care, devotion, and love. A teacher is the best companion who can always show us the right path.
For me, the most outstanding teacher is my parents. They always teach me the right and tell me how wrongdoings can destroy me forever. From my childhood, they have given me happiness and have also taught me that lack of anything should not be criticized. One must try to balance and get the best from the least. They scold me for my own benefit. Their teachings will forever guide me in my future in the best way.
---
Short Essay on My Favourite Teacher in 200 Words
A teacher shows us the right path towards knowledge and pulls us away from the darkness of ignorance and lack of knowledge. As human beings, we always need a teacher to help us mature in our future. Everybody gets a teacher right from their childhood.
Our parents are our greatest teachers. They give us the first knowledge of life. In schools, we receive lots of teachers who teach us academically. They are mostly responsible to give us knowledge about the institutions of the world. I have come across several of them and yet my class teacher is my favourite.
She teaches us Maths, the subject I fear the most. I used to be extremely scared of it because I always failed to solve those tough problems. But my class teacher is so kind to me that she helps me daily to get rid of my fears in Maths. She teaches me the sums in the easiest way and also inspires me to practice more.
She speaks sweetly and is adorable. The best part of my teacher is that she never scolds me when I get a sum incorrect. With lots of patience, she points out the wrong and corrects me. For her, I am confident in solving all the sums in the book. I am grateful to her for the unconditional support she has given me.
---
Short Essay on My Favourite Teacher in 400 Words
From the Vedic ages, the significance of a guru is specified as someone who will guide his disciples towards the light of true knowledge He will teach them both right and wrong and also mentor them to take correct decisions in their lives. A guru is the assimilation of the Trinity, The Brahma, the Vishnu, and the Maheshwar.
He is aware of everything and is capable of leading his disciples from ignorance to complete knowledge of the self and the world. Today the notion of a gurukul has changed and been replaced by well-made classrooms. The teacher today represents the early guru who plays that same task of giving his students the best education and correct knowledge.
For me, being a teacher is one of the greatest blessings on earth. Because God cannot be everywhere, so he has created teachers as their replicas. I myself aspire to be a teacher one day so that I can serve the children with my wisdom and knowledge. Teachers enable their students to rise higher in their lives fearlessly and be confident in their approach. To me, my parents are my greatest teachers. They have given me the best knowledge of my life and have taught me to choose good over bad.
Life is quite vast and my parents help me daily to fight through all odds. They not only just feed me and educate me in a good school, but also teach me the proper manners and behaviour in life. They help me to aspire for a greater and happier life in the future. Several things happen in my life as a young person. I go through several emotions that I cannot myself understand totally.
I easily disclose it to my parents and they show me the way out of the confusion. My parents do not create unnecessary rules over me and stop me from enjoying my life. They always keep faith in me and their teachings make me humble. I can never think of hurting them because that will destroy their goodwill over me. Parents are the first and the foremost teachers in our lives. We learn the earliest knowledge of respect and obedience from them.
In our schools, we come across many subject teachers who give us institutional knowledge. They are important because they give us a picture of the professional world. Yet the first knowledge of the alphabet, and the first speech happens at home. Home is the place from where a good character is born. Hence, for me, my favourite teachers are my parents.
---
I have written these essays in pretty simple language for a better understanding of all kinds of students. If you still have any confusion regarding the context, let me know through the comment section below. Keep browsing this website for more valuable sessions.
Join our Telegram Channel to get all the latest updates on our upcoming sessions. Thanks for being with us. All the best.