Travelling plays an important role in our lives as it enriches our experience. In this lesson, you will learn to write essays in three different sets on the importance of libraries. It will help you in articulating your thoughts in the upcoming exams.
Table of Contents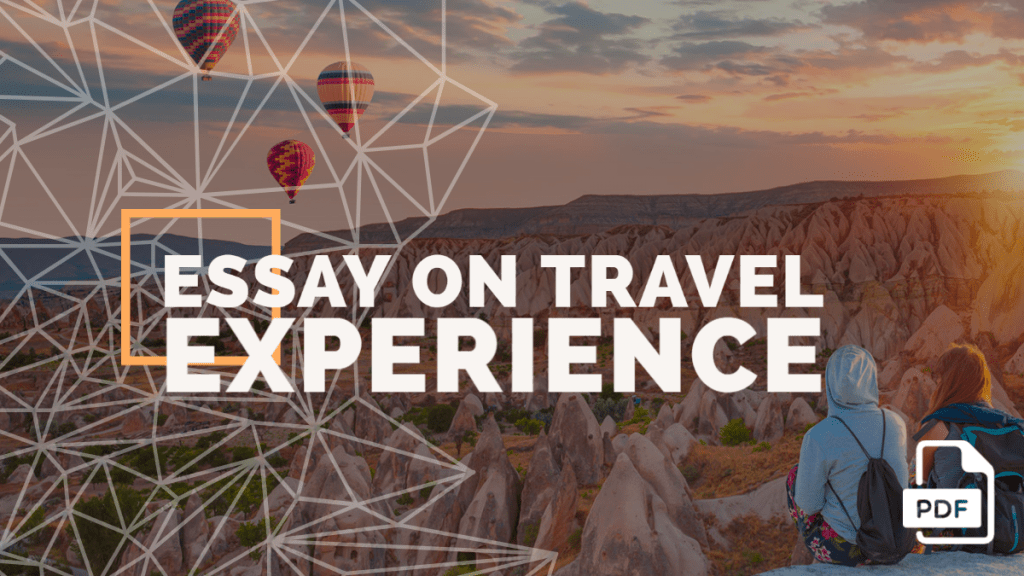 Essay on Travel Experience in 200 words
We travel to get away from the monotony of our daily lives. It's a refreshing diversion from the monotony of everyday life. It allows our minds to relax and gives our inner child the opportunity to play. Some trip memories are nostalgic and melancholy, while others are daring and exhilarating. A trip to the graveyard, the poet's corner in London, or one's ancestral house, for example, is a voyage to nostalgia.
These travels allow them to relive memories and treasure golden memories from a bygone era. People who go on these journeys are frequently depressed and artistically inclined. Travelling instils a sense of adventure and encourages us to make the most of every opportunity. Some people prefer to travel in groups, whereas others prefer to travel alone.
Trips to amusement parks with massive roller coasters or a deeply wooded forest could be exciting. It's important to remember that Columbus discovered America due to his travels. The journey becomes much more memorable when things don't go as planned. For example, if a car tyre blows out on the highway and it begins to rain heavily, the trip will turn into an adventure, even though it was not intended to be such. A visit to a museum or a gothic structure, on the other hand, is sure to be exciting.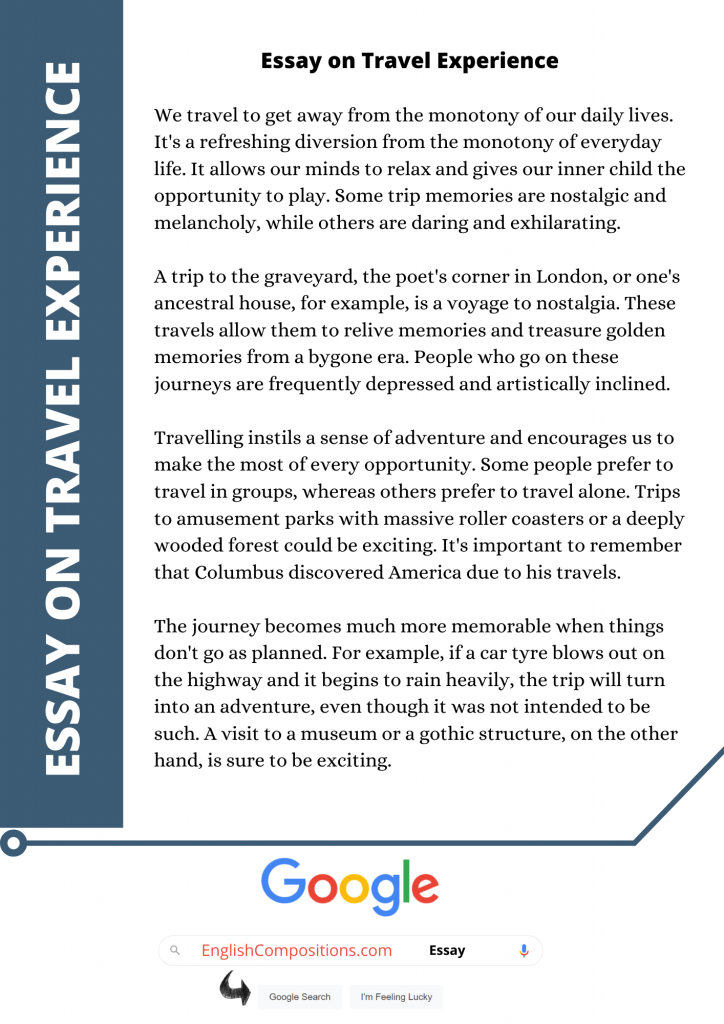 ---
Essay on Travel Experience in 500 words
We travel to get a break from the mundane and robust lifestyle. It is a welcome change from the monotonous routine existence. It helps our minds rest and gives the inner child within us to have a good time.
Not all travelling experiences are adventurous and exciting, and some are nostalgic and melancholic. For instance, a trip to the cemetery or the poet's corner in London or one's ancestral home will be a nostalgia trip. Such trips help them re-live the moments and cherish the golden memories of bygone times. People who undertake such trips are often melancholic and have an artistic sensibility.
Travelling experiences bring enthusiasm and teach us to make the best of every moment. While some enjoy travelling in groups, some people love to travel solo. Adventurous trips could be to amusement parks with giant roller coasters or a deep, dense forest. One must not forget that travelling led Columbus to discover America. When things don't go as planned, the trip becomes more memorable. For instance, if the car tyre gets punctured on the highway and starts raining heavily, the trip, even if not intended to be adventurous, shall become one. A trip to a museum or gothic architecture shall be thrilling.
Last Christmas, my trip to Goa with my friends was an enriching one. The golden sun-soaked beaches offered a refuge from the humdrum city life of Kolkata. The cool breeze, the rising and setting sun, and the chilly wind all transported me to heaven. It was paradisal and divine. The cuisine was exquisite. The Portuguese culture and the museums offer various historical insights.
Although it was the peak season and most crowded places, people were civilised and cultured. The melodious music was in the air in every nook and corner, and the happy vibes were contagious. I danced, sang, played and had a great time. I tried sky diving, and it was a thrilling experience.
Besides fun and frolic, I found the independent spirit of people commendable. We spent three days in North Goa and two days in South Goa. We stayed at a guest house as most hotels were expensive and very occupied. We booked scooters to travel far and near. We also went on the cruise for the casino night.
My favourite spot was Thalassa, where we enjoyed the spectacular belly dance performance by males and females. We spent Christmas at Curlies witnessing the waxing moon at midnight. The lap of nature enriches one travelling experience and soothes their soul. The chirping of birds, the sound of the waterfall, the waves of a beach or the snow-covered mountain uplifts the traveller's spirit.
One must not restrict oneself to a specific type of travelling experience. Life, after all, is a long journey that offers us different durations of vacations to make us laugh and learn at the same time. As Francis Bacon puts it, "Travel in the younger sort is a part of education, in the elder, a part of the experience."
---
Hopefully, after going through this lesson, you have a holistic idea of the importance of travelling in our lives. I have tried to cover every aspect of a traveller's experience within limited words. If you still have any doubts regarding this session, kindly let me know through the comment section below. To read more such essays on many important topics, keep browsing our website.
Join us on Telegram to get the latest updates on our upcoming sessions. Thank you, see you again soon.