Here in this lesson, you are going to learn to write short essays on the topic 'My Favorite Season.' Here, I will write three different sets of sample essays on this topic that will cover different word limits important for various exams.
Table of Contents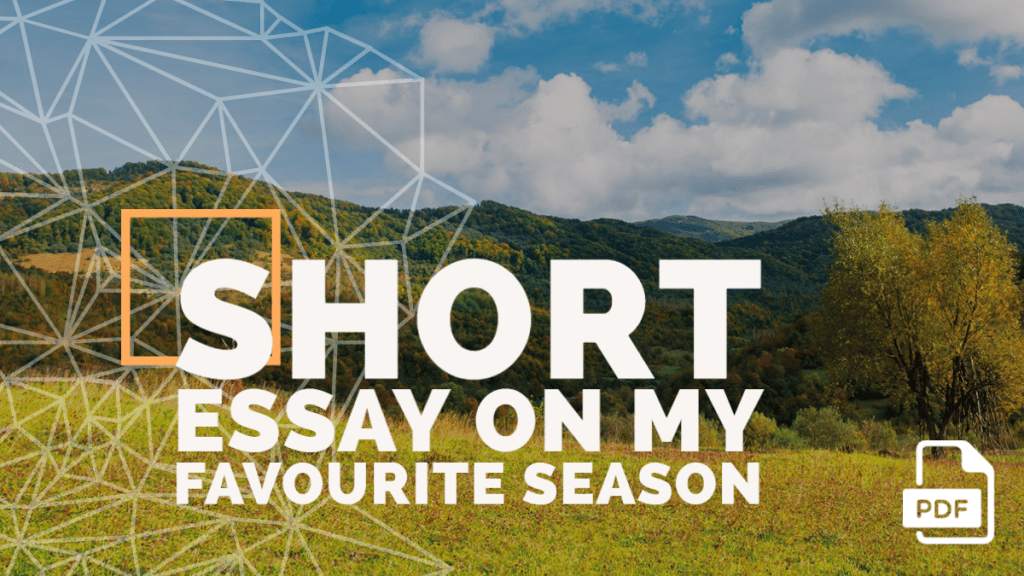 Short Essay on My Favorite Season in 100 Words
My favourite season of the year is summer. It begins in April and ends in June. During the summer season, days are long and nights are short. The skies are clear and the sun is bright. We get month-long summer vacation and can stay at home with our parents and family without having to worry about school. We usually go to visit our grandparents in the village during the summer season.
In the village, I get the opportunity to play with the neighbourhood kids in mango and guava orchards that surround my grandparents' place. They teach me new games and I always have a great time with them. Summer is also the season of mangoes. We get to eat so many varieties of juicy, delicious mangoes. 
---
Short Essay on My Favorite Season in 200 Words
My favourite season of the year is winter. The Winter months are very cold as the temperature drops low. It also snows in the northern, high-altitude parts of the country. We wear a lot of warm clothes and eat hot foods to keep us warm. Our metabolism increases during the winter season and thus, we can eat a lot of delicious food. Hot drinks like tea, coffee and hot chocolate are also welcomed.
During the winter season, we usually go on a week-long vacation to hill stations to enjoy the snow. I make snowmen with my parents and siblings and go ice staking as well. There, at night, we create small bonfires to warm ourselves and chit-chat with each other. Winter is also the season of festivities as we celebrate Diwali, Christmas and New Year in winter.
My mother always bakes cakes for us on Christmas and they are warm and delicious. When I don't have school, I like staying in bed covered in a thick quilt and reading my favourite storybooks. I also go out to play cricket and badminton with my friends every afternoon as it warms my body and keeps me active. Due to the cold weather, we don't sweat much and can play for a long time. Because of all these reasons, I like the winter season.
---
Short Essay on My Favorite Season in 400 Words
Out of the four predominant seasons, my favourite is the monsoon or the rainy season. It starts to rain heavily all over the country by July. As it rains, the water washes away all the dust from plants and trees, making them look green and beautiful again. As the rain hits the dried-up ground, the smell of wet earth fills the atmosphere and makes our hearts dance.
New seedlings begin to sprout and grasses and plants begin to grow all around us. Our surroundings are covered in green and look very mesmerising. As India is an agricultural country, the rainy season is very important for us. Rains irrigate fields and help crops grow. Without rain, most of our major crops will fail, causing loss of business and even starvation. As my grandparents and uncles are farmers, I have experienced the joy that the rainy season brings to farmers very closely. 
I also like the rainy season because when it rains heavily, I do not need to go to school. Sometimes, even my parents take leave and then our whole family gets to enjoy the day together. My mother makes delicious fritters with tea which we enjoy while playing board games like ludo and carrom. My father is very fond of flowering plants and we have a lot of plants in our garden. During the rainy season, our garden looks majestic with hundreds of blooming flowers in many different colours.
My friends often come over to my house and we enjoy playing in the garden when the rain stops. We make paper boats and put them in water puddles. Sometimes, we also compete to see whose boat would go farther. Sometimes our parents allow us to go outside when it is raining and then, we enjoy jumping in puddles, getting drenched and playing in rain. It is very fun to play in the rain. After that, my mother makes hot soup for us to warm us up. 
When it rains at night and electricity is cut, we get to enjoy our food in candlelight. After dinner, we go straight to bed and tell each other ghost stories. I and my siblings always try to scare each other. When it rains for days, I like to sit by the window and read my favourite books while watching the rain. The rainy season is very special for me and when it ends in September, I wish for it to come quickly next year.
---
So hopefully, after going through this session, all your confusion regarding this topic has been cleared. Post your doubts if you have any, in the comment section below. I will try my level best to address your queries. Keep browsing our website for more such content.
Join us on Telegram to get all the latest updates on our upcoming sessions. Thank you.