For all of us, the first day of our school is very significant. We never forget the first day in our school. In this lesson today, you will learn how to write a short essay on the first day of your school. So, let's get started.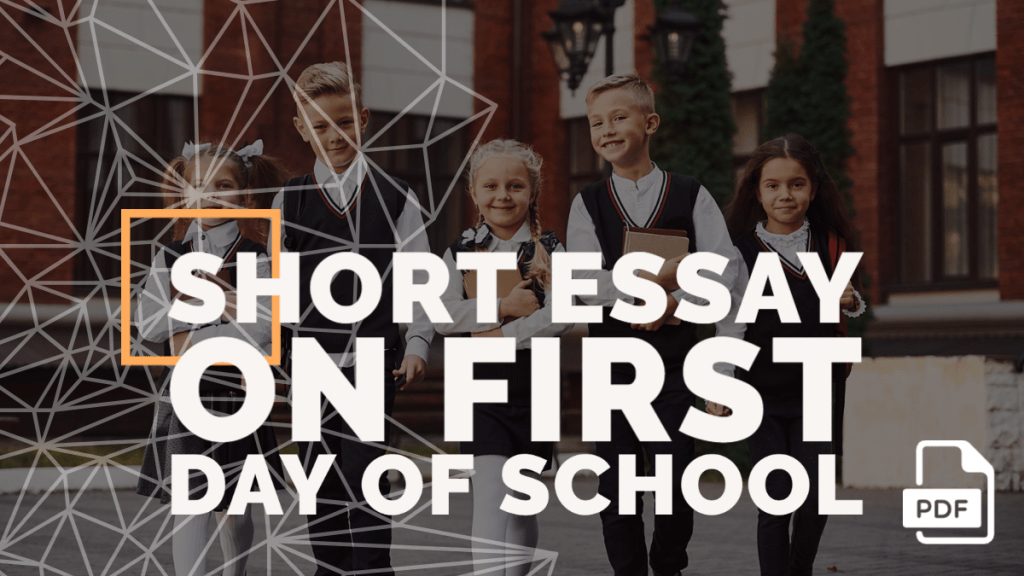 Short Essay on First Day of School in 100 Words
The memories of our school are always precious to us. When we grow up and leave our schools, we still remember those beautiful days. School gifts us with friends, good teachers, studies, manners, and also lots of happiness.
There is no one who does not enjoy going to school. And the best part of school life is the first day of school. As little children, we generally cry when we go to school. We do not understand everything happening there. Our parents take us there. Often we have to give an admission test for that school. But slowly we make new friends and start enjoying our school days.
---
Short Essay on First Day of School in 200 Words
School gives us one of the best memories of our lives. We will realize this after leaving our school and going for higher education. For a long period of our life, we spend time in our school. So it soon becomes our second home. Perhaps, the most important day in our life is the first day of our school. We get into that building for the first time.
All of us cry when we get into school. It happens because we do not want to leave our parents and house. For the time, school seems to be a different place. There are new people, new teachers, new friends, big classrooms, benches, and chairs. We get a pile of books and copies when we get into our school. But soon we start adjusting. We no longer cry we go to school. We wait to meet our friends. We come across our teachers. They start loving us just like our parents.
We feel home-like when we stay in school. As students, we have to follow rules. That we obediently follow. We enjoy our first school prayers and the assembly. The first day of our school remains like a precious memory. We do not forget that day and enjoy sharing it with everyone.
---
Short Essay on First Day of School in 400 Words
School gives us the best time of our lives. Everything seems very easy to understand. We learn, study, and also enjoy ourselves in school. School life gifts us with friends, good teachers, and good memories. And the best moment of our lives is the first day of school. Everything seems new and different. Yet it is a treasure of our lives. We can never forget the days of our school, especially the first day.
The first day of school is perhaps the most important. It is not only the beginning of our studies but also the start of a new life. We all remember how on the first day we had cried. We hated going to school back then. We thought someone will take us away from our parents and house. So parents always stay with us on our very first day. We all have to sit for an admission test. We prepare the basics back at home and then give the examination.
All children at the age of three are admitted to primary schools. Once our examination gets over, we get admission into the new school. We feel happiest as we get new school bags, books, copies, and other things. The first journey to school is an exciting one. Holding the hands of our parents, we attend the school.
We cry as the teacher takes us to our classes. But soon we see many little children sitting in the class. And we forget our tears. Soon we start making friends and enjoying the classes together. We share our tiffins and learn the habit of sharing. We come across some new people. We learn to call them teachers. They teach us in our class and we enjoy sitting with our friends and learning the same things. 
As the first day comes to an end, we hurry outside to our parents. We feel happy as we share the details of our first class. From that moment onward, we never cry to go to school. But we wait every morning to visit school and meet our friends. The best part of school life is having friends to play with.
Everything remains very soft and innocent. From the first day, the teachers and the school building become very dear to us. So just like the first day, we cry when we leave our school. We all get to go for higher education. We all do our jobs. But throughout our lives, the school remains a great memory. The first day of school is the biggest gift of God.
---
In this session above, I have tried to discuss the entire context in a very simple language that all kinds of students can easily understand. Hopefully, now you will be able to write such essays on your own. If you still have any doubts regarding this session, kindly let me know through the comment section below. To read more such essays on important topics, keep browsing our website.
Please join our Telegram channel to get all updates on our upcoming sessions. Thank you for being with us. All the best for your exam.