Farmers are one of the best friends of our society. Without them, we will be starving till death. In this lesson, you will learn how to write essays on Farmers. You may find this essay relevant for your upcoming exam.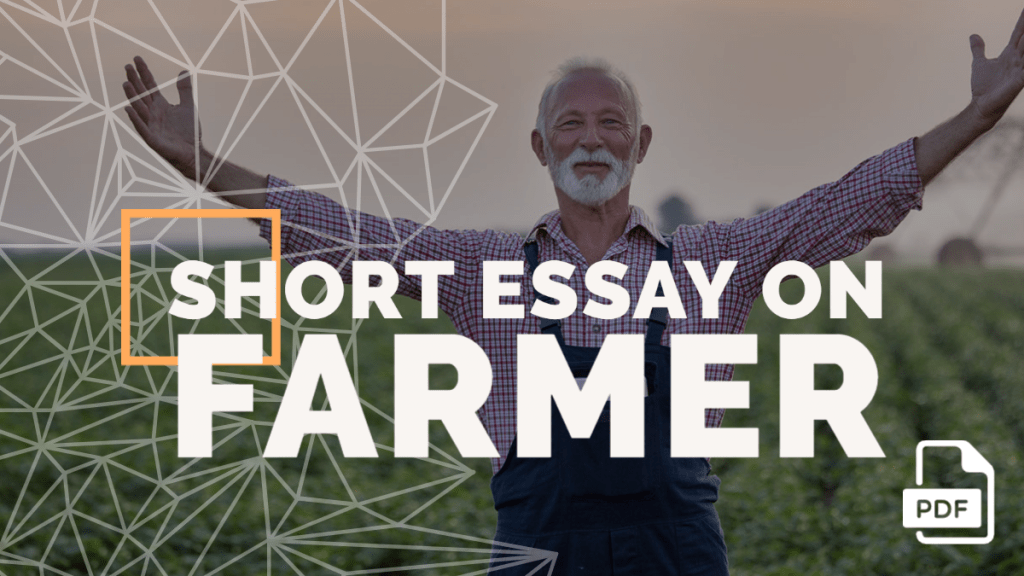 Short Essay on Farmer in 100 Words
A farmer is the base of a country. He works a lot. The food we eat every day is the gift of the farmer. When a country depends on agriculture, then the farmer is the greatest need. He grows crops that are necessary for the country.
A farmer knows what kind of crop to grow. He knows the weather and season. He is aware of how the plants will grow, and what is important for them. In India, the farmer is the best friend of the country. He is poor, but without him, we cannot live. The farmer brings us the daily foods, vegetables, and fruits. It is our duty to respect the farmers of our country.
---
Short Essay on Farmer in 200 Words
Framers are the most important people in our society. They are the primary supplier of food we eat every day. If they do not harvest the crops, the market will soon be out of all kinds of food. So the farmer is the best friend of all of us. He works hard daily and ensures that we get everything we need. He takes care of his crops. He checks the perfect weather and plants the crops. When the crops grow, they harvest them and take out the seeds. Then it is sold and we get our food.
There are different types of farmers. In a country like India, One framer cannot grow all the crops. It is impossible because India is a huge country. It has lots of people. So there are farmers in every state, who grow the crops there. Some farmers grow crops like rice, wheat, barley, and other food crops. These are emergency crops. Because these are foods we eat daily.
So the farmer has to be very careful when they are growing crops. Some farmers grow cotton, jute, silk, and other materials. These are also important because it helps us with our clothes and other household things. So whatever the farmer does, his work is harder than everyone. He works throughout the year. He does not have vacations. So we must respect him for his hard work.
---
Short Essay on Farmer in 400 Words
Framers are the biggest supports of our country. Without them, we cannot stand. The farmer helps us to stay strong. It is possible because they give us food. Thus farmers play a very important role in our lives. He is like the soldier who is saving our country.
There are several types of farmers in our country. Some of them grow food crops. Food crops are the crops that we eat every day. These include rice, wheat, barley, ragi, jowar, bajra, maize, tea, coffee, and oilseeds. The farmers who grow these crops are always very careful. Every state in India has its native crops. Local farmers know the need and prepare it in that way. They are aware of the weather and the water the plants need. They apply the water and tend those crops.
A good farmer uses the best fertilizer for his plants. He also tills the land and prepares the soil. Good soil is needed for the best cultivation. The farmer planting the food crops knows all of these. He cares for them a lot. When the crops harvest, he cuts them and separates the seeds. Then it is sent to market for sale.
Another group of farmers is there who grow cash crops. Cash crops are those crops that are not used to eat. Cash crops include cotton, jute, silk, rubber that are sold in the market, and the money is received. Cash crops need a different type of care. So separate farmers are there to care for them. These farmers have knowledge of the cash crops. So they select the perfect weather to care for them. Farmers collect the crops once it is grown, then they take them to the market and sell it.
Despite being so important for society, most of the farmers are poor. They face a lot of problems. They do not get the proper price for their hard work. They are tortured as well by the rich people to sell their crops at low prices. Their lands are also destroyed if they do not follow the rules.
The farmers suffer a lot and often have to suicide to get rid of all earthly problems. So it is the duty of the government to look after them. They are the foundation of our country. India depends a lot on agriculture. Efficient agriculture needs efficient farmers. The farmers must always be respected, protected, and cared for. 
---
That was everything to write essays on farmers. In this session above, I have tried to present the entire topic from a very simplistic perspective and also adopted a very easy language to write.
Hopefully, all kinds of students have understood this session and will be able to write such essays themselves. If you still have any doubts regarding this session, you can post them in the comment section below. To read more such sessions covering many more important topics, keep browsing our website.
Join us on Telegram to get the latest updates on our upcoming sessions. Thank you.