In today's lesson, you will learn how to write short essays on elephants in exams. Here will be three different sets of essays on the same topic covering different word limits.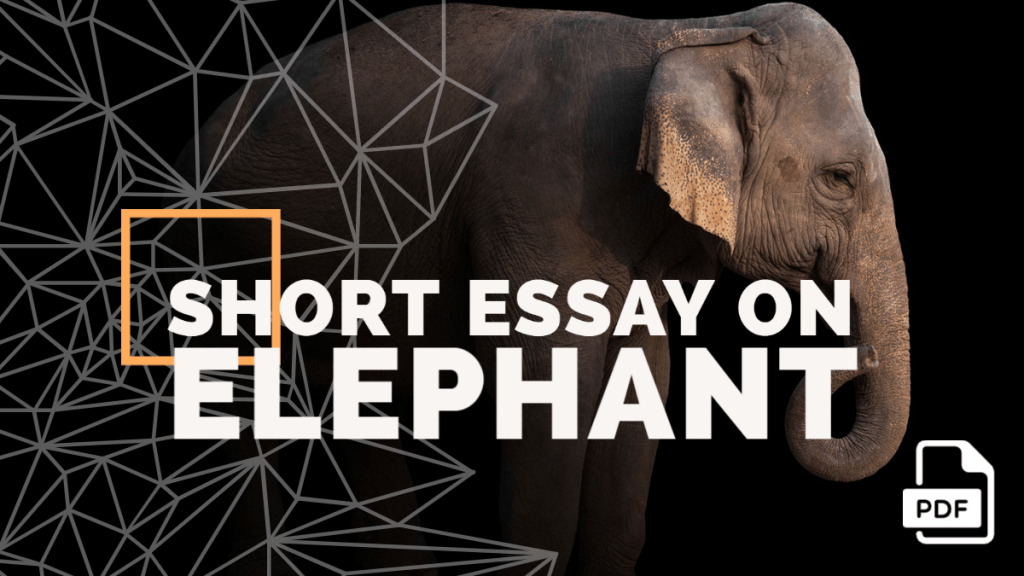 Short Essay on Elephant in 100 Words
An elephant is one of the most important herbivorous animals. It has a mighty and huge body with giant limbs and a long trunk, a tail, and tusks. Elephants generally thrive on plants, fruits, vegetables, bamboos, and also sugarcane. It is a wonderful carrier of both materials and humans from one palace to another. An elephant is a quiet animal, and hence an easy preference for human utility.
Elephants are found in several parts of the world, especially Asia, Africa, and also parts of Europe. Elephants are markers of companionship and strength as well. In Hindu mythology, the most prominent gods like Ganesha and Lord Indra are associated with this animal. On auspicious occasions signs of elephants mark virtue. As a wild yet peaceful animal, an elephant is thus important.
---
Short Essay on Elephant in 200 Words
An elephant is a widely known herbivore found in almost every part of the world. They generally live in herds consisting of a large number of members of their family. The forest is their best habitat. It thrives well on plants, sugarcane, bamboo, and other fruits and vegetables. The physical structure of the elephant is more magnificent, It has a huge ash-coloured body, with thick and strong limbs, and long trunk, two tusks, and a tail. The trunk enables it to drink water and also tear fruits from trees. In Asia, Africa, and also parts of Europe, elephants are abundant.
Presently the number of elephants has declined due to excessive hunting. Elephant skin and tusk have great demand in markets for making many luxurious products which bring ample money to the poachers. But this aggression of people has resulted in the steady decline of the animals. There are hardly any elephants left in the forests. Also, many elephants are dying every day for the railways constructed mid-ways through their forest pathways.
Human gluttony to have more capitalist gains has destroyed all forests and no habitat is left for these innocent animals. Thus today we can observe how the balance of the ecosystem is getting hampered due to the liss of one of the most important components of the food chain. Elephants are marks of prosperity and hence we must preserve them in parks, forests, and zoos.
---
Short Essay on Elephant in 400 Words
We have often seen how Lord Ganesha has the face of an elephant and Lord Indra uses the elephant as his vehicle. Questions arise as to why the elephant is such an important creature to consider it even as an object of worship. The answer lies in the physical magnanimity and the active participation of an elephant in several tasks it can perform for humans.
An elephant is a widely available wild animal found in several parts of the world like the forests of Asia, Africa, and also parts of Europe as well. It is a herbivore generally feeding upon plants, fruits, vegetables, bamboos, and sugarcane. The body of an elephant is huge with strong limbs, a long trunk, and two tusks. The elephant uses the trunk to drink, feed itself, and also carry logs for longer distances.
Elephants are mainly used for carriers and are the best ride for tourists to visit the forests. On several counts, elephants are regal animals, whereas, in the olden days, kings used to take rides on their backs and go hunting. In fact, elephant tusks are great sources of ivory. As an important component of the food chain, elephants balance the ecosystem.
In Hindu myths, the usefulness of an elephant is widely renowned on several accounts. Lord Ganesha has the head of an elephant, Lord Indra rides on the elephant's back. The Mahabharata was composed of the tusk of an elephant that Ganesha severed from his face, the goddess Laxmi is assisted by two elephants as the immediate markers of prosperity, Goddess Jagadhatri carries an elephant at her feet to suppress all evils and vices. Thus elephants are auspicious figures for Hindus, who keep small murals of them to bring in prosperity and peace. An elephant is not seen as a ferocious beast but more as a timid animal that can be easily domesticated.
But presently, due to excessive hunting and unbridled poaching of elephants, their numbers have rapidly declined. The cost of elephant tusks and skin are of immense value in the indigenous as well as the foreign market. They bring huge profits to the sellers. Also due to excessive human desire to increase urbanization, railways are being constructed for connections and tremendous deforestation is taking place.
Thus many elephants are losing their lives and their habitats as well. So they are entering into human localities and are getting killed for their helplessness. Due to this preservation of elephants is taking place in zoos, parks, and forests as well to keep the wildlife intact. It is our duty to preserve every ounce of the ecosystem safe so as to continue the life cycle properly on earth.
---
If you still have any queries after going through this session, kindly let me know through some quick comments. Keep browsing our website to read more such sessions.
Thank you.