In this notice writing example, I'll show you four examples of notice writing on COVID 19 outbreak. So without further delay let's get started.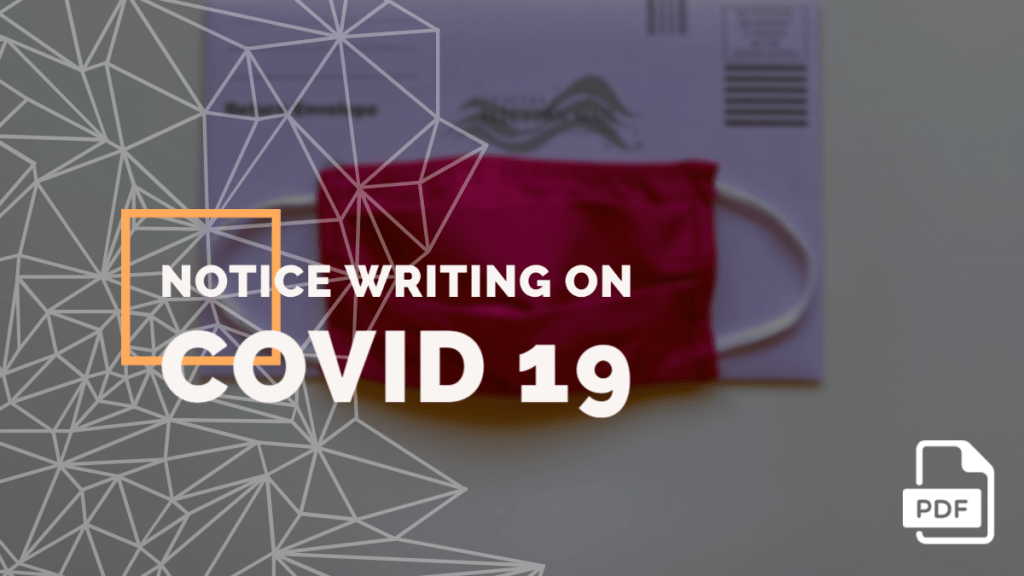 Abc public School
Notice
Covid-19
15 June 2020
There may be some concern in the school community about new cases of the new Coronavirus. We want to assure you that we are monitoring the situation carefully and that the organization is following all official directives from public health officials and providing updates as appropriate.
Coronavirus symptoms range from common to severe respiratory diseases and include fever, cough, and difficulty breathing. If you have recently travelled internationally and have these symptoms, avoid contact with others, consult your healthcare provider, and tell them which countries you have visited.
Principal,
Anita Gibbs
Delhi Public School
Notice
Covid-19
20 March 2020
With a spike in the positive cases of Coronavirus, the school administration has decided to shut down the physical classes and opt for online studies.
You have to make sure your current working phone number is registered with the school office so that you get all the required information and new updates on time. You are also requested to be extra cautious and stay at home with your family. Regards.
Headmistress,
Rachel Zane
Lucknow Public School
Notice
Covid-19
18 April 2020
Our school is receiving several inquiries from guardians and students regarding the ongoing issue of the Covid-19. This is to inform you all that our school is taking all the necessary preventive measures such as daily sanitization, wearing masks, social distancing, etc.
The masks, gloves, and sanitizers have been provided to the staff from the school. You are requested to keep calm and stay in touch for any updates.
Principal,
Walter White
Army Public School
Notice
Covid-19
25 May 2020
This is to inform you that keeping in mind the situation of Coronavirus all the previously scheduled educational excursions of all the departments of the college have been postponed until any further notice. Hopefully, we'll resume our classes at the end of this year. Please stay at home and take care.
Class Teacher,
Luna Potter
There You Have It
So there you have your example notice of COVID 19.
I hope this article helps you.
Do you have any other topic ideas that you want me to cover?
If yes, then just let me know by leaving a quick comment. We have a couple more important notice writings as well, do not forget to check out those.