Hello there, today in this essay presentation we are going to cover a topic on my favourite hobby is playing badminton, I hope you like this essay presentation!
This Essay is Formatted For Class 4 | Class 5 | Class 6 | Class 7 | Class 8 | Class 9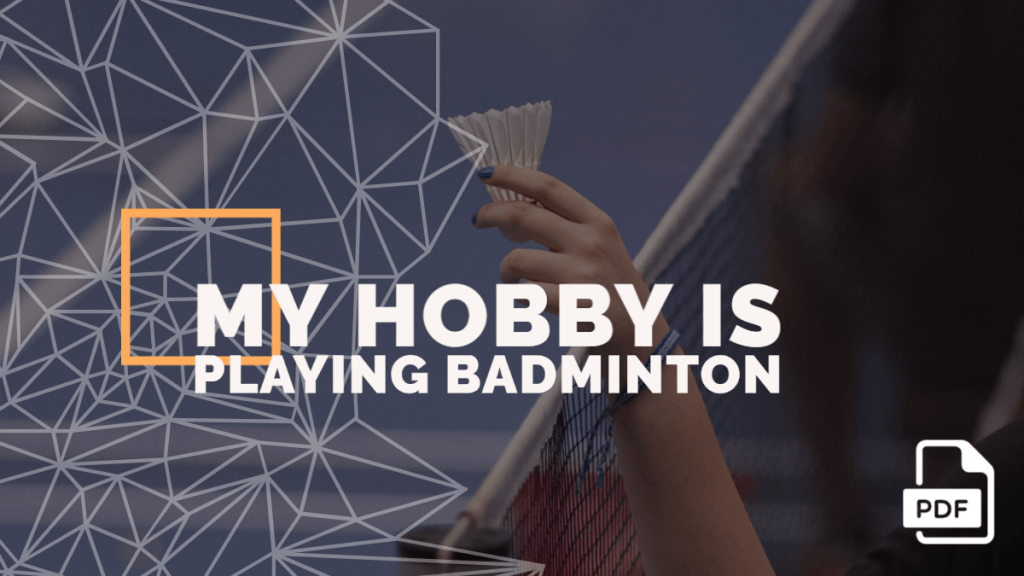 In life, one needs a hobby that keeps him or her busy during their free time. I am a sports lover, and my hobby over the years has been badminton. My love for this sport started at a young age, and ever since then, I have not only admired the game but come to play it with absolute passion.
If you see me all geared up and playing the game, you might confuse me for Lin Dan, whom I admire quite a lot. My love over the years for this hobby has seen me live and breathe it as respect all that it has done for me.
For you to play badminton, you have to be well geared up for it. It's just like any sport that you cannot go to the field in your casual clothing. I have invested over the years in the right gear, which includes shorts, pairs of sneakers, and all protective and bands so that as I enjoy my hobby, I feel like a real pro.
My friends have come to realize how serious I take the sport, and they do not mind once in a while joining me for a fun evening just away from the hustle and stresses of life. Leisure for me is always an enjoyable affair, and I never get tired of playing the game. I do not have to worry anymore about seeking therapy as badminton has it all covered for me.
One of the biggest desires for me in life has always been that I remain fit. One may think that badminton is not a game that you can achieve your fitness goals with, but I may disagree with them. This game involves the whole body, and the fact that one hit of the shuttlecock with the racquet may make one go from one end to another just to hit it back is an excellent form of exercise.
The game may be plaid in doubles or singles, which means two players on one side or one player against another, respectively. The lesser the number for me, the more competitive it is, and one the other hand, the more the number, the greater the fun.
The fact that I cannot play my hobby alone has also help me gain socially.its not a spot like a basketball where you may go to the field, make dribbles and dunk and feel the zeal in it. Badminton requires one to have a mate, and that is why I appreciate my forthcoming friends.
It has helped me to stay social, and I connect with other people as we are on the court and even in my daily routines. While playing side by side with anyone has enabled me to communicate with them and have conversations about life and how we should pursue our dreams quite competitively, just like in the court.
Before starting to love my hobby, I was struggling with finding a way to lose a few kilos, and am the gym for me is not my perfect sport. However, after some months of embracing this sport, I came to realize that it had helped me burn some few calories and lost some significant weight.
It's an active sport that requires quite a lot of movement, and to make a score, you have to hit the shuttlecock, either hard or smart. After realizing that it's helping me lose some weight, my love for it grew, and since then, I have never sorted any other way to stay on track with my weight.
The game is more of an outdoor game, has been quite fulfilling to me as there is no area I cannot enjoy my hobby. All I need is my sports gear, two parallel poles to set my net, and am good to go. It has given me a chance to enjoy nature in its raw form, and breath is fresh air.
While traveling, I do not have to worry about where I will bet poles from as I can use just two trees, which is quite easy for me and therefore I can have all the fun I want with my friends. I would choose badminton over and over again and am proud to say that I am a proud ambassador for my hobby.
---
How was this essay on My Hobby is Playing Badminton? Let me know in the comment section.
Read More

Essay on My Hobby Karate
Essay on My Hobby is Playing Kabaddi