Who doesn't love travelling? Maybe rare! I love travelling so much, in this essay paper I am covering my most memorable travel experience, I hope you like this essay presentation. So without wasting more of your time let's jump to the essay!
This Essay is Formatted For Class 5 | Class 6 | Class 7 | Class 8 | Class 9 | Class 10 | Class 11 | Class 12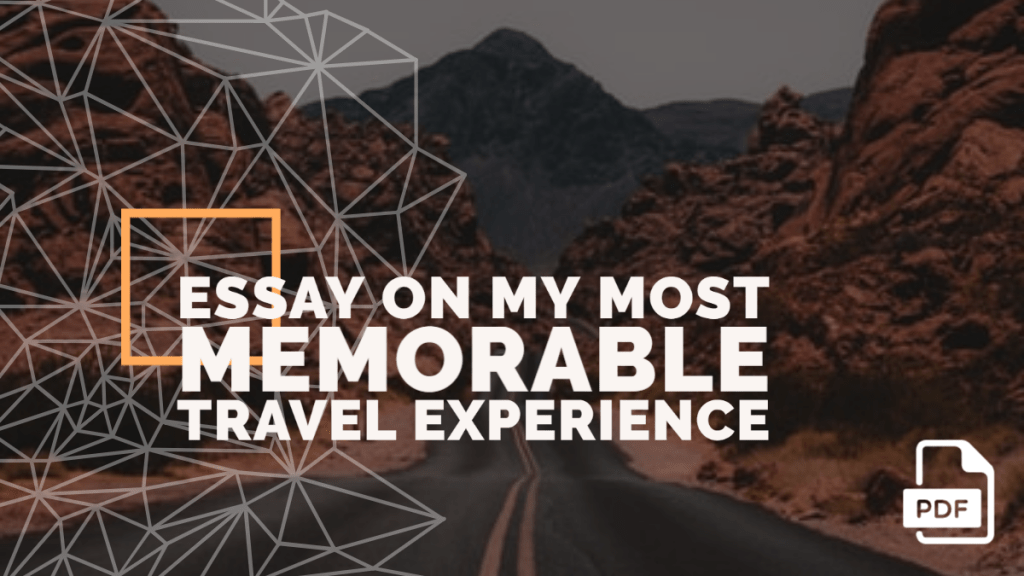 I love to travel
Don't you? For me traveling opens my mind to new ideas, new adventures and lets me learn. I like to learn as well and when I travel I get to learn about different people, their cultures and their way of thinking.
When I was young I was able to travel across Canada. Even in a western country, there are different cultures and I got to see Ottawa and Montreal up close. The French Canadians are not the same as the Western Canadian and my experience was fabulous.
Going to the east was not as exciting as traveling through the Rocky Mountains though. The grandeur and beauty of that mountain range defy description. Snow-capped almost all year round, these mountains stood tall and majestic.
They even have a glacier in their midst that is something to behold. Lake Louise stands out as well with its multi-colored water and mountain surroundings. But as good as those trips were, they do not compare to when I left Canada and traveled to Asia for the first time.
Here I was traveling to a completely different culture than I had experienced as a child. My itinerary was taking me to the land of the Morning Calm and was known in earlier days as the hermit kingdom.
This was going to be a new experience for me. The plane took off going in a northerly direction as airlines like to fly close to land. This is a good policy as the passengers get to see the grand western mountains from a new angle.
Up to and past Mt. Mckinley the snow-covered peaks glistened under the sun's rays… That look was made better by the contrasting dark green colors of the forests that make their home throughout the mountains.
Then as we were flying over the north Pacific ocean the realization set in that I was in for an adventure. The bright blue waters of the Pacific made the Japanese islands look like little diamonds set on a velvet cloth.
A few minutes later we were passing over the eastern coastline of Korea, with its tall waves beating against the rocky shores. It was too late to turn back. We were almost to our destination, Seoul.
After we had landed and I found my way to my hotel. The great thing about Korea is that it has signed both in English and Korean making it easy for foreigners to navigate to their destinations without hassle.
The taxi drivers were polite and very helpful, plus they did not try to rip me off. They drove me directly to my hotel and helped me get inside. In looking out my hotel window I could see what made Seoul so attractive. It was a modern city filled with history.
A history the Korean people were proud of. That pride was found in the lack of an entry fee to their wonderful museums. Even their ancient palaces were not that expensive to enter. Seoul. Has at least 3 of them within its borders.
The main palace, Geongbokgung, is backed by Seoul's mountains giving it a picture-perfect quality that is astounding. It took some time to see it all. After I left the palace I headed to the first national treasure of Korea, Nam Dae Mun or the southern gate.
It stood tall and proud and it would be the entrance you would come through if you were traveling to Seoul from the south. The wide Han River is quietly weaved its way through the city supply the residents with pure mountain fresh water every day.
There is too much to list here that both Seoul and Korea have to offer but it was a trip of a lifetime and one I will always remember. It wasn't a vacation nor an adventure. It was a true travel experience.
---
Do not forget to share your thought on this Essay on My Most Memorable Travel Experience, it will help us to deliver more helpful essays for you guys.