Drawing is one of the most favourite hobbies among children all around the world. That's why a trend of essay writing on the hobby of drawing is always noticed in various examinations all around the world. Because of that, we have decided to come up with such a session that will show the proper method of writing essays on drawing hobby. So here we are presenting a session on essay writing on my drawing hobby specifically for students who are in class 6-9.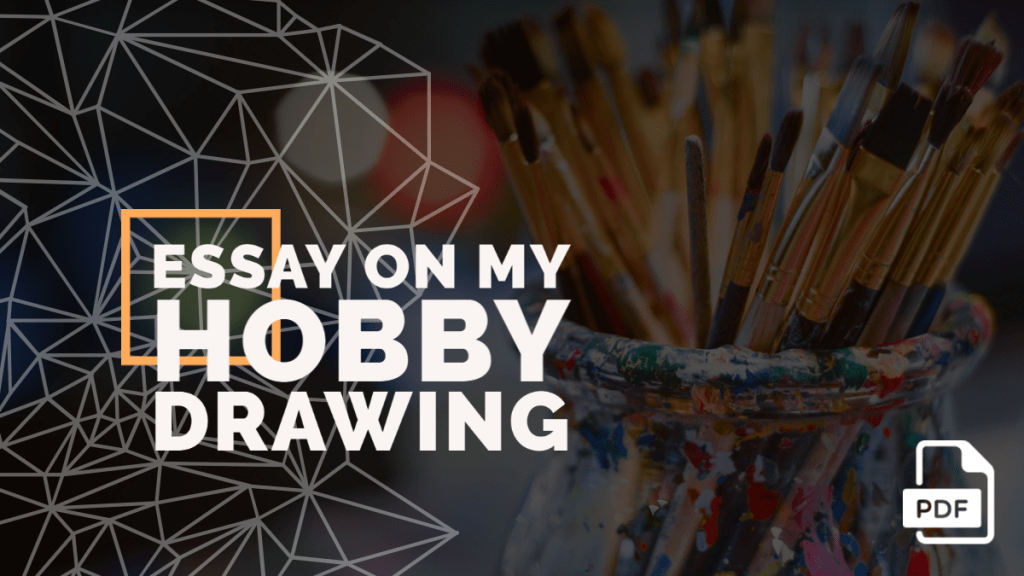 Essay on My Hobby Drawing within 100 Words
My Hobby Drawing
I am a student of class 6. All my friends have something as their hobby. My hobby is drawing pictures. I love to draw since when I was in class 2. As my drawing teacher, I admire Mr. Swapan Saha from whom I've learned the basics of drawing. I love to draw natural sceneries as well as figures.
My teacher always says that nature should be the ultimate inspiration for any painter. That's why all of us should try to draw pictures not only from drawing books but also from our own. I always try to follow all the advice of my teacher. In the future, I want to be a painter like Swapan Sir.
Essay on My Hobby Drawing within 150 Words
My Hobby Drawing
All of my friends have chosen something as their hobby. Ramesh chose gardening, Tithi chose to stitch design on clothes, and therefore I have chosen drawing as my hobby. I am a student of class VII of Madonmohan High School. My class teacher always says that everybody should choose that as their hobby what he/she loves. I love painting from even my early childhood.
In terms of my hobby, my father is my inspiration. He is a very good painter. He always teaches me how to draw human figures, rivers, and mountains. But I love to draw animals in my paintings. I prefer pencil scatches rather than colored pictures.
Still, I have learned to paint with different colors. With those colors, I love to paint rainbows the most. Rainbows, mountains, waterfalls are still a mystery to me. Father says, these all are the gifts of nature to us. In my future, I always want to be a painter like my father.
Essay on My Hobby Drawing within 300 Words
My Hobby Drawing
Every people in the world choose something as their hobby. One of my school teachers says that a perfect hobby helps a person to get mentally mature and content. So, it is very important to choose a proper hobby in life. He also says that a person should only choose something as a hobby that he/she loves to do. These hobbies help us to spend even our leisure time with productivity.
I am a student of class VIII. I love to draw pictures since I was a child. That's why I chose drawing as my hobby. This hobby doesn't only help me to spend my leisure time, but it also helps me to think deeply and explore the creative nature inside me. I usually prefer to draw pictures, not from the drawing books but from the canvas of my own mind.
That's why after finishing every picture, I feel that the creative mind inside me has got awaken. My drawing teacher says that it improves the level of creativity inside a human being. I started attending formal drawing classes since I was in class II.
At the very beginning of my classes, I learned pencil sketches of different objects and thereafter shifted to oil pastel colors. Now after spending long years with pencil sketches and oil pastel, I have shifted to watercolor.
My drawing teacher told me that I will be learning to paint on canvas after my 10th board examination. For that now I need to deeply focus on learning all the basics. I am very excited about learning how to paint on canvas. I would also love to learn the method of oil painting my future.
I have decided that whatever I will do professionally in my life, I will continue painting. My drawing teacher, Mr. Rajat Banerjee is my inspiration in this case.
Essay on My Hobby Drawing within 400 Words
Drawing; My Hobby
A hobby is something that a person pursues to take a break from the same monotonous regular routine. That's why everyone chooses something as a hobby that they love. Because as wise men say that love can be the ultimate motivation to do something.
So, we all need to choose something as our hobby that we are passionate about. Without passion, all our efforts to do something creative go into the vein. That's why my father says that hobbies are needed to be chosen wisely and very carefully for proper utilization of both time and effort.
I am a student of class IX of XYZ school have chosen drawing as my hobby since childhood. From my very early age, I love to draw pictures. The subject of the picture hardly matters to me. Rather I focus on the interior design inside my painting. I used to draw pictures on papers as well as floors without any formal training since I was a child.
Now I consider that phase as the most creative part of the painting life. Because what we see from a child's naked eye and draw as pictures are completely different from what we see and draw now. My parents always inspired me the most in pursuing my hobby. They want me to see as a professional painter in my life. In order to have the basic training of drawing, I started my formal classes from class III.
I chose renowned painter Mr. Basab Chatterjee as my drawing teacher. He always tells me that painting is all about thinking deeply. According to him, our pencil draws beautiful lines as our mind possesses beautiful thoughts. So, before working on the techniques, we need to work on our ability of thinking. I prefer watercolour paintings rather than any other method.
Besides drawing, I love to read many different kinds of books on painting. My drawing teacher has a massive collection of books on the history of painting. I borrow books from him and read them thoroughly. From there I have learned about painters like Leonardo da Vinci, Raphael, Sandro Botticelli, Vincent van Gogh, etc.
I have read about many different art movements and different schools of paintings. My favorite painters are Abanindranath Tagore and Nandalal Bose. Their life and style of painting inspire me a lot. I want to go to the Indian College Of Art & Craft for higher studies on painting after completing school.
---
That was all about essay writing on My hobby Drawing. We have tried to cover every possible point on the topic from the very perspective of class 6-9 grade students. Moreover, we have maintained the word limit relevant for various examinations. Hope you found this session helpful as per your requirement. Let us know your valuable opinion as well as suggestions for this session in the comment section below. Thank you; see you again very soon.