We love to go outstation for spending a holiday or a picnic, today in this essay paper I am gonna discuss on a visit to a picnic which I enjoyed the most, so let's dive into the essay.
This Essay is Formatted For Class 5 | Class 6 | Class 7 | Class 8 | Class 9 | Clss 10 | Class 11 | Class 12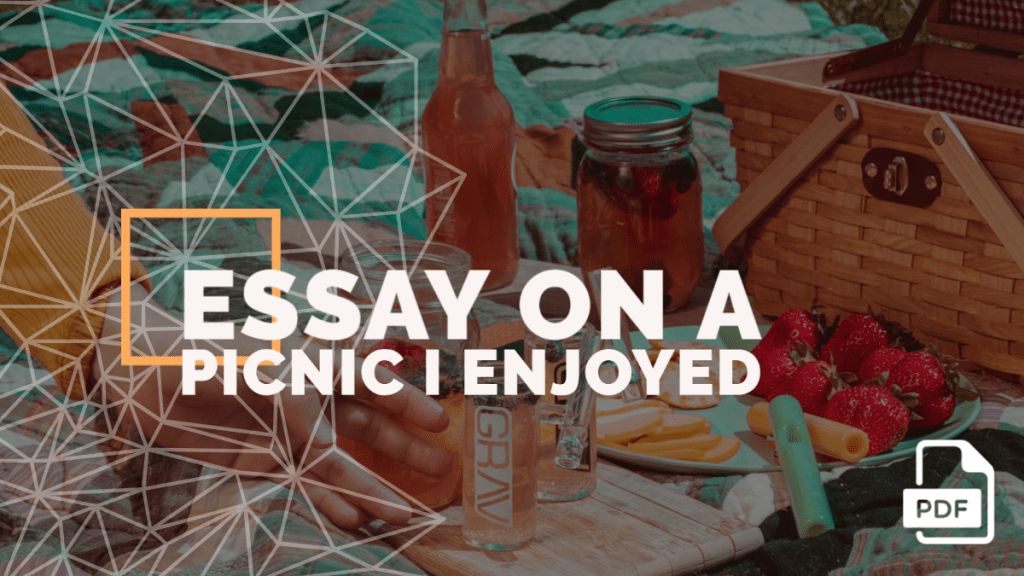 Please change you destination accordingly in this article I mention a Stanley Park in Vancouver, you may change or put your picnic spot accordingly.
"Kids, we are going on a picnic" Those words always brought to attention and sent excitement through our bodies. A picnic for us was a chance to escape the city life and get out into the fresh air with lots of room to roam.
We were double excited when we were told we would be going to Stanley Park in Vancouver. This was a great park with lots of things for kids to do. Once everything was gathered together and the food prepared, Dad packed the car and we were off for the day.
Our picnics lasted a long time especially when it was held at Stanley Park. Normally the park's parking lot is full but this time we got off early enough to have our choice of parking spaces. The picnic was getting off on a good foot because Dad was not frustrated by a lack of parking spots.
Walking through the tall fir trees made us feel like we were walking through a forest. The sun was kept away while still providing us with enough light to enjoy our picnic spot. The grassy field was smooth as a well-kept carpet.
It didn't take us long to scatter after we had found our picnic spot. Mom and Dad, as usual, stayed by the blanket and food, enjoying their quiet break from us kids. We had a couple of hours before the food was going to be brought out.
That gave us time to explore the wonderful sites and all us kids would be back on time as no one wanted to miss out n the special picnic food our parents had brought. All morning we hiked the different trails, stopping long enough to peak out between the giant fir trees to see the city around us.
The majestic North Shore mountains mesmerized us as they stood like silent guardians over North Vancouver. Their still snow-capped peaks hinting that winter fun is coming up.
Then we turned our eyes to the waters of Burrard Inlet. There along the glistening waves were many boats gliding to their destinations. They were as free as we were even if it was for only a short time.
After we got tired of looking at the scenery, we headed towards the mini train. Its ride may not have been long but we got to see a lot of interesting sites, like tame wild animals in their natural surroundings.
The train ride lasted only about 10 minutes but it seemed like an hour. There was just so much to see and take in one ride just did not do the tour justice. When the ride was over we continued to walk the different trails enjoying the freedom from the city. Everything was fresh and pure.
It didn't take us long to reach Lost Lagoon and its totem pole treasures. Carved by local Indian tribes long ago, these totem poles told everyone a history lesson about the Indians who carved them.
Each face and animal had its own important significance. Brightly colored these totem poles stood strong reminding us to never waver even when storms appear on our horizon.
Finally, it was time to eat and all of us kids hurried to our picnic site. The food was just being placed on the blanket and we kids did not hesitate to grab our share. All of our favorites were there and the food did not last long. Not with 3 hungry kids devouring it all.
After lunch, our parents took their usual picnic nap while we kids went off to find some adventure. We went to the zoo, it was still there when I was young, and the aquarium. As we looked at each animal we conjured up daydreams of what it would be liked living in a time before our parent's day.
When it came time to go home, I walked slowly, not wanting to lose one minute of this special day. We do not get to Stanley Park very often and I wanted to make the most of it.
---
I hope you like my writing on "a Picnic I Enjoyed". Feel free to comment on your thoughts regarding this essay. I would love to hear from you!