This below dialogues will help you understand how a dialogue discussion is being written when the conversion is between two students for future plans.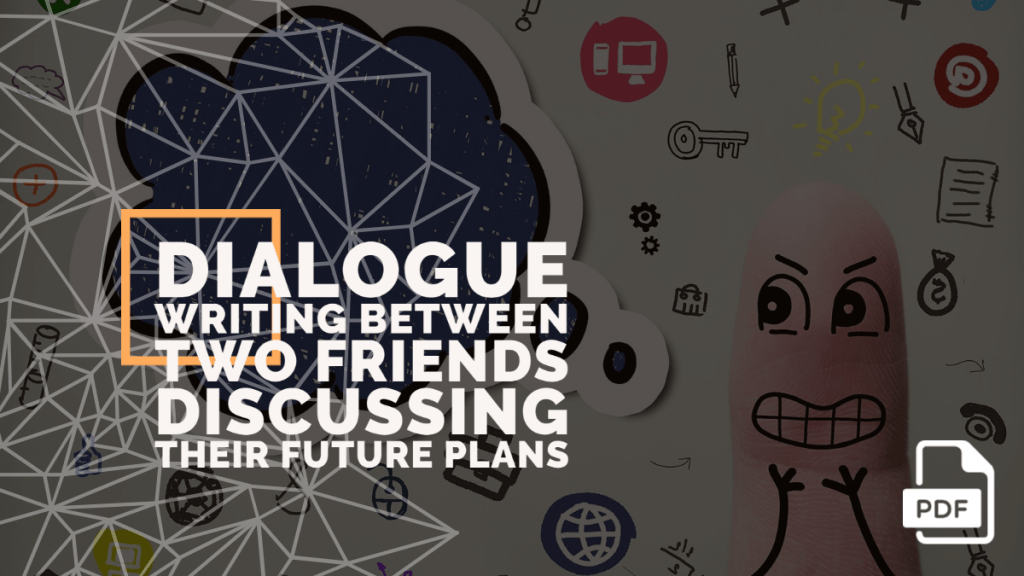 Sample Conversation 1
Happy: Hey Neeraj , how are you?
Neeraj: I am fine and what about you?
Happy: I am also fine. Have you planned what to do after the examination?
Neeraj: As I would like to study medical science, I will get admitted into a coaching center for further preparations.
Happy: Your plan is excellent. 
Neeraj:What have you planned for your future?
Happy: My future plan is to be a teacher.
Neeraj : That's a fine idea too. Our younger generation needs good teachers.
Happy: I want to study English literature .I want to take admission to Dhaka University. 
Neeraj: I will also try at best to get admitted to Dhaka Medical College as this is the best one in the country. 
Happy: All the best Neeraj. 
Neeraj: Thankyou. Wish you the same. Good bye
---
Sample Conversation 2
Aman: Hey Rohan! How are you?
Rohan: Hi Aman. I am fine. How are you?  
Aman: I am also fine. Our 12th result is going to be out in a couple of days. What are your plans after 12th?
Rohan: Actually I was planning to pursue fashion designing. I wish to get admission in this college in Lucknow. I am just waiting for the result.
Aman: Oh sounds nice!
Rohan: What have you planned?
Aman: Actually I was going to get admission in the journalism field in delhi university. My Mother is a journalist and that's why I have always been interested in this field.
Rohan: Wow that is great!
Aman:  Okay I will see you soon.
Rohan: See you.
---
Sample Conversation 3
Kunal: Hey Tara! Where are you headed?
Tara: Hey! I was just going to meet my uncle. 
Kunal: Oh How come?
Tara: As you know our school is coming to an end and I want to pursue law after that. My uncle is a lawyer practicing in Jaipur High court So I wanted to meet him for some advice.
Kunal: That is great! I am willing to pursue law.
Tara: Oh I didn't know that.  I will let you know about the information I get from my uncle.
Kunal: Okay great! Thank you so much.
Tara: Have you planned on which college you want to do law from?
Kunal: Not yet! I am still looking at a few options. What about you
Tara: I will speak to my uncle and follow his advice for this. It is very confusing with so many colleges around.Bye Kunal!
Kunal: Goodbye Tara.
---
Sample Conversation 4
Ramesh: Hey Suresh! You look worried. Is everything fine?
Suresh: Yes. I was worried about our placements and career. Our college life will be over in a month and then we will have to enter the real world. I am worried about what if I don't get a job?
Ramesh: Oh Suresh! Honestly Even I am worried about our future. I am confident about your skill sets. You are one of the top students of our college. You will get a good job.
Suresh: The job market is so unpredictable. I am very confused if I should pursue a job or go for masters.
Ramesh: Maybe, you can pursue masters after you work for a while.
Suresh: That's a great idea. 
Ramesh: Yes. Please don't worry. You are a brilliant student. Stay stress free.
Suresh: Okay. Thankyou Ramesh for your soothing words.
I'd Love to Hear from You
There you have it: Dialogue Writing between Two Friends Discussing Their Future Plans.
Now I'd like to ask if this article helps you or not, do you have any specific queries about this writing?
Either way, do let me know by leaving a comment just below the article.