A bridge is a structure made over a river, rail track, road, or something else so that vehicles and peoples cross over those obstacles without much effort. There is a popular bridge in Kolkata which is over the Hoogly river, today we are going to see the Autobiography of that bridge.
This Autobiography is Formatted For Class 5 | Class 6 | Class 7 | Class 8 | Class 9 | Class 10 | Class 11 | Class 12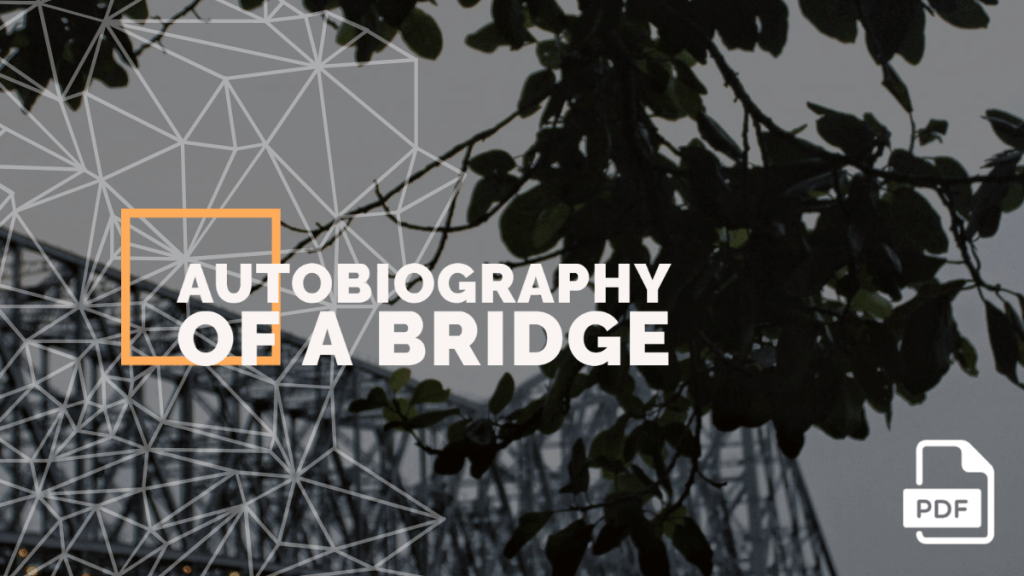 Hello! I am a Howrah Bridge. My official name is Rabindra Setu, which was given on 14th June 1965 in the memory of Nobel Laureate Rabindra Nath Tagore. I am also called Glasgow. I am a bridge who is widespread above the waterbody of the Hoogly river. This river is 71 feet wide.
I am being located in Howrah, West Bengal whose state is Kolkata. I am a bridge, whose height is 82 m or 269 ft. and length is 705 meters. I am the third largest bridge in the world in the year 1943 when the commission was passed for my construction and then again in the year 2013, I was given the position of the sixth largest bridge in the world.
The government of Kolkata wished to make a bridge over the Hoogly river and asked George Turnbull who was the chief engineer of the East Indian Railway Company in the year 1862 to look into it. He was the first being to study the depth and measured the Hoogly river and reported about it after some time, probably by 19th March 1862.
He got an idea of giving a proposal to build me, Howrah Bridge over the river. Before naming me, in 1800s Pontoon Bridge was constructed but it was not able to carry the heavyweight and bulk load of all the vehicles and pedestrians so when they proposed to reconstruct it, then I was made without any support but of 26,500 tons steel only.
The tons of steel used in my construction is from the Tata Steel company. It is a company that had played its major role in the history and heritage of our country too during the industrial revolution. It is the forefront of our country, India. This company had provided so much steel in the name of the project titled as my name.
My construction was done by The Braithewaite Burn and Jessop Construction Limited Company. All three persons namely, Tritton, Rendel, and Palmer were the designers for my construction. My construction was started in the year 1935 and ended in the year of 1942.
Between 1912 and 1917, my half of the construction was already done but due to the conditions of World War I, in between the planning of my construction was ceased. A planning group was being made for my construction.
In the year 1922, a commission was proposed for my new formation and later after four years, in 1926 the New Howrah Bridge Act was released for starting my construction again that was stopped in between. I am totally made from steel material and there are no pillars attached to my body by the builders.
I am a balanced bridge spread within the middle of the major pillars are 460 m / 1,500 feet each. Those major two towers have a height of 280 feet / 85 m up from the strings and 76 feet/ 23 m distance from above. My both anchor arms are 99m/325 feet. A total of 8 lanes for roads, vehicles, and pedestrians are made.
Also, both cantilever arms are 143m. My deck pulls a ship from hangers in 39 pairs. They are fixed from the pins and string girders are installed. I move left and right, I make a slight movement but it is also supported by joints that are connected and fixed properly so that I am safe and keep other people safe who are walking over me. There are no joints or bolts and it stands proudly.
Every year so many people come to look for me. They feel happy by having beautiful views by standing on top of me. They take ferry during the night and travel from Kolkata to Howrah to capture the serene pictures of the city.
They do not get afraid when they are above me and walk for so many hours over me. Many people drive their transport over me also and they do not ever need to feel worried about the weight of their transport because I can hold that very easily. I am a bridge who never opens from middle and no one could also lift me from between. This is because I protected the city from Japanese planes.
I am a bridge who is an entry gateway to welcome you to Kolkata. I am connected with the main Howrah Station that is the fourth intercity station providing the trains to travel between Howrah and Kolkata. I am a strong bridge who has so much ability to hold the weight of so many people and transport too.
On a daily basis, more than 1.5 lakh pedestrians walk over me and 1 lakh vehicles come and go above me. When my construction was ended in 1946, in the same year, it was reported that around 27,000 transport vehicles, 1.21 lakh, and 3000 cattle had traveled above me. Much bulky transport is taken over me and I am still standing for many years.
Slowly, trams emerged until 1993 and they were going above me. These trams were a basic source for the people of Kolkata to reach High Court Rajabazar, Dalhousie, Sealdah, Shyambazar, Park Circus and Square Park. But, it happened that their movement stopped because they were being burdened on me and it was becoming so hard for me to hold their bulky weight.
Even after many years, I am still able to hold and carry a lot of weighing goods too. I know I am just a bridge but many people who are from Kolkata and outside from this place have shared a lot of memories by standing over me. They had shared their happiness and sadness too.
I have seen many children in a group who were going to school, many teenagers who went to college together, small children roaming above me and happily climbing on my arms to look in the Hooghly river, which is their holy river sort of.
I am Howrah Bridge and Kolkata Trust Port is the main authority who keeps me protected from any kind of damage. Many times so much heavy transportation and fast driving harm my body and my beauty gets dull from the atmosphere and natural calamities. This authority cleans me daily so to remain my beauty always the same.
My 75th Birthday was on February 3, 2020. I am still known by the name of Howrah Bridge.
In this city, I am important and significant for many people. I remain over the Hoogly river as the major monumental of Kolkata. This grand city is royal and glorious with my presence. I am happy that my presence adds an impressive and splendidness to this city. Many directors and producers have selected me as their best location for their film-making too.
---
How was this autobiography on Howrah Bridge? Feel free to share your thoughts in the comment section!