Today in this article we are going to show you the example of an Autobiography of a Book.
This Autobiography is Formatted For Class 5 | Class 6 | Class 7 | Class 8 | Class 9 | Class 10 | Class 11 | Class 12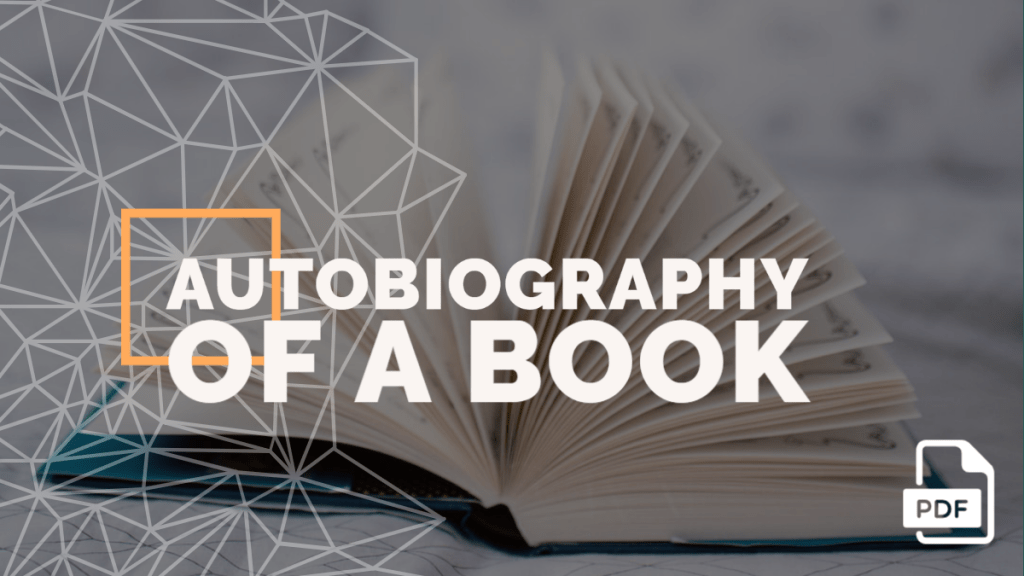 Hello, I am a book my title is The Happy Prince and Other Tales written by Oscar Wilde. I am a book penned in the year 1888. I am a book having five collections of stories, which are "The Happy Prince", "The Devoted Friend", "The Remarkable", "The Selfish Giant" and "The Nightingale and the Rose". In all these stories, the importance of values I had told.
I am a book with the first story of A Happy Prince. So, here I am a tall statue. My name is Happy Prince. I am decorated nicely. I am called a Happy Prince because there are no sorrows in my life. I live in a vast palace where no one is sad and filled with pain. One day, Swallow a person was passing by my statue; he looks at me with great attention.
He realizes that I am a sad prince and crying. I looked at him and started telling my life story to him. I used to live in a palace that was only surrounded by people in sorrow. I told him that I am a statue so I could not help people who are poor and suffer from so many problems.
So, I asked him to take all the gemstones one by one to help my people in their need. I had sapphires in my eyes, ruby fixed in the handle of my sword I was holding and a golden leaf that was protecting me. Slowly, as the winter was near, all my gemstones were donated to the poor.
He then died near my statue due to cold air in winters. I had felt so bad, and the Mayor of the city decides to melt my body and make his statue. So many people were not knowing about my goods deeds or help I did to the poor people, so they agreed with the Mayor. God asks me to bring my precious things with me I got a dead bird and heart made up of lead with me.
In my second story, A devoted friend here I had made it an interesting story by having another story in it. Here I started it with a rat making a statement on a duck for her ducklings or wings that are not helping her. The rat asks the duck to become his friend, and at the same time, a finch bird flies by.
This story I wrote for telling the water-rat what is the value of friendship and how he should accept it. The bird tells him a story of a man named Hans. He says that I am the owner of my own house. Outside my house, I was having a beautiful garden filled with many types of flowers in so many colors sold in the market. The name of my friend is Hugh.
He is a miller and his garden was in bad condition. He was facing a loss in selling my flowers. He had sold all his instruments to cover the loss. In the spring season, I, Hans had to sell my roses for getting back my silver buttons and at the same time, my friend visited me. He told me about his loss and I decided to give him an old wheelbarrow.
It was old and he gave me it for my need. I had returned him to help him. Then one day, my friend Hugh got ill and his son got lost to time and found his father dead. I realized that I should have helped with more efforts. In the end, the rat became sad when finch completed her story and went back to his place.
I wrote this third story, "The Remarkable Rocket". I told about the fireworks used in the marriage of a prince and princess. I am a remarkable rocket used by The prince and princess on the precious day of their marriage. It was so beautiful and big.
I reached to the high sky with swoosh sound was not so loud and was good to ears. I was the heaviest and put aside all other fireworks. I burst out when burned from the tip. I showed my sensitivity and became wet. I was not able to ignite and fly into the sky. So, the prince and princess threw me in the garbage, but I had hope left. I met a frog, duck, and dragonfly who treated me badly. One day two boys got me and ignited me, then I had exploded then I was happy.
In the fourth story, I am a Giant person who owns a garden having aromatic flowers and peach trees. Many children come here and play. When I had returned from home after seven years, I had gone to meet my friend Cornish Ogre.
He states support of children but I had put a fence around my wall and hunged a board with writing, "Trespassers will be prosecuted" than winter season comes. One day, a finch wakes me and I heard the noise of some children who were destroying my wall. One boy was climbing the wall and I helped him.
I told him that it is his garden from now on. All the children came to play daily but the boy was not coming. After many years in spring, he sees that same boy and did not realize that it was a child of the child.
In the last story, I wrote where a nightingale is seeing a student who says that he will not dance with the professor's daughter. He is not having rose to give her. I felt bad for him and gone around the forest to search for a red rose. A red rose told me how to make it and I made with a deal of singing the song whole night and die.
The child warned me but I did the deal and died. The next day, the girl refused him because someone sent her Chamberlin Jewellery that was precious. His heart was broken and he did not believe in love stories from then on.
In all the stories I wrote in me (book), ended with pain, grief, and sadness. I was sympathetic to all the characters in the story and gave the moral value to always help a person or friend in need.
---
So how was this autobiography of a book? I hope you enjoyed reading it, for more freshly contents visit Your Essay Club regularly!