Freshers' party is where all seniors and juniors get to know each other well for the first time and form acquaintances. If you are tasked with anchoring for the freshers' party in your college and are wondering how to do it well, this anchoring script will help you.
Table of Contents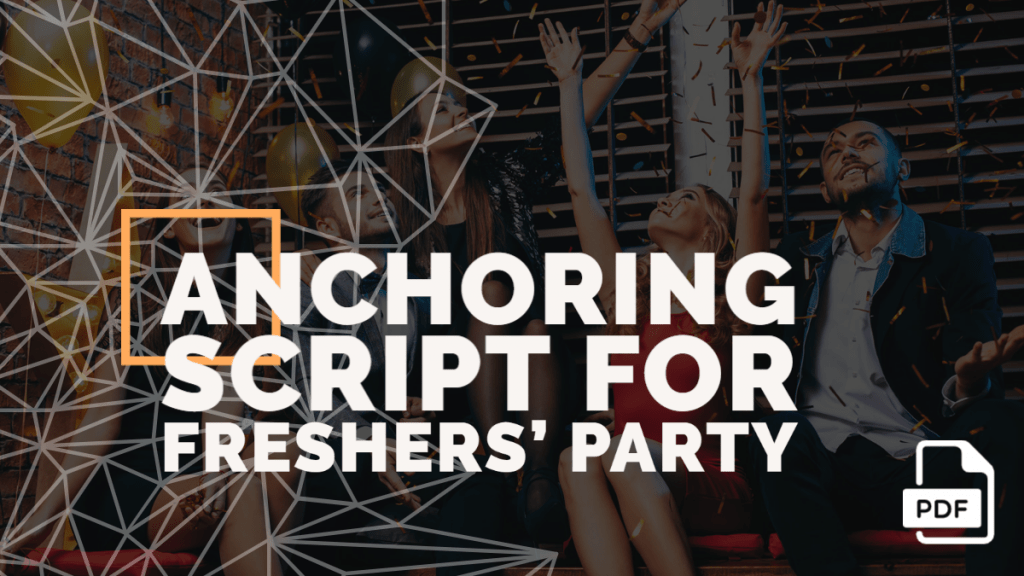 Welcome Speech for Freshers' Party
The goal of a freshers' party is to make newcomers feel comfortable and at ease in front of their seniors. Hence, an anchor should start their speech by saying something funny and interesting. Starting with a fitting quote, a nice poem or some funny saying can help the anchor capture the attention of the audience.
For freshers' parties and other similar events, quotes on the topic of new beginnings, education, friendships, having fun and looking forward to a bright future can be a good start.
Here is a model script for your welcome speech that you can seek help from while writing your own.
"Hello, hello, hello! Good morning, everyone! Today is the day for which we all have been waiting eagerly for weeks, for which we seniors have been planning and preparing so meticulously for so long. The moment has finally arrived.
I am [your name] from [insert your course and year; eg: E.C.E., 2nd year], your host for today's event and I heartily welcome you all to the freshers' party. We are really honoured to have our respected principal, Mr / Ms [name], revered teachers, staff members and of course, our dear freshers among us. We are very glad to have you all with us today and I welcome you all on the behalf of [college name] and us, seniors, to enjoy the event."
[If the event is at noon or in the evening, you can replace words like 'good morning', 'morning' and 'today' with 'good afternoon', 'good evening', 'day', 'evening', 'tonight', etc.]
Here are a few famous quotes that you can use in your welcome speech to make it more appealing to the audience.
"It's never too late to become who you want to be. I hope you live a life that you're proud of, and if you find that you're not, I hope you have the strength to start over." – F. Scott Fitzgerald 
"Never allow waiting to become a habit. Live your dreams and take risks. Life is happening now." – Paulo Coelho
"Some people arrive and make such a beautiful impact on your life, you can barely remember what life was like without them." – Anna Taylor
It is important to choose a quote that goes well with the nature of the event and to follow it up with a good welcome speech.
Inviting the Principal to Say a Few Words
"There is nothing impossible to they who will try." – Alexander the Great
"I vividly remember how, a year ago, when I first entered this campus, I was scared and nervous about how things were going to be. But our beloved seniors welcomed us with open arms and made us feel at ease. I also remember the speech our respected Principal sir/ma'am gave on our freshers day. It inspired us so much and it has stayed with me to this day. Today, we have with us hundreds of new students who have stepped into this college life with their hearts full of hopes, dreams and goals. I would request our Principal sir/ma'am, Mr / Ms [name] to please come up on the stage and say a few words to our freshers. Thank you."
After the speech:
"That was indeed so inspiring! Thank you so much, sir/ma'am. Please take your seat. Everyone, please give our respected sir/ma'am a huge round of applause. Thank you."
Welcome Song
"Small cheer and great welcome makes a merry feast." – Balthasar
"To give a warm welcome to our dearest freshers, we have prepared a welcome song. A song, that is full of hopes, beauty and sweetness. Please put your hands together as I invite our musician trio, [name 1], [name 2] and [name 3] on the stage. [Name 1], [name 2] and [name 3], I will leave the stage to you. Rock it!"
After the performance:
"That was amazing! As expected of our talented friends! [Turning towards the audience] Did you enjoy the performance? Let me hear a loud cheer if you did! – Wow! That was indeed very loud. [To the musicians] Thank you, guys! You may take your seats. Let's give them a round of applause! Thank you."
Interaction With the Newcomers
"I love meeting new people; I think everyone has a story to tell. We should all listen sometimes." – Kim Smith
"It is now time for introductions. I will read out the names of the freshmen students and one by one you may come upon the stage and introduce yourselves. Please do not panic or be nervous about it. We are all friends. I would also like to request my batch mates, [name 1] and [name 2] to please come join me on the stage and assist the students. Thank you."
"So, let me first invite on the stage, Mr / Ms [name] from [course], 1st year.
Hello, you are looking so pretty/handsome! Please take the microphone. You may now introduce yourself."
After the introduction:
"Thank you, [name]. You may go back to your seat. I would now like to call upon the stage Mr / Ms [name] from [course], 1st year."
The anchor can similarly invite the rest of the students onto the stage. He/she can joke around with the students and ask them fun questions to make things more entertaining for everyone present.
Performances
"There are shortcuts to happiness, and dancing is one of them." – Vicki Baum
"Our juniors have introduced themselves, showed us their talents and shared with us so many interesting things about themselves. Now, it is our turn as seniors to let them know a bit about ourselves as well. And what better way to do that than by showing them our talents! I would request everyone to stay glued to their seats because you wouldn't want to miss this!"
"I would now like to welcome my dear friend, [name], on the stage for a performance. He/she is an award-winning Kathak dancer and has represented our college several times in inter-college dance competitions. Please put your hands together to welcome him/her. [Name], the stage is all yours!"
After the performance:
"That was incredible! You are incredible! Everyone, please give him/her a huge round of applause! What a great performance. Thank you."
"It is now time for the next performance which I am sure is going to be just as amazing! I would like to invite [names] to the stage. They are a part of our college dance group. They have represented our college multiple times in different competitions and have won several awards for us. Let's welcome them with a huge round of applause."
The anchor can similarly welcome different acts on the stage and carry on with the program.
Ending / Asking Everyone to Enjoy the Snacks and Have Fun Socialising Together
"The most important thing is to enjoy yourself and have a good time." – C. Z. Guest
"I hope you all are having a great time! Those were all the performances that we had prepared for you. Now, I would like to request everyone to move to the hall on the left. We have prepared various snacks, a variety of interesting games and music for you. Please enjoy yourselves and get to know each other well. We will join you soon. Thank you. Have a great time. And once again, welcome to [college name]. We welcome you with open arms! Thank you."
Note: This is a sample script meant to provide you with a basic idea of how to write an anchoring script for a freshers' party. Feel free to use this script and edit it as per your needs.