In today's lesson, you are going to learn to write an anchoring script for the Lamp Lightning ceremonies. So, without further delay, let's get started.
Table of Contents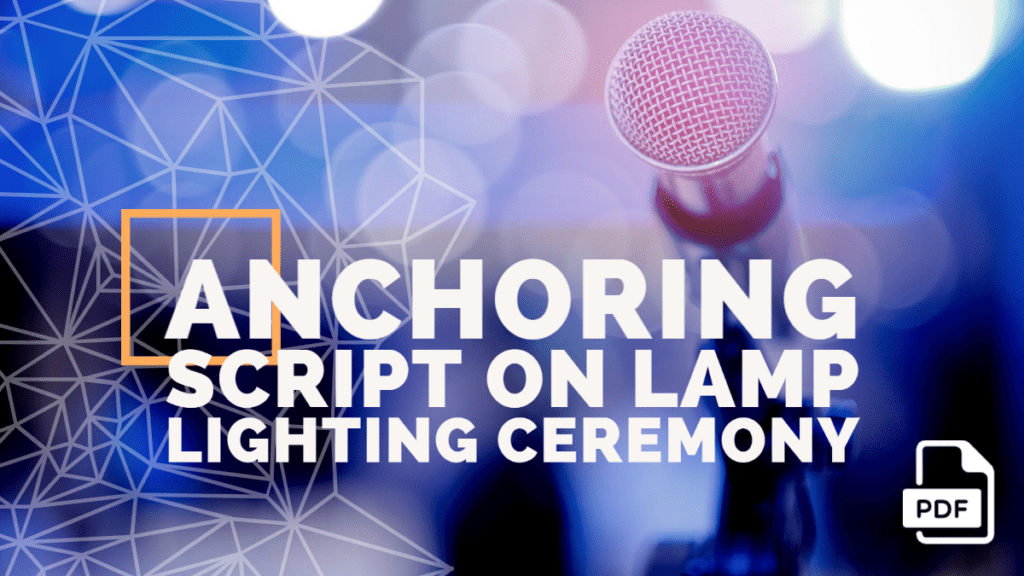 Welcome Speech
What is the importance of light in our lives? If we have to answer this question, we will have to experience darkness. Once we feel how painful and terrible this darkness is, we will always crave the light. It shows us the right path towards a better and brighter future. Good morning ladies and gentlemen. Today is a significant day for our community members, since today, almost a hundred years ago, this locality was established.
Our grandsire, (his name), was well supported by his wife (her name) who relentlessly tried to create a safe community for the children, men, and women. Moreover, the time I am talking about was colonial India. So you all can well understand how society was at that time. And (his and her names) formed this close-knit circle with only 20 of their relatives and neighbours who have arrived here safely from a different country.
While we reach the century of our society, it is also (her name) death anniversary as well. So today in their memory we have organized this festival. There will be a specific moment in the lamp lighting ceremony and other programs. So let's start with today's festival.
In the beginning, I would request our club's chief secretary (his/her name), and the local councillor of our block (his/her name) to come upon the stage and begin the ceremony by lighting the diyas.
After the Welcoming Note
Thank you so much sir/ ma'am for this presence. Please have your seats.
The lamp lighting ceremony is often associated with oath-taking, especially in the medical areas where doctors and nurses take pledges to dedicate their lives for the betterment of mankind. A lamp lighting ceremony is always a part of this oath-making and promises. So today we have arranged for something similar as well. In this 100th year of our society, the descendent of the founding father, (his/her name) will take an oath as the president of the founding council of our society.
He/she will carry on the legacy of his generations past and also pledge to look after the society and the country he is a citizen of. I will request our counsellor (his/her name) and (the oath taker's name) to arrive on the stage. (the oath taker's name) will be honoured with a sash, and a bouquet. To welcome him into this council. After that, he will take the pledge as the presiding president of this society. I will request both of them on stage with a big round of applause.
After Oath-taking
It is always a matter of great delight to see the members of the founding committee take their oaths and fulfil them throughout their lifetime, till once again someone as capable anthem comes up to take the baton. I will request our president (his/her name) to take his/her seat. Let us now move on to the next program.
The young children from our society have prepared a small dance presentation for the initiation of the lamp lighting ceremony and the oath-taking occasion. They have choreogra[hed by (choreographers' name). So I will request all to give a big round of applause to the choreographers. I will request them to come onto the stage and share with us the well-being they have felt throughout the years past participating in this occasion. Then we will directly move on to the dance presentation.
After the Dance Program
Thank you so much, (the choreographer's name) for this was so beautiful and presentable. I could barely imagine that these children are all young teenagers and not some of the most well-trained dance students. The way they have beautifully represented our heritage is wonderful. Now I will ask our little performers to take a candle each and light it in front of the great sire of our community. Let them inculcate more into themselves the blessings and teachings of this great man.
Now. we have a recitation competition to look forward to. Not only members from our community but from several other neighbouring places have also visited us to join in this competition. It initially started as a gesture to identify the oratory skills of a person and shape his personality likewise. It continues till today. We have in the jury panel (judges' name). I will call the names of the competitors one by one and let them present their pieces.
After the Recitation Competition
The competition was beyond my expectation that has bloomed so beautifully. I believe it's rather tough to judge the better among so many best. I can understand that by seeing the judges. Yet, as per the rule, we must choose the best three. I have received the final judgment from the judges. I will soon declare their names. However, never think just because you are not in these three you stand nowhere. You are always your best and will always shine through.
So now I will declare the winners of today's recitation competition. The second runner-up is (his/her name), the first runner-up is (his/her name), and the winner today is (his/her name). Congratulations! I will request our president to hand them over the respective prizes. All participants will also receive their certificates of appreciation after this.
And now let's head-on with the event. Beautiful music compositions by the choir of our society will be presented here. It is a great orchestra mentored by our (choreographer's name) and it is indeed special today. After this performance, the Great Lamp of the Church will be lit by the president, and he/she will walk through the city with this lamp and declare the assimilation of all opposites into a single message of truth and harmony.
The mass will complete a circle of the entire city and all the participants in this mass will carry a candle to symbolize how we all pledge to never let go of this ideal of balance and truth. After a round of the city, the Lamp will be settled back into the church sanatorium for its maintenance.
After the Music Performance
Thank you so much to the choir for this wonderful presentation. I will request them to take their stand in front of the mass and head the president carrying the Lamp around the city. I hope everyone is ready with their lighted candles and all set for the march. Let us close our eyes for a minute and pray our sincere homage to our great sire (his/her name) for all he/she has done for the well-being of future generations. We are forever grateful to be under the shade of your care and confidence. So let's begin the march. After it is completed we will meet here again.
After the Mass
Thank you so much to everyone who has participated in this mass and has made it a success. We can see how brightly the Lamp is glowing in the church sanatorium. The mass really got executed so peacefully and with complete dedication from all of you. I am highly grateful for that.
Now we have a speech-giving session by one of the important delegates of our community, (his./her name). He/she will talk about the history and the legacy of our past generations, especially those related to the origin. I will request him/her to come onto the stage
After the Speech
I am always mesmerized to hear about the rich past that we inherit and it always makes me feel both proud and responsible for this wonderful class. It gives me a sense of responsibility to look after society and strive to make it a better place. So with that let us commence our final program, a musical performance by (singer's name) accompanied by the dance of (dancer's name). I will request the work boy to arrange the stage likewise.
After the Music and Dance Performances and the Concluding Speech
It was really beautiful to witness such synchronized choreography between you two.  I am beyond words already to describe how wonderful it is. It is the perfect ending of today's lamp lighting ceremony. With this, we come to the end of today's occasion.
I hope all of you have enjoyed it and felt a greater oath in your heart to strive for personal and communal development. All these will bring forth a global phenomenon as well. I will request our president to ring the bell of the church and commence the sole message of truth, trust, and work once again. Thank you, everyone. 
Note: This is a sample write-up to give you a holistic idea about how anchoring scripts are written for such events. Feel free to download the pdf and edit the script according to your requirement and situation.
Don't forget to check out our other write-ups available on the website. Join us on Telegram to get all the latest updates on our upcoming sessions.
Thank you. All the best.