In this lesson, you are going to learn how you can write '10 Lines Essays' on yourself. There will be three individual sets of '10 Lines' on the same topic covering different difficulty levels for students from different grades. So, let's get started.
Table of Contents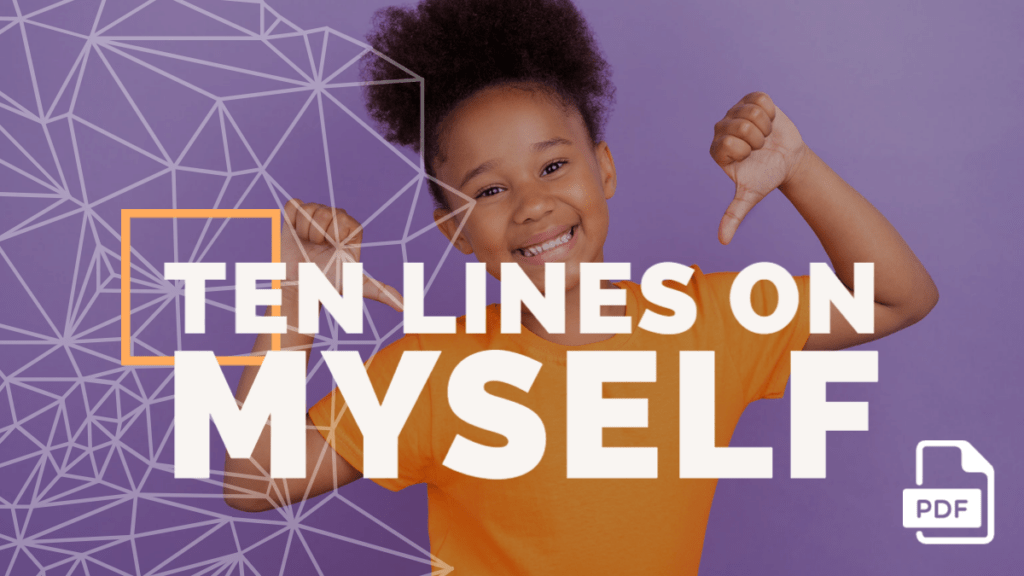 10 Lines on Myself for Kids
My name is Shreya Samata.
Now I read in KG II.
My father is Rohit Samanta, and my mother is Smita Samanta.
My elder sister's name is Mayuri Samanta.
In-home, I love playing with my sister.
I have many friends in my school.
I love my friends and family.
My best friend is Shruti Sharma.
I like to go to school every day and play with my friends.
I love to read comics and help my mother with gardening.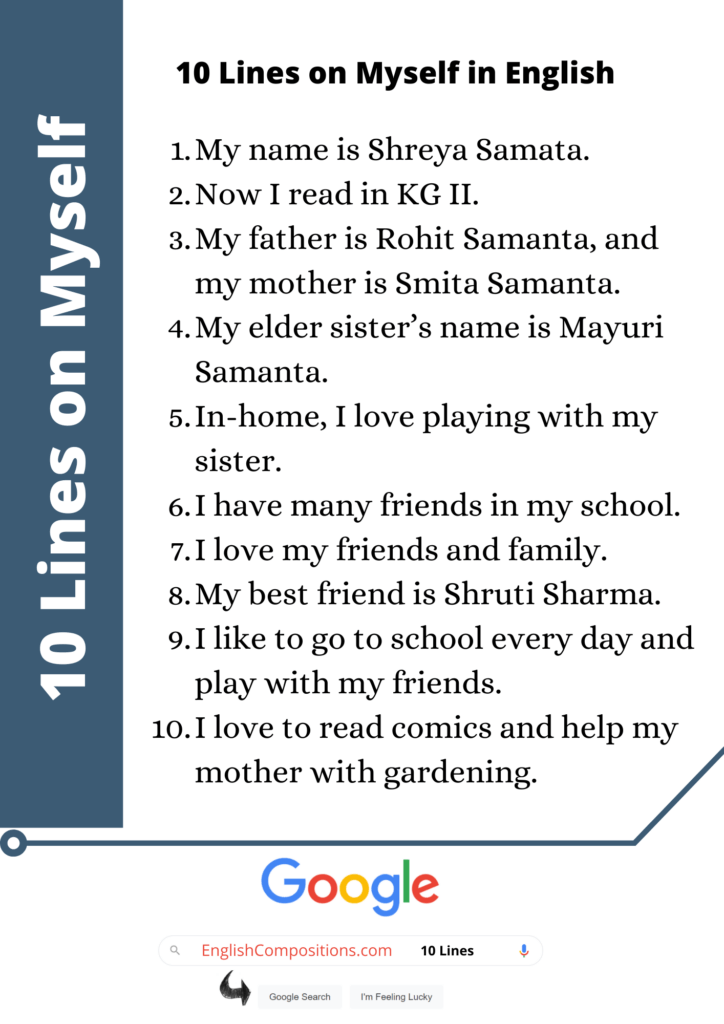 ---
10 Lines on Myself for Classes 1,2,3
I am Ankit Agarwal currently in class III.
In school, my favourite subject is History.
My teachers always encourage me to study whatever I love.
I live in Kolkata with my parents and younger brother.
My father works in the Police force and tells me many stories about his job.
My mother is a homemaker.
I love to play with my brother when I am free.
My hobby is watching TV and playing cricket.
I also love playing carrom with my friends.
I want to be a police officer in future like my father.
---
10 Lines On Myself For Classes 4,5,6
My name is Tridib Roy.
I am in class 6 at Suryakumar Sanyal Boys' High school.
All my friends and teachers are very helpful and cooperative in school.
I want to be a social worker in life and help needy people.
My friends and teachers always encourage me to achieve my aim in life.
I live with my parents in Siliguri in a joint family.
I have 13 members in my family, in which I am the youngest one.
Everyone in my family loves me very much.
My parents want me to be a doctor.
My hobbies are reading many types of story books, writing poems, and painting sceneries.
Swami Vivekananda is the idol of my life.
---
In this lesson, I have written three different sets on the topic 'Myself' covering different difficulty levels for different grades. Hopefully, you have a holistic idea regarding the context of how to write '10 Lines Essays' on this topic. If you still have any doubts regarding this session, let me know in the comment section below. I will try my level best to resolve your query as soon as possible.
If you want to go through more such sessions, kindly keep browsing our website. Thank you for being with us. Have a great day.