In this lesson, you will learn how you can write 10 Lines on the topic 'Teachers' Day.' Here, I will write three sets of '10 Lines' on the same topic, where the difficulty level will rise gradually with each set. Hopefully, students from all grades will find this session helpful for them.
Table of Contents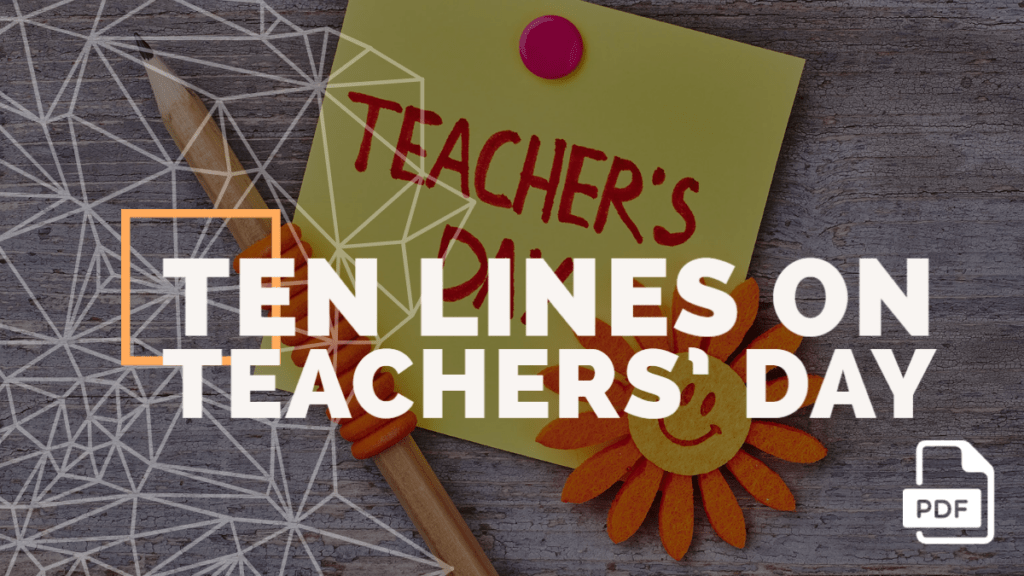 10 Lines on Teachers' Day for Kids
Teachers' day is celebrated on 5th September.
It is the birthday of Dr Sarvepalli Radhakrishnan.
Dr Sarvepalli Radhakrishnan was a great teacher and also our President.
This day is celebrated in his memory. 
Students celebrate this day in schools and colleges.
Children decorate the classrooms and sing songs for the teachers.
The teachers are given different gifts and flowers. 
Senior students work as volunteer teachers on this day.
Teachers' day is an important way to show respect to our teachers.
The work of teachers is great and we should always obey them.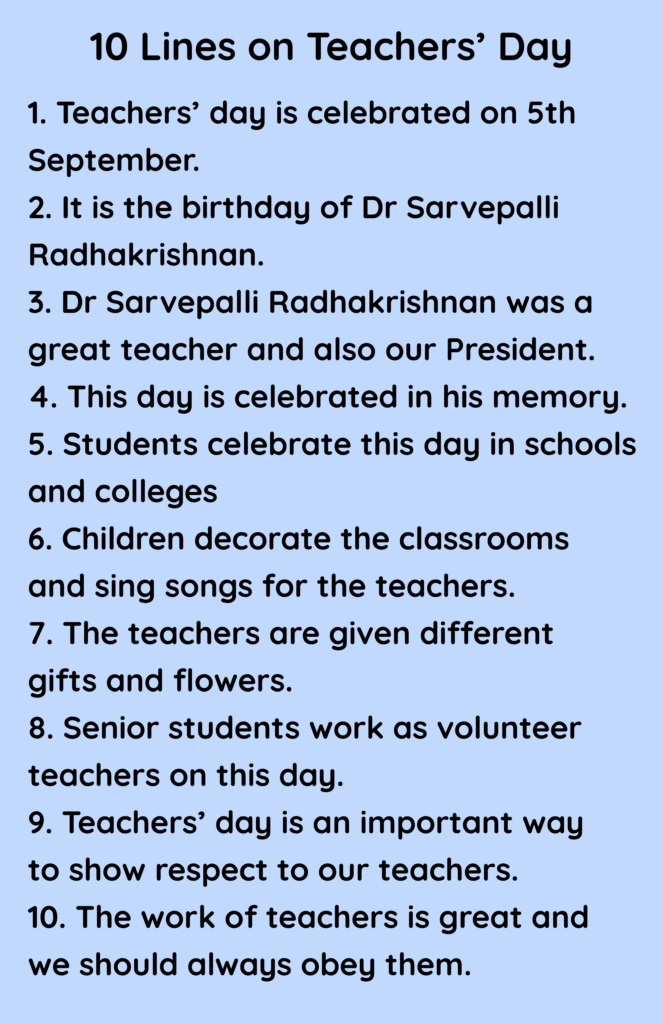 ---
10 Lines on Teachers' Day for Classes 1,2,3
Teachers' day is a very special event organised in all types of educational institutions.
5th September is celebrated as Teachers' day to honour our teachers.
It is the birthday of Dr Sarvepalli Radhakrishnan.
He was the President of India and also a wonderful teacher.
So in his memory, every student decorates the institution and celebrates Teachers' day.
It is a moment of great happiness for all teachers in the world when their students give them beautiful flowers and cards.
After the parents, our teachers are our guides.
So on this occasion, we celebrate the knowledge and wisdom that we receive from the teachers.
We should always respect our teachers and follow their teachings.
Teachers' day is a day of commitment from the students to their teachers as well as their life.
---
10 Lines on Teachers' Day for Classes 4,5,6
Teachers' day is one of the most amazing days we enjoy in our school.
Every year 5th September is celebrated as Teachers' day to pay homage to this universal love towards the teachers.
It is celebrated as the birthday of Dr Sarvapalli Radhakrishnan, the president of India and also a great mentor.
Dr Radhakrishnan taught us the best approach toward child education and knowledge. 
Remembering his teaching, we pay tribute to all our teachers on this very day.
Teachers' Day is for all institutes to celebrate through social functions and gifts.
Without them, it is impossible for us to receive the best of the world.
The day is the moment we pay our best respect to them.
More than a holiday it is our time to pay them back whatever good they have given us.
By being the best of the future we can actually give them the greatest satisfaction in their noble profession.
---
Hopefully, after going through this lesson, all your doubts regarding this topic have been resolved. If you still have any doubts, kindly let me know through the comment section below. I will try to resolve your queries as soon as possible.
Kindly let us also know your valuable opinion on our sessions. Keep browsing our website for more such important writeups. Thank you.