In today's lesson, you will learn how to write '10 Lines' on Cricket. Based on its importance in various academic standards, the difficulty level of this English Comprehension will gradually increase from the first set to the third one.
Table of Contents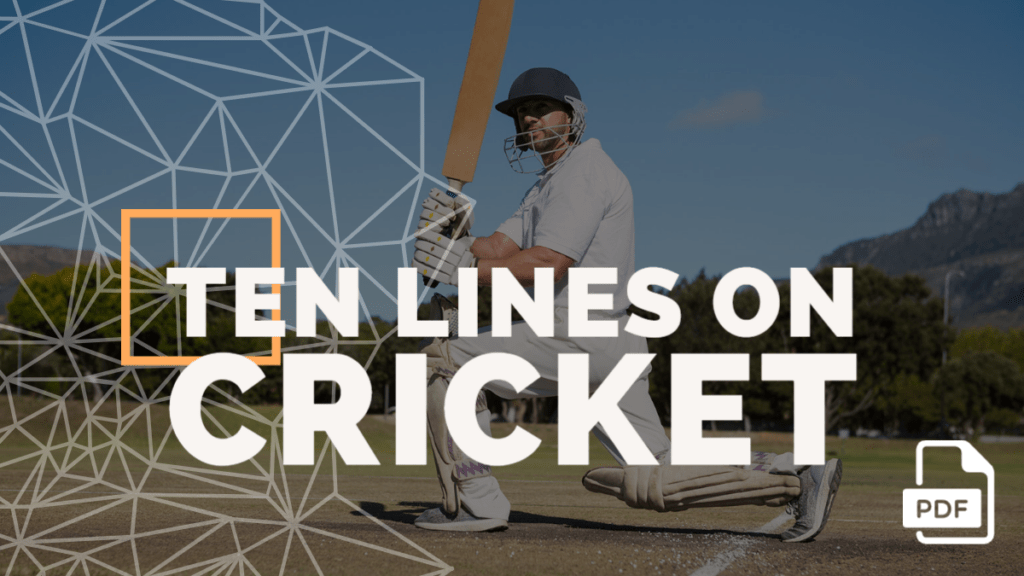 10 Lines on Cricket for Kids
Cricket is an important sport in India.
It mainly started in England.
Cricket needs eleven players.
There are two batsmen, one bowler, and a wicketkeeper in this game.
The umpire is the decision-maker in cricket.
Cricket is played in different places in the world.
It is played by little children as well as trained players.
India is an important team in cricket.
The world cup is the most important event in cricket.
At present, the captain of the Indian cricket team is Rohit Sharma.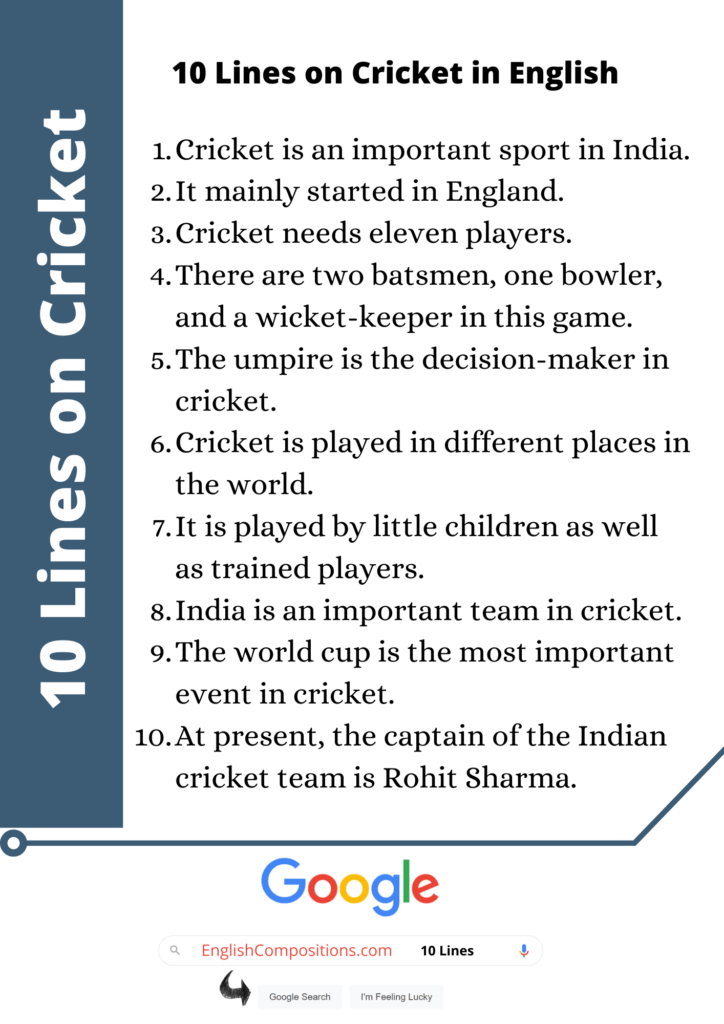 ---
10 Lines on Cricket for Classes 1,2,3
Among different sports played in several parts of India and the world cricket is an important game.
It is played by all age groups. From little children in the narrow lanes to well-trained players in stadiums, all play cricket.
Cricket mainly started in England and it was played by the British people. 
Later on, the game spread to different parts of the world.
A cricket team is generally made up of eleven players, with two batsmen, one bowler, and also one wicketkeeper.
At present women too actively engage in playing cricket.
Cricket is played both nationally and internationally at different stadiums.
IPL, Test series, and World Cup are some of the major events in cricket.
Cricket game receives lots of sponsors and is a high-paying game.
 Sourav Ganguly, Mithali Raj, Jhulan Goswami, and Sachin Tendulkar are some famous Indian cricket players.
---
10 Lines on Cricket for Classes 4,5,6
Playing sports is important for both the mind and health and cricket is an energetic game.
Cricket involves lots of physical training, practice, and exercise for the players.
From gully cricket to net practice and then playing for the country in national and international stadiums, cricket involves lots of pride and happiness.
Generally, a cricket team consists of eleven players with two batsmen, one bowler, and one wicketkeeper.
The fielders constantly are in action with their team.
Cricket is a game that tests the team spirit and the able leadership of the captain. 
The world cup and test series are the most prestigious games in cricket alongside IPL and other tournaments.
Cricket involves lots of funds and sponsorship as an important game in India.
At present women's cricket team is gaining prominence.
Sourav Ganguly, Mithali Raj, and Kapil Dev are some important crickets worth remembering. 
---
Hopefully, after going through this session, you have a holistic idea regarding this topic of '10 Lines'. If you still have any doubts regarding it, post them in the comment section below. I will try to resolve your query at the earliest. Keep browsing our site for more such content.
Join our telegram channel to get all the latest updates on our upcoming sessions. Thank you for being with us. All the best.