In this lesson, you will understand how to write '10 Lines' on the topic 'My Family'. Here, I will write three sets on '10 Lines', and For everyone's convenience, the difficulty level will gradually increase with each set as required from lower to higher standards.
Table of Contents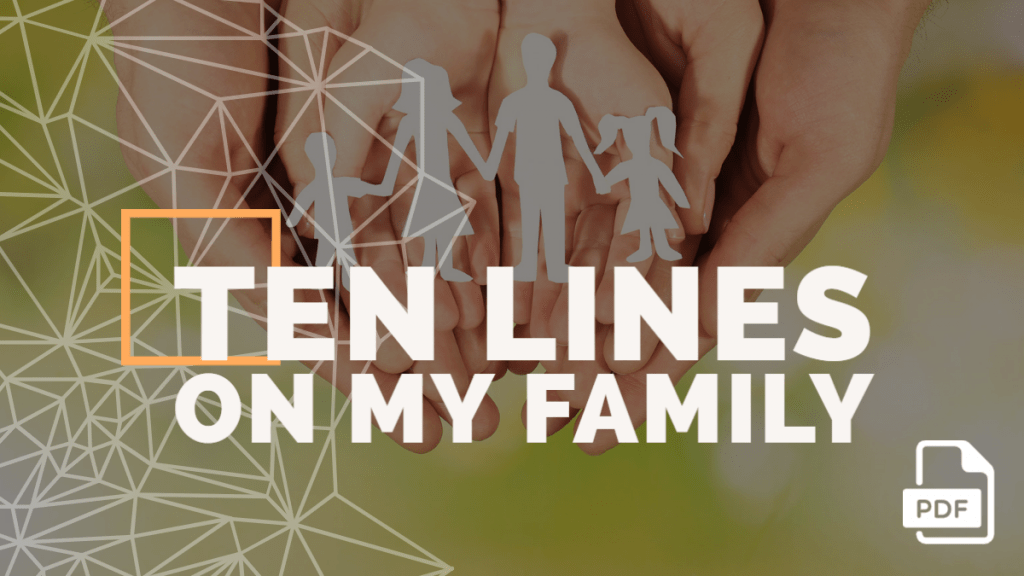 10 Lines on My Family for Kids
My family is my happiness
It means a lot to me
It gives me safety and love
My family has my mother, father, grandparents, and my sister
My relatives make my extended family
The nature around me is also my family
The country I live in is my family too
They are all my brothers and sisters
Caring for the family gives us lots of happiness in return
One should always keep himself close to his family.
---
10 Lines on My Family for classes 1,2,3
Through the word family, we generally indicate the people who share our house.
Family makes a house comfortable and peaceful.
From the family, we get lots of love, friendship, and care.
My family includes my parents, my sister, and my aged grandparents.
All of them love me a lot and always care for me.
I love to look after their well-being.
I have a pet dog which is also my family member.
The country I live in becomes my greater family.
Our green nature always supports us with food, water, and shelter and so it is also a family to me.
My family thus has not only humans but also the trees and animals whom I care for.
---
10 Lines on My Family for classes 4,5,6
When we think of family the first image that comes to us is the people in our house.
My family consists of my nearest ones like my parents, my grandparents, and my siblings.
While my elders give me the greatest love and care, my little sister shares her time and happiness.
Being in a family is a matter of immense luck for me.
For me, my family is a god-gifted pleasure.
It is my only source of joy and comfort and also mental peace.
With my family, I can share every secret without fear and they provide me with the best solution.
They never judge me for my mistakes and always show me the right path.
Being under the shelter of loving and guiding people gives me a great sense of kinship.
My family is the backbone is making me an ideal citizen.
---
Hopefully, after going through this lesson, you have understood you actually can you write '10 Lines', especially on this very topic. If you still have any doubts, kindly let me know through the comment section below. I will try to resolve your query as soon as possible.
If you liked our initiative, follow us on Telegram to get all the latest updates on our upcoming sessions. Keep browsing our website for more such content.
Thanks for being with us. All the best.