Today in this article, I'll show you two example reports on traffic jam in your area.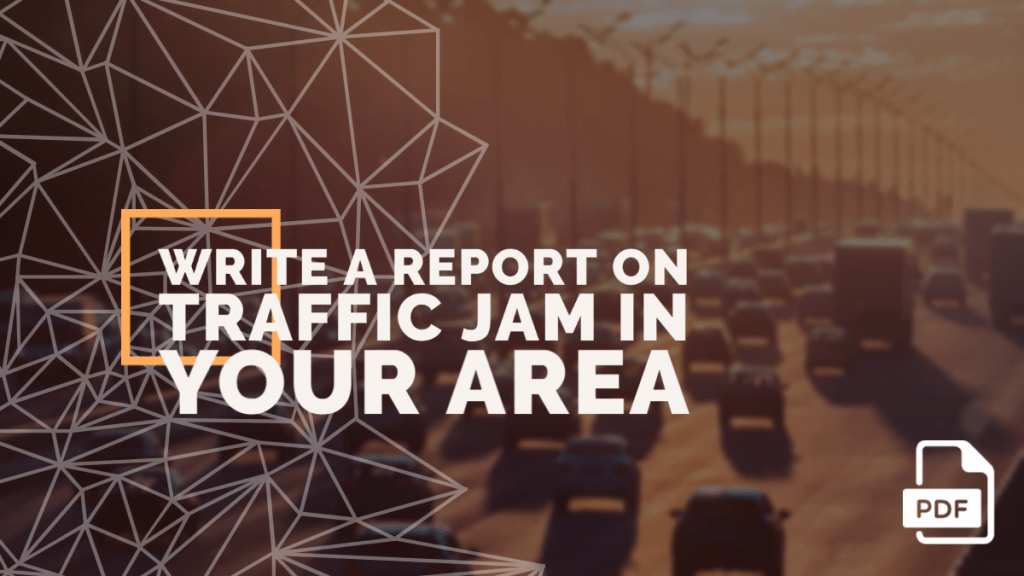 Example 1
MORE CONVENIENCE, MORE TRAFFIC
You dream of buying your own vehicle as you start earning. Guess what? They are causing you the most trouble now.
By: Suprity Acharyya
Even a kid these days knows about the traffic congestion on road. There is not even a single city on earth today that is undisturbed. With the transformation of lifestyle people are now occupied 24×7.
Nobody wants to reach late to school, to miss college class, to get late on their way to the office, to get their salary deducted, to cut it short people are involved in a life race. Who touches the door first wins, who reaches last, well, gets their salary deducted.
Although, the traffic condition of my area is the worst. It becomes unbearable especially during the start time of schools, colleges and universities. This happens when different vehicles, especially auto-rickshaws, want to advance in front of each other.
Street conditions and violations of traffic rules are other causes of the country's traffic jams. People, especially students and service carriers, feel helpless and frustrated when they get stuck in a traffic jam. Many people fail to get to their desks on time.
The worst victims are patients who have been transported in ambulances to hospitals and clinics. Rickshaw drivers also struggle a lot because they lose their valuable time moving very slowly towards their destination.
To avoid this traffic there are a number of ways. But no one's interested in finding them out. To lessen the burden on your head I'm jotting down the easiest one's.
Carpooling. All you got to do is drop your kids off to school or your spouse to work instead of letting them drive themselves in a separate vehicle.
Switching to 2 wheelers. Scooters, bikes and bicycles are more compact and light. They're basic machinery and don't result in a lot of traffic.
Using public transport. You can shed a little extra and travel in an AC bus or the metro with a little friendlier crowd I hope. Wish you luck on that.
---
Example 2
ARE THE INCREASING NUMBER OF VEHICLES AN INCREASING THREAT?
Are the number of vehicles on road directly proportional to the threats on human life?
By: Suprity Acharyya (Any Name)
Skimming the news to get something new? Well, here's what's new. Congratulations on getting verified! Bangalore is now officially declared as the world's most traffic-congested city.
In the ninth edition of its annual Traffic Index, TomTom has announced Bangalore as the topper of the list where the drivers expect a whole lot of 71% extra travel time stuck in traffic.
In my area, the roads and streets are very narrow compared to the number of vehicles. Licensed and unlicensed auto-rickshaws, messy scooters, ex-buses and, above all, overloaded trucks, are often responsible for traffic congestion.
Drivers are not very well trained and well educated. The direction of overtaking also creates a traffic jam. The number of traffic police is insufficient.
Loss of consciousness among people, unskilled traffic police, random parking, narrow road points are also responsible for creating traffic congestion. Moreover, hand-driven slow-moving vehicles such as buggies, vans, and push-carts roam along city roads.
They often make the race with each other meaningless. They almost don't care about road signs. Frequent road construction and maintenance work often create traffic trouble. Sometimes, there are different political parties that use city roads in their political activities.
We being the general public expect a lasting solution to problems. I urge the readers to try to implement solutions such as carpooling, bicycles, public transport from their end and avoid an addition to the already jam-packed roads.
Now I'd Love to Hear from You
There you have it: report writing on traffic jam in your area.
I hope you liked this example.
Do you have any other topics which you want me to cover?
If yes! then do let me know by leaving a quick comment below.
Also, you may share your thoughts in the comment section too.