Games and sports are indispensable parts of human life. Without this all our life is incomplete. Games can be of many different types. But initially, it can be classified into two categories: Indoor games and outdoor games.
Both these categories are very relevant for English comprehension tests as many institutions have chosen them multiple times in the past. So here, in this session, today you will learn how to write personal letters to your younger brother advising him to take part in games and sports. So, without further delay, let's get started.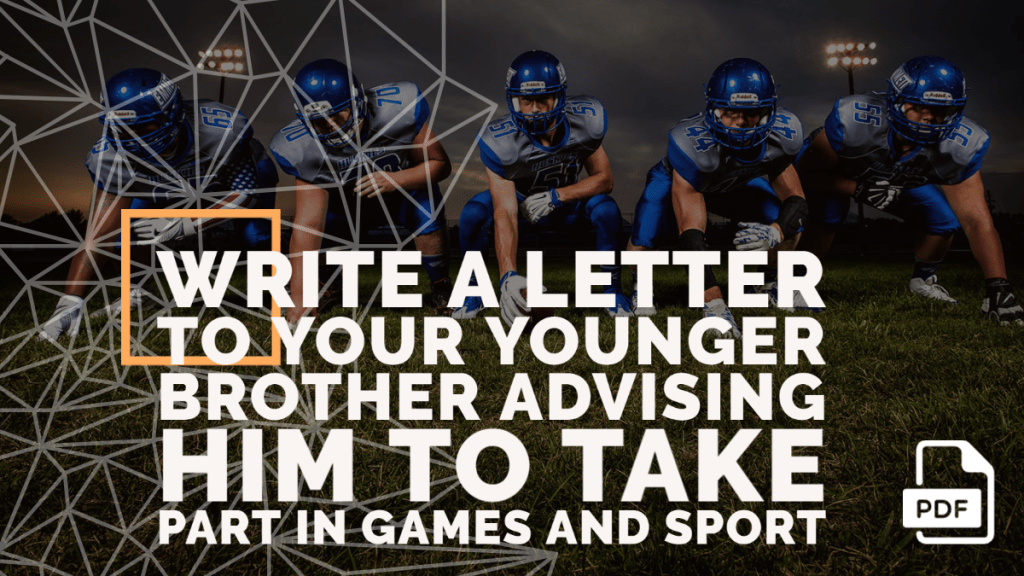 Example 1
Question: Your brother's school sports event is nearby and you live in a boarding school. Write a letter to him advising him to take part in the event.
Hints: Not interested- Same for our school- All students take part- Feel the joy- Refreshing experience- 100 metres running is good- Fear and hesitation- Be brave
AJC Bose Sarani, Rabindra Nagar
Kolkata: 700012
July 22, 2020
Dear Arijit,
I have just received the letter maa wrote to me recently. There she mentioned that you don't want to participate in your school's upcoming sports event! Why is it so brother?
You know, in our boarding every year a week-long sports ceremony is organised by the authority. We all take part in the ceremony. Not only the students, but many of our teachers also take part in the event. It is so refreshing and you will truly feel the joy of sports after participating in the event. You are so good at running. Why aren't you taking part in a 100 metres running event? Maa wrote that there are so many other types of games. You can take part in that too.
Look, I totally understand your fear and hesitation. It happened to me too. But unless you participate in some sports event, this fear will keep bothering you. So, leaving all hesitation behind, go ahead and take part, my brave brother.
Your loving brother,
Anirup
---
Example 2
Question: Write a letter to your cousin's brother advising him to take part in sports whatever he likes for better physical and mental growth. 
Hints: Brother suffering from health problems- Gone under the same- Medication didn't help- Found peace in sports- Sport you chose- Suggestions to him- How it helps- Conclusion 
2/61 Santoshpur
South 24 Parganas, West Bengal
June 23, 2021
Dear brother Santanu,
In your last letter, you have let me know that you're suffering from various severe physical and mental issues like obesity and anxiety. I am writing this letter to you to advise you of something to improve your current health condition.
A few months back, I was also suffering from quite similar health issues such as yours. After going under months of regular medication, I started going out regularly taking part in various games. It helped me miraculously. Believe me or not, all my health problems went away within a month and I also started feeling fresh in my mind. So, I also want to advise you to take part in games. And make sure that you are taking part in some physically engaging games. I personally took part in Badminton. You can choose whatever you like.
These games will not only help you to recover your health physically but also improve your mind. Which game are you thinking of choosing? Let me know in your next letter
Your brother,
Ashit
---
Example 3
Question: Write a letter to your brother advising him to play indoor games and explain to him how indoor games can benefit the mind and body with a special mention of the lockdown situation.
Hints: Pandemic and Lockdown- Indoor games are the way out- Table tennis, Squash- Helps improving physical and mental health- Conclusion
11 Binoy Kumar Sarani, Purbapally
Howrah
February 18, 2021
Dear Altaf,
I have just finished reading the last letter you wrote to me. There you wanted to know if indoor games can help to improve our health situation and what game you can choose.
First of all, I am very glad that you wanted to take part in the games. But unfortunately, as the lockdown is going on due to the nationwide pandemic, it's only indoor games that we can now take part in. Yes, first I want to tell you that indoor games can also help to improve our health conditions both physically and mentally. All of us have a preconceived notion that indoor games mean only Chess, Carrom or Cards. But we often forget that table tennis and squash are also indoor games. Indeed they need some special arrangements but you can play it indoors with minimal gears. Not only are these games physically engaging but they also help to improve your concentration level as well as keep your mind fresh.
So, if you want to play any indoor games that are also physically engaging, you can go for the two I mentioned. Which one are you thinking of? Let me know.
Your loving brother,
Tohid
---
Example 4
Question: You are going to take part in a local sports event. Write a letter to your brother advising him to join you in this event 
Hints: Month-long sports tournament- Organised by the local club- football, cricket, Athletics, Badminton, etc- Time and venue- Enlistment started- Request to enrol- Conclusion
88/7, East Station Road,
Belgharia
Kolkata: 700110
December 11, 2020
Dear Supratim,
In your last letter, you showed interest in participating in some sports events. This letter I am writing to you to inform you in this regard.
Our local club has organised a month-long sports tournament on the occasion of international sports month. It will be starting from the 3rd of next month. There're so many games like football, cricket, Athletics, Badminton, etc, that are enlisted in the event. I have already enlisted my name in athletics and One-to-one badminton. Moreover, the cricket tournament is going to be exciting to watch. That's why I advise you to join me in the event in whatever game you like. If you inform me, I can enlist your name on your behalf. Hopefully, it will be a great experience.
Please let me know your thoughts in this regard as soon as possible. I will be waiting for your answer.
Best wishes and regards,
Badal Dada
---
That was all about our presentation on writing personal letters to your younger brother advising him to take part in games and sports. In this session, I have tried to present our different aspects of the primary context in order to give my readers a holistic idea about the topic.
Hopefully, after going through these letters, you will be able to write such letters on your own. If you still have any doubts regarding this context, kindly post them in the comment section below. I will try to attend to your query as soon as possible. And let us also know your valuable opinion through some quick comments. Besides, if you want me to cover any specific topic on English comprehension, mention that too. And, to read more such sessions, you can take a look at our website. 
Thank you. See you again, soon.