We all spent a major part of our life in school. It influences our character and shapes us into a better and responsible citizen of the future. We all love our schools for different reasons. In today's lesson, we are going to learn how to express your love for your alma mater to your friends through letters.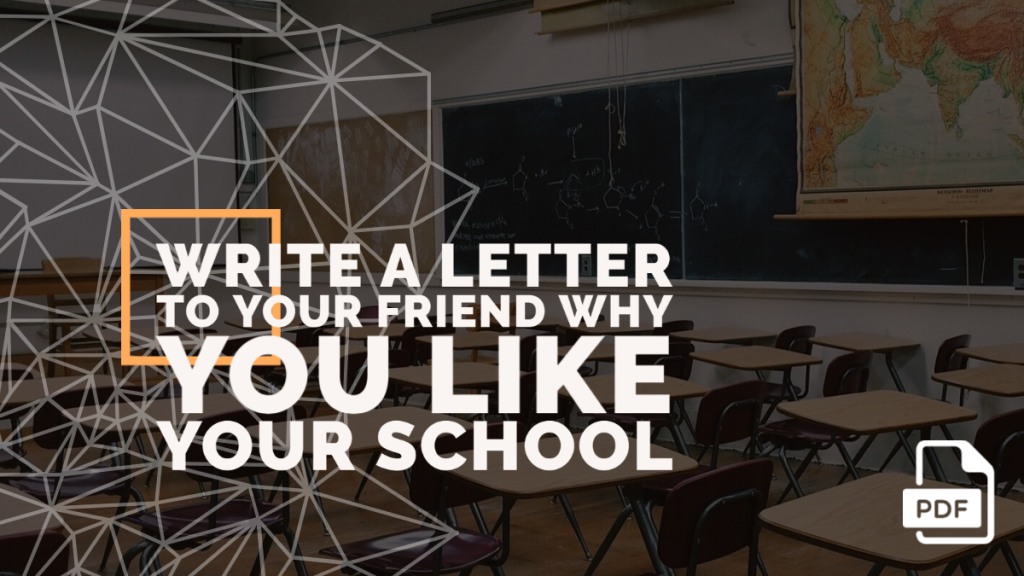 Set 1
Question-1: You have taken admission to a new school recently. Write a letter to your friend telling him or her why you like your school.
Hints: Name the school- Describe your school- Share your view- What you like the most- Ask him/her about studies
19 World View,
Maharashtra 280091,
April 13, 2021.
Dear Saptak,
How are you? I am doing well. You will be glad to know I have taken admission to Central School. The school building stands tall in the middle of a large ground.
I was apprehensive of starting overall again in a new environment. To my surprise, the school has welcomed me with an open heart. Our teachers treat us like their own children. They teach with great interest. I have made new friends also. They are very co-operative and we help each other in our studies.
The playground is the man attraction of the school. We have plenty of co-curricular activities which I love the most. I am elated to be able to continue with my football practice. I am fortunate enough to become the captain of our junior school team I am coping up in the new school, I often miss my old friends.
How are you doing with your studies? You must be working hard. Take care of yourself. Please convey my regards to your parents.
Yours Sincerely,
Anuj
---
Set 2
Question-2: Our school is always special for us. Write a letter to your friend expressing your reason to love your school.
Hints: Your feeling in a new school- Describe the school- Highlight its ideologies- What you love most about the school
13, Trisulapatty,
Bolpur 731235,
March 06, 2021.
Dear Rishita,
Your letter reached me on time. I am overjoyed to share with you about my new school. I have written the letter with a lot of emotions. I hope you will enjoy reading it.
Our school is a secular institution set up by eminent personalities. In our school learning is an enjoyable experience. I am proud to be a student of this school where children at an early age are not haunted by stiff competition. The students are encouraged to go beyond the bookish knowledge and express themselves through pen, pencils and crayons. Our school encourage its student to attain its innate potential. We don't believe in competition but have strong academic records. Our students have won laurels on the national and international level.
You will be pleased to know I am doing very well in academics. No more today more when we shall meet. Take care of yourselves. Regards to your parents.
Yours lovingly,
Tania
---
Set 3
Question-3: You are admitted to a school in the mountain. You are quite excited, now write a letter in about 150 words telling your friend why you like your school.
Hints: Mention the reason for the letter- Frite about the school- Your experience of studying at a school in the mountain
19 Down Town Hill,
Kurseong 111102,
June 19, 2021.
Dear Mohit,
I am sorry I couldn't write to you earlier. Everything is well at my end and hope the same for you. As you have asked, in this letter I have poured out my heart about my new school.
The school is totally different from my previous school. We can claim to grow up in a healthier condition than the students studying in the city schools. The school window offers a spectacular view of the mountain. The mountains and weather have triggered creativity and bombarded me with out of the box thinking. Life-changing experiences take place, inside and outside of the room.
We have several outdoor activities according to the season.Help is available whenever we need it, sometimes from the teacher while sometimes from the students. Our school is our second home. We share our sorrow and happiness with each other.
I am having the best time of my life. Hope you are doing well with the studies. Please convey my regards to your parents
Yours lovingly,
Sourav
---
Set 4
Question-4: Our school is different from the other schools in the towns. Write a letter to your friend telling him/her what makes your school unique and why you love your school.
Hints: Show your concern for him- Your reason for the letter- The speciality of your school- Share your opinion about your school
32 A D.P. Road,
Kolkata 700061,
July 21, 2021.
Dear Sreejita,
It's been a long since I have received your letter. What is the matter? I hope everything is going well. Today I have picked the pen to share with you the reasons I love most about my school.
Every school is unique in its own way. We pride to say our school is the only eco-friendly school in the town. Our school aims to make green living a part of everyday school life. To reduce paper usage we try to make digital copies as much as possible.
We are alert to turn off lights and computer screen not when not in use. Every Saturday we are instructed to bring something old and upscale them into a new creation. Gardening is part of our curriculum. We care about the health of nature as much as we care about ourselves.
Little habits all add up, like next time you see a light on in an empty classroom, don't forget to switch it off. My best wishes to you. Regards to uncle and aunt.
Yours sincerely,
Raima
---
Enjoy your school days to the fullest. Utilize these days to be more productive. Have you enjoyed today's session? Write to us in the comment section. We are eager to know what makes your school special.