Informal letters have many different categories. Personal letters are one such category of informal letter writing. Nowadays, in the era of social media, the trend of informal letter writing is being obsolete. But still, in various examinations and English comprehension tests, informal letter writing comes as a question.
Here I would like to mention that informal letters, especially personal letter writing, are very easy and scoring. In this session. You'll learn how to write personal letters to any friend explaining the importance of reading the newspaper.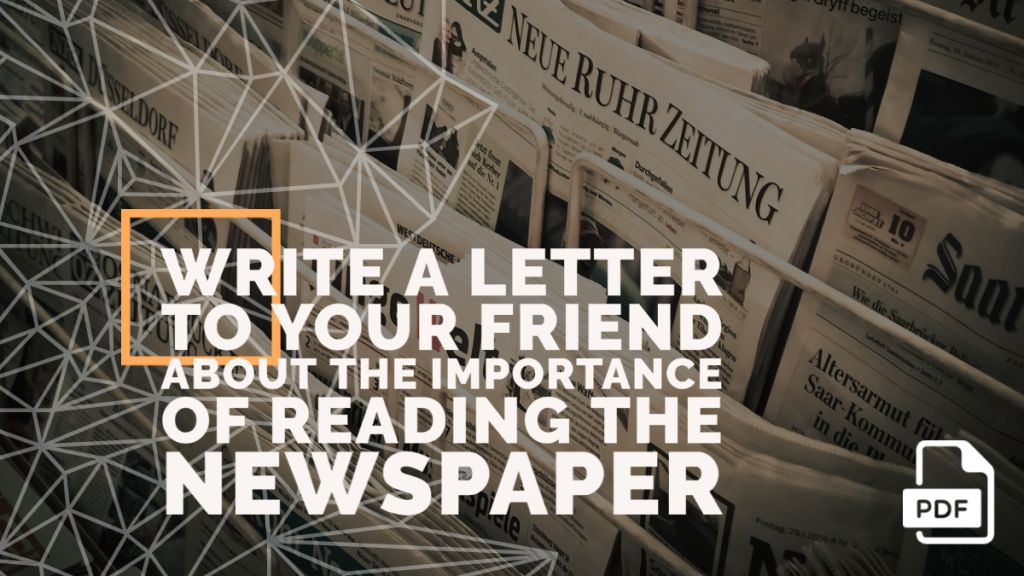 Example 1
Question: Your school has recently included newspaper reading within the extra curriculum activities of your class. In this context write a letter to your friend explaining the importance of newspaper reading. 
Hints: Included as extra-curricular activity- Came to know about its importance- Keep us well informed- Build awareness- Developing habit mutually- Weekly discussion- Conclusion
Suresh Mukherjee Road, Nabinpally
Kolkata: 700114
September 2, 2020
Dear Ratul,
It has been around 3 months since I received your last letter. How are you? Is everything all right? With me, so many things are going on nowadays.
Recently, my school has made newspaper reading mandatory as an extracurricular activity in my class. From now on, we'll have regular discussions on all kinds of current news. Initially, I was quite upset. But after discussing this issue with dad, I got to know how much it's important to follow newspapers regularly. Not only this habit keeps us well informed about the current issues, but also build a state of awareness in our mind. So, I think this is quite a good initiative from our school.
I was thinking, why don't we also develop a habit of newspaper reading! We can read a newspaper and by the end of every week, we can discuss all the current issues ourselves through such letters. Let me know your thought on this matter too. I'll be looking forward to your letter.
Please take care of yourself. See you soon.
Your best friend,
Atindra
---
Example 2
Question: The habit of newspaper reading is good and very important for our life. Write a letter to your best friend expressing your view on this habit in the mentioned context. Take reference to the hints given below. 
Hints: Developed new habit- Suggested by- Boring at first- Now gained interest- Fascinating and addictive habit- Make us aware- Helps developing good reading habit- Concluding note
2/61 Bablapur
North 24 Parganas
June 23, 2021
Dear Soma,
It's been a while since I've heard from you. How're you doing?
You know, recently I have developed a new habit of regular newspaper reading. A few months ago one of my school teachers asked me to try reading newspapers. Till then, newspaper reading seemed quite a boring task for me. But after she inspired me, one day I tried reading a newspaper. To be honest, the first-day experience was not that fascinating, But for some reason, I developed certain interests in reading newspapers. Since then, every morning I start my day by reading newspapers. Now, this habit has been so fascinating and addictive that I can't even do anything without finishing my newspaper. Newspapers not only make us aware of the contemporary world but regular reading also helps to develop a good reading habit.
Do you also read newspapers daily? Because my mother used to say that everybody read newspapers on daily basis except me. I'll be looking forward to your reply.
Take care.
Your loving friend,
Rumi
---
Example 3
Question: A recent news published in a newspaper has transformed your life. Write a letter to a friend explaining the entire issue and highlight why reading newspapers is important.
Hints: Got a chance to study in a famous institution- Noticed a column regarding an admission test- Didn't ignore- Dream came true- Newspaper reading changes life's approach- Mature and practical perspective- Concluding note
72A Badamtola Road, Uttarpara
Hooghly
February 18, 2021
Dear Tarun,
We are all good. In your last letter, you wanted to know how did I secure my chance to study at this institute. I would say that it is simply a result of my newly developed habit of reading daily newspapers.
A few months back, I hardly had an interest in reading newspapers. But fortunately, my father inspired me and started to try to develop this habit. You know, this habit transforms a person's approach towards his life. The way I used to see the world, and the way I see it now is pretty different. Now it's more mature and practical. One such day, I noticed that one news was published regarding an admission test in this institute. It was a pretty small column. But due to my habit, I didn't ignore it. From that reference, I applied for the test, and finally, my dream came true. I succeed to secure my place in this institution.
In your letter, you wanted to know if it is important to read newspapers. I would say, it's very important. I can help you to develop such a habit. Let me know your thoughts on this.
Take care, see you soon.
Your dear friend,
Aditya
---
Example 4
Question: The habit of newspaper reading has the potential to change one's overall approach and perspective towards life. In this context write a letter to one of your friends highlighting the importance of reading the newspaper.
Hints: Has potential to change- Informing about the world isn't the only role- Changes perspectives- Develops new approaches- Teach us to think and act- Inspire us (give example)- Reading habit makes the mind calm- Conclusion
21, Kathgola Road, Ghola
Kolkata: 700110
December 11, 2020
Dear Ronojoy,
Referring to our last conversation regarding the importance of reading newspapers, we were talking about how the habit of regular newspaper reading has the potential to change one's approach towards life.
You have written that newspapers only help to know about our world. But I think that is not the only role of newspapers in our life. In my opinion, newspaper reading can bring many changes in our lives. It changes perspectives, helps to develop new approaches. And most importantly, through newspaper reading, we learn to think and act. Newspapers also help to inspire us in many ways. They inspire us to raise our voice against anything evil, pursue our career according to our passion and inspire us to live. Moreover, the regular reading habit tends to make our mind calm. I think, because of these enormous benefits, newspaper reading is so popular in spite of the aggressive emergence of digital media.
What do you think about it? Let me know in your next letter.
Take care.
Best wishes and regards, 
Rakesh
---
That was all about our presentation on writing letters to friends about the importance of newspaper writing. Thorough out the entire session, you might have noticed that every question is formed in different contexts. That is exactly how the schools and examination boards are going to frame questions.
So prepare yourself for that and if you still have any doubts, post them in the comment section below. Moreover, don't forget to put your kind opinion as well. Besides, if you want us to cover any specific topic, let us know that too. For more such sessions, take a tour of our website. 
Thank you for being with us. See you again, soon.