Books are man's best friend. The more you read the more you learn. I have shown you four ways you can write a letter to your father asking for money to buy books in English. Pay special attention to the placing, punctuation and paragraph intending. Read the letters and write a letter on the same topic in your way.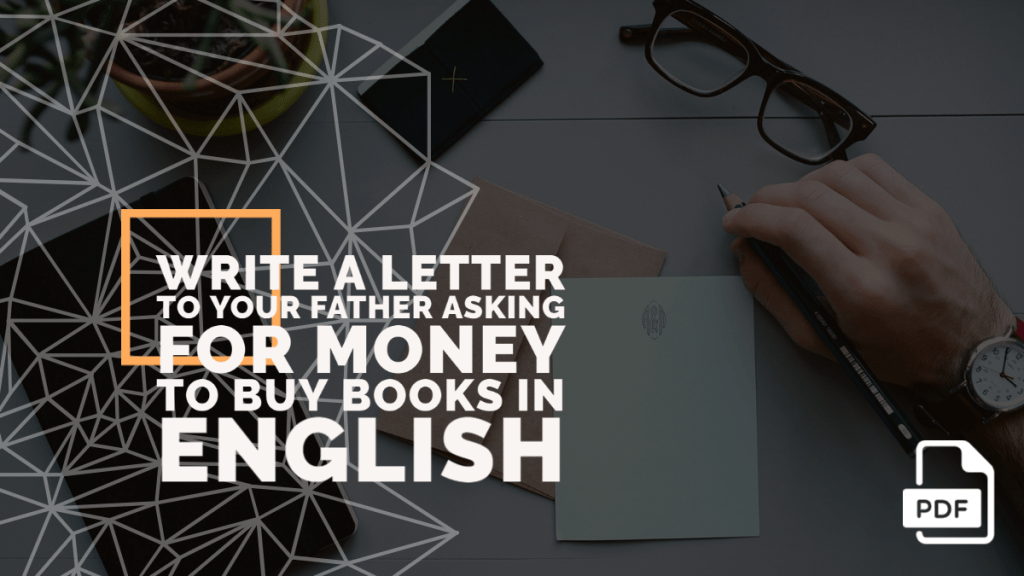 Example Letter Writing 1
Question-1: You are Ridhima of Class VII. Write a letter to your father asking him for the money to buy a book suggested by your English teacher.
Hints: Updates about your studies – Class performance – Teacher's advice – Request for the desired amount.
16 K.V. Hostel,
New Delhi-110022,
March 8, 2021.
Dear Father,
I am in the best of health and hope the same for you. You will be glad to know that I am working hard for my Final Examination though I need to work harder on English.
My teacher has suggested a book to read so I can develop my writing skill. It is a book on English comprehensions and compositions. She is also giving assignments from the same book. Besides I want to have a dictionary for my personal use.
I have searched for the book in the library but the librarian told me it was taken by another student. My examination is drawing near so I don't want to wait any longer. The books cost nearly Rs 700. Kindly send me a money order of Rs seven-hundred so I may buy the books as soon as possible.
Pay my respects to dear mother and grandparents. Lots of love for Prerna.
Your loving daughter,
Ridhima
---
Example Letter Writing 2
Question-2: You want to become better at English thus bought yourself a course. Write a letter to your father asking for money to buy the books mentioned in the course.
Hints: Updates about your academics – Highlight the weakness you want to work on – How you have decided to do that – Request the necessary amount
39 S.P. High School,
Pune – 411002,
March 19, 2021,
Dear Father,
I hope this letter finds you in the pink of your health. Sorry for the late response because I was very engaged with my examination. I did pretty well and expecting a good result. I am sure you'll be proud of me after reading this letter.
Coming from a small town, I always struggled with speaking and writing in English. This time I have decided to work on this and bought myself a Self-Help English course.
The course instructor has suggested us to buy a few books. Assignments will be given from those books. He has advised reading a few books so I can develop my writing skill. As I have spent my savings so it has upset my budget. I shall be grateful if you can send me a money order of Rs 2000 so I can purchase those books at earliest. I want to make the best out of the course.
Convey my regards to mother. Assure her I am taking care of myself. My warmest hug to my furry friend Dodo. I shall be meeting you during the summer vacation.
Yours loving son,
Sambit
---
Example Letter Writing 3
Question-3: Your father wouldn't be able to visit you this winter vacation. Write a letter telling him you want to read a few books and need money to buy that
Hints: Your plans for the winter vacation- Share the reading lit- Request the money requires
76 Jadavpur,
Kolkata 700081,
December 17, 2021.
Dear Father,
How are you? We all are doing well here. I am sad to know that you wouldn't be able to join us for the winter vacation of your immense work pressure.
As there will be no trip this year I have decided to spend my vacation reading some fantastic English books. Books are my greatest source of escape and you also say the more one reads the more one learns.
I have already made a list of three books by Ruskin Bond, "The Boy from the Hills", "Roads to Mussorie", "Funny Side Up."Reading these books are on my wishlist for 2021 and I am already excited to think my wishlist getting ticked off. I want to buy the books as soon as possible. It will be great if you transfer an amount of Rs 1300 to the mother's account. Mom and I will go to buy the books from Starmark. I promise to share the stories with you.
Take care of your health. We are eagerly waiting for you to visit us at the soonest.
Yours lovingly,
Lalitha
---
Example Letter Writing 4
Question-4: You are a student of class X. Your school has given you a project on "Notable work of Shakespeare." as part of the Board Examination. Write a letter to your father asking for money to buy some books in English need for the project.
Hints: Update about your academic session, update about the project given, mention the books you need – from where you plan to buy, – request the money
69, Sealdah,
Kolkata 7000101,
February 2, 2021.
Dear Father,
Your latest letter is in my hand and it is like a fresh breathe of air to my busy life. I'm relieved to know grandmother is doing better with her. I am busy with school projects and examination which is knocking at the door. You should be glad to know I am giving my best in everything.
Our school has given a project on English on " Life history and achievements of Shakespeare." as part of the Board Examination. The topic requires a lot of research. I am using the resources available in our library. I feel it is not enough and most of the books are borrowed by other students of our class as they have been also given the same topic.
Yesterday while returning from school, I visited College Street. There I came across an old little shop which has an amazing collection of rare books of Shakespeare and the owner of the shop has also vast knowledge on the topic. I decided to purchase a few books from him because it will be indeed helpful to make my projects. Please send me a money order of Rs 2000 as soon as possible as I have to make the project and submitted within the due date.
My regards to mom and grandparents. I am eagerly waiting to meet the family after the Board Examination
Your loving daughter
Medha
---
Are you a regular visitor to our website? If not, then you might be doing the biggest mistake of your student's life. Keep an eye on this page, we regularly come up with various topics that are helpful for your academics. Hope you found these examples useful. Come up with more new ideas you want us to write for you by leaving a quick comment below.