Cleanliness in every residential locality is very much important for the healthy and sustainable lifestyle of the people. The maintenance of such cleanliness is the responsibility of the municipality and its respective municipal commissioners.
But many times this important aspect of city life is reported to be neglected. That's why it's very important to learn how you can write official letters to the municipal commissioners in this context. It will help you both in real life and most importantly in your next English comprehension tests.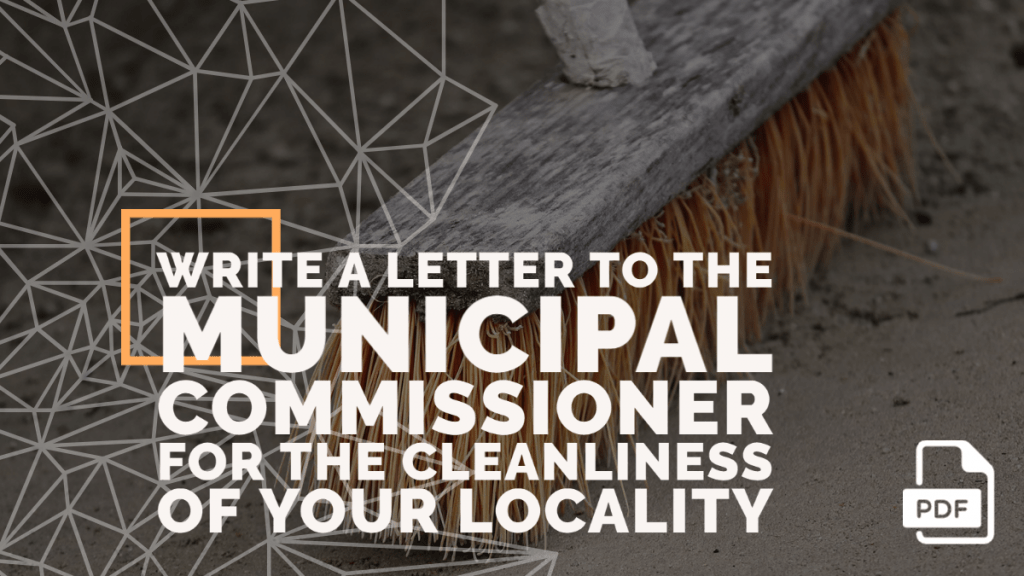 Example 1
Question: The surroundings of your school tend to stay very dirty because of being overcrowded. Write a letter to the municipal commissioner local to your school area complaining about this issue and look for some viable solution.
Hints: Markets beside the school- Usually stays crowded- Recent dirty surroundings- Post monsoon condition- Sewage overflow and Inadequate garbage bins- Mosquitos and bad smells- Consequences- Request for solutions
Suresh Mukherjee Road, Nabinpally
Kolkata: 700114
September 2, 2020
The Commissioner
Kolkata Municipal Corporation
3/1 Nalinipukur Road
Kolkata: 700002
Subject: No cleanliness; dirty school area
Sir,
I am a student of class 9 from the Nabinpally boys' high school. Today I'm writing this letter to you to bring your kind attention to the issues we are facing due to dirty school surroundings.
On the two sides of our school, there are two markets for raw vegetables and food. Due to these two markets, the surroundings of our school generally stays quite crowded on normal days. But recently we are facing very dirty surroundings after the last monsoon season. This is due to the overflow of sewage and the absence of adequate garbage bins in the market. With this dirtiness, come the mosquitos. Moreover, we have to encounter bad smells even inside our classrooms due to the situation. Our parents are afraid of sending us to school because of the poor condition of the locality.
So, through this letter, I want to earnestly request you to take immediate steps whatever is necessary and save us from this menace.
Yours Sincerely,
Monoj Singha
---
Example 2
Question: Due to the absence of sufficient garbage bins, your locality stays very dirty. Write a letter to the local commissioner of the municipality expressing your concern over this issue and ask for some immediate solution.
Hints: Many families live- HIgh household wastage- Inadequate garbage bins- No daily collection- Dirty streets- Blocked sewage- people worried about diseases- Request for necessary actions
2/61 Bablapur
Durgapur, West Bengal
June 23, 2021
The Commissioner
Durgapur Municipal Corporation
City Centre, Durgapur
West Bengal 713216
Subject: Lack of cleanliness due to absence of garbage bins
Sir,
I am a resident of Bablapur area, ward no. 11, of Durgapur Municipal corporation. This letter to you is intended to highlight the problems that emerged due to the absence of adequate garbage bins in our locality.
There are a total of 150 families living in this Bablapur area. Naturally, the daily household waste product output rate is very high in our locality. But only 3 garbage bins are available in our area for 150 families. Moreover, no daily collection of garbage takes place from the municipal corporation. As an inevitable result, the streets stay quite dirty with such garbage. Moreover, some of the sewage got even blocked in the adjacent areas of the garbage bins. We are quite worried about this situation and afraid of potential diseases that can spread from this unhygienic situation.
So, on the behalf of all the residents of the locality, I want to request you to install at least five more garbage bins in our area and take all other necessary steps to maintain the cleanliness of this locality.
Yours Sincerely,
Rumi Bannerjee
---
Example 3
Question: After every monsoon season, your locality becomes very dirty due to sewage overflow. Write a letter to the municipal commissioner of your area complaining about this issue and ask to take necessary measures. 
Hints: Open public drains- narrow and shallow- Inadequate garbage bins- Blocked sewage- Miserable condition after monsoon- Sewage overflow- Garbage with dirt water enters houses- No regular cleaning- Request to take necessary steps
72A Bottola Road, Uttarpara
Hooghly
February 18, 2021
The Counsellor
Hooghly Chinsurah Municipality
Mahendra Mitra Road, Pipulpati
West Bengal 712103
Subject: Miserable post-monsoon condition in our area
Sir,
I live in Bottola road, Uttarpara, ward no. 22 of Hooghly Chinsurah Municipality. I am writing you this letter to let you know about our locality's miserable condition after every monsoon.
There are almost 3-5 open public drains in our area. Most of them are quite narrow and shallow. Moreover, it all has a lack of regular maintenance. Besides, as there are inadequate garbage bins in our locality, these drains stay almost blocked throughout the year. But after every monsoon season, the condition becomes very miserable. At those times, the drains often tend to overflow and dirty waters enter our houses. With those dirty waters, we also have to deal with garbage. The streets and pavements also stay quite dirty and there's no regular cleaning from the municipality. Throughout the entire monsoon, we have to suffer from this menace.
So, through this letter, I want to earnestly request you to take all necessary steps before this year's monsoon season so that we don't have to face such a miserable condition again.
Yours Sincerely,
Aditya Bansal
---
Example 4
Question: Cleanliness is one of the primary prerequisites of a healthy livelihood. Write a letter to the local municipal commissioner of your area expressing your concern over the increasing level of pollution in your locality and suggest some possible measures to control the situation. 
Hints: Diseases break out after monsoon- Lack of cleanliness- Dirty streets and areas- irregular cleaning and garbage collection- Inadequate garbage bins- Lack of public awareness- Issues need to be addressed- Public awareness campaign can be launched
Subject: Way forward to achieve cleanliness
Sir,
I am a resident of Ghola Kathgola road, writing to you this letter to express my concern over the issue of lack of cleanliness in our municipal area and want to suggest some possible way forward.
Cleanliness is one of the prerequisites of achieving a healthy livelihood. In our municipal area, after every monsoon season, many diseases break out due to poor hygiene conditions. Lack of adequate cleanliness is one of the primary reasons behind this yearly phenomenon. Many streets and localities of Panihati stay quite dirty after every monsoon. The reasons are lack of regular cleaning, absence of an adequate number of garbage bins, irregular garbage collection, and lack of awareness among people.
From last year, the condition after the monsoon tends to become more miserable. So, the streets and the sewage need to be cleaned regularly. Besides, the garbage collection from all the localities must be on a regular basis. And most importantly, the municipality can initiate a public awareness campaign to make people aware of the hygiene and the diseases that emerge if hygiene gets neglected.
Yours Sincerely,
Barun Goswami
---
That was all about our presentation on writing official letters to the municipal commissioner for the cleanliness of your locality. In this session, I have tried to present a holistic overview of this topic through four different aspects.
Hopefully, after going through this session, you'll be able to write such letters on your own. If you still have any doubts regarding this topic, kindly let us know that through the comment section below. Moreover, if you want to read more such sessions, check our website out. If this session has helped you, let us know that too through some quick comments.
Thanks for being with us. See you again, soon.